Dear Survivor: You Are Enough by Merely Existing
In honor of Sexual Assault Awareness Month, Rise founder Amanda Nguyen writes a love letter to her younger self.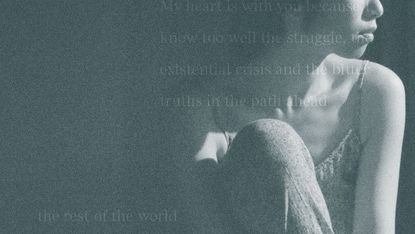 (Image credit: Design by Morgan McMullen)
Marie Claire Newsletter
Celebrity news, beauty, fashion advice, and fascinating features, delivered straight to your inbox!
Thank you for signing up to Marie Claire. You will receive a verification email shortly.
There was a problem. Please refresh the page and try again.
In 2012, Emmy-winning director Tani Ikeda founded Survivor Love Letter, a movement for survivors of sexual assault and their allies to publicly celebrate their lives. In honor of Sexual Assault Awareness Month, Marie Claire collaborated with the organization to publish survivor love letters from Tarana Burke, founder of the Me Too movement, and Amanda Nguyen, founder of Rise, along with special illustrations of the women created by artist Brittany Harris. Read Nguyen's love letter to her younger self below, then read Burke's love letter to survivors here. Whether you're a survivor or an ally, Survivor Love Letter invites you to write a message and share it using the hashtag #SurvivorLoveLetter. Learn more here.
Dear Me,
When I started this journey, I was outraged. The world burned. I saw red and I was going to change the system, no matter the cost, come hell or high water. If my first law, the federal Survivor Bill of Rights, could speak it would scream a blood-curdling scream of pain, of betrayal, and of sacrifice. With time, with each passing law...31...32...33...I like to think the bills would sing now—a chorus of justice.
There's no easy way to put this—it takes time. That time might not be in our lifetime. We are, after all, ahead of our time, pushing the moral arc of the universe everyday, putting in safeguards—à la civil rights—so that the rest of the world can catch up. In the meantime, in a world that's not already there, all we can choose is to forge peace for ourselves. This is a task excruciatingly harder done than said.
One thing that has helped me is the overview effect. When astronauts go to space for the first time, they experience this effect—an awe inducing, terrifying perspective reset that at once makes them feel so small amongst the stars yet so special because the probability of them existing is so astronomically impossible—yet they are there. Most come back to earth profoundly moved to give back to the world.
Come with me on a journey for a moment—think back to the suffragists, to Harriet Tubman, to Fred Korematsu: All are lauded heroes now, all were branded and stigmatized during their time. This, at least, gives me solace and peace that history is on our side.
I asked you a question today that is hard to answer, but vital—who are you? How do you want to define yourself? What are the boundaries that are unimpeachable for you?
These questions are a crucible in themselves. Most people go their entire lives without finding an answer to these questions. You have the added benefit (sarcasm) of needing to answer these now, especially as you decide how public you want to be with your story. You must answer these for yourself. My heart is with you because I know too well the struggle, the existential crisis and the bitter truths in the path ahead. Let me tell you now, you are not alone. I am still walking it and I am here for you.
We are multitudes. I am a CEO. I am a survivor. I am a space nerd. I am a fashion lover. Accepting that I will always be known for my rape, accepting that some people are stupid and that I cannot control what people label me, and not basing my self-identity in what others think of me because I know who I am—all of that has helped. Of course, we are all human. Not being impacted by what others think of us is a level of enlightenment that I am continually working towards.
For so many of us, our mere existence poses a threat to the status quo. We are in a world that doesn't want us to exist. Therefore, exist. You owe nothing to the world; yes, you owe nothing to the survivor movement either. The bottom line is that your joy and health is the most important thing. Joy is the most radical form of rebellion. We are all stardust. You are already a star. You have already done enough. You are enough by merely existing.
In moments of stress, wherever you are, close your eyes. If you listen really hard the wind carries a song for you.
Do you hear it? It is the trickling, steady beat of the thousands of footsteps for centuries to come—a path, a new reality already made possible because you existed. The choir is already singing.
Love, Amanda
If you or someone you know has been sexually assaulted, RAINN—the nation's largest anti-sexual violence organization—is available 24/7 for confidential support. Call 800-656-4673 or use the org's online chat tool to talk with a trained staff member.
RELATED STORIES
Celebrity news, beauty, fashion advice, and fascinating features, delivered straight to your inbox!