How to Get Serena Williams's Tennis-Yoga Booty
We went to fitness boot camp with the tennis star!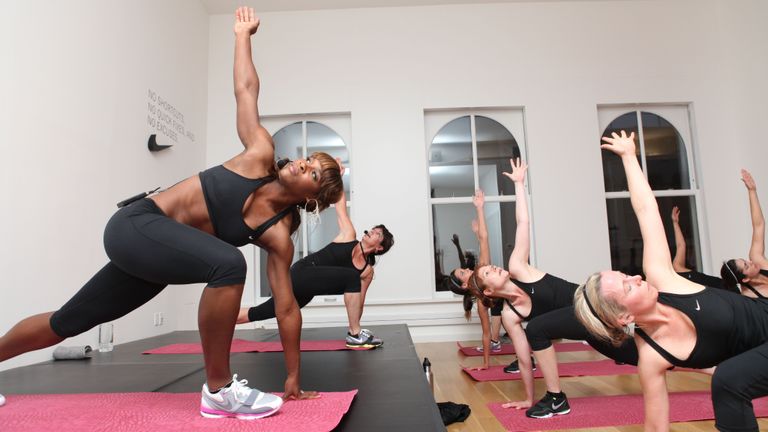 (Image credit: Nike)
What better reason to get to the gym than Serena's tennis-yoga booty. And abs. And arms.
I witnessed them myself when I met Williams at Nike Women's 360 media event the other night (one of a series of Nike fitness boot camps for journalists).
Talk about dedication: Just because she holds the new French Open Doubles title doesn't mean she's kicking up her heels. That morning, she'd already put in a couple hours on the court and in the gym in Paris, before flying to Manhattan to join us for some evening yoga.
It was by no means a typical class — Nike fitness trainer Kim Blake led a "dynamic yoga" session, incorporating jumps, squats, and flowing lunges with the standard sun salutations and downward dogs. It's why Williams — and the rest of us — were outfitted in Nike's Air Max Trainer Ones ($85, nike.com (opens in new tab)), a cross-trainer inspired by Serena and designed specifically for women (an update from the original trainer Nike designed for fellow tennis champ John McEnroe in the '80s; he also made a cameo at the event but skipped out on class. Was he intimidated? After all, his top speed serve is 4 mph shy of Williams's record.).
While yoga in sneakers takes some, er, getting used to, the session did highlight the shoe's best feature: a retro midsole velcro strap that gives extra lateral support. I can see how they'd be fantastic on the court and in the gym.
Expect to see Williams in the Black Avenue limited-edition style (shown here; $100, nike.com). Only 128 pairs were made, in honor of her record 128 mph serve. "One of the few times I'm not in a heel is when I'm on the court," she says. But she still impressively manages to maintain her fashion cred: Although she was once struck in the eye by her dangling earring while hitting a volley at the net, she won't skimp on accessories. "Now I practice in my jewelry before I play to see what works."
Like I said — dedication that puts the rest of us to shame.