Road Warriors
In planes, trains, or your own car, you're constantly on the move. These insider tips from nutritionists and trainers help you stay in tip-top shape, no matter the workplace conditions.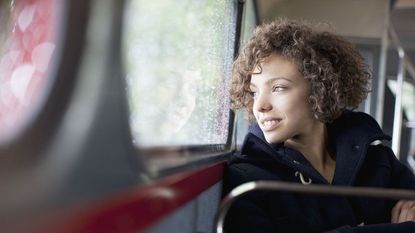 (Image credit: Archives)
Marie Claire Newsletter
Celebrity news, beauty, fashion advice, and fascinating features, delivered straight to your inbox!
Thank you for signing up to Marie Claire. You will receive a verification email shortly.
There was a problem. Please refresh the page and try again.
THE COMMUTER

You're a nine-to-fiver who wishes you could swap your to-and-from-work trek for the treadmill.
SMART FOOD: Having healthy snacks handy is the best way to avoid falling into the vending-machine trap or the receptionist's candy dish. Nutritionist Kimberly Snyder, author of The Beauty Detox Solution, recommends travel-friendly fresh fruit like bananas and oranges, along with walnuts, raw almonds, sunflower seeds, and pumpkin seeds. "And dates," she adds, "for sweet cravings." Swap the soda in the break-room fridge for cold-pressed organic fruit and vegetable juices. Los Angeles-based Pressed Juicery, a favorite of Nicole Richie and Zooey Deschanel, ships seven different kits—including Greens, Detox, and Celebration—with 12 drinks in each, nationwide.
NO-EXCUSES EXERCISE: Joining a gym near your office could offer a double stress-buster: Instead of sitting in bumper-to-bumper traffic, leave home earlier or head home later and hit the gym during rush hour—before or after work. If you're a train commuter, traveling off-peak could even save you a few bucks in fare.
BE PREPARED: Cut down your a.m. crunch time by prepping the day's food the night before. "Make a huge kale salad for dinner and bring the rest to work for lunch," says Snyder. "It's such a hardy green that it won't be soggy the next day." And you won't be tempted when your cubemate offers to make a burger run at lunch.
THE FREQUENT FLIER

You've got a concierge in every port and plastic baggies full of 3-ounce shampoo bottles under your sink.
SMART FOOD: Forget packing your lunch—there's barely enough time to pack your suitcase before a flight. Two new meal-replacement bars, Elemental Superfood Seedbars and Raw Revolution, get the stash-worthy stamp of approval from Los Angeles-based nutritionist Elissa Goodman. "They are both raw, so they are easy to digest, while still supplying a balance of protein, carbs, and good fats," explains Goodman. In other words, just what you need to keep your mind off the nachos in Terminal 3.
NO-EXCUSES EXERCISE: Bring your sneakers and download RunKeeper, a favorite of Tracy Benham, exercise physiologist and author of The Best Book on How to Travel Fit. "The app monitors my time and pace while my iPod plays. It uses the GPS to track my course and calories burned, and then stores the information." More than just for running, it can be used for cycling, skiing, swimming, and other activities. Need help finding your way? Try mapmyrun.com, which allows users to share training routes.
MASTER THE MINIBAR: Your late check-in means room service closed hours ago. Heed Snyder's advice before ravaging the minibar: "Even if they aren't ideal items, stick to what was once a vegetable or a nut in some form, like roasted nuts and potato chips. Avoid refined-flour snacks like crackers and pretzels, and candy loaded with artificial dyes, sugary juices, and sodas. Your skin will thank you."
THE LONG HAULER

Being off-site and away from home for weeks at a time doesn't mean your health has to go off the rails.
SMART FOOD: When your brain is working overtime, your body is, too. Supplement with vitamins, probiotics, and enzymes to give your system the support it needs to keep up. "Type A personalities aren't relaxing and enjoying their food," explains Goodman. "They are eating really fast, which wreaks havoc on digestion." She recommends a daily probiotic such as Dr. Ohhira or Culturelle, along with raw enzymes and a multivitamin, both available in age-group-specific women's formulas from Garden of Life.
NO-EXCUSES EXERCISE: When you tire of staring at yourself on your hotel gym elliptical, sign up for fitist.com. Purchase a package on the site and gain access to classes at any of their handpicked network of boutique fitness studios, and to services provided by vetted spas, massage therapists, and health and wellness experts. Currently available in New York City and Los Angeles, service expansion into additional cities is underway.
GO LOW-CARB: Lunch meetings, cocktail parties, and business dinners leave little room for menu negotiation, but navigating the plate is easy according to personal trainer Patrick Murphy: "Eat smaller portions with less dense carbohydrates, and always say, 'light on the oil'—that can save you hundreds of calories." Murphy also recommends going for the protein on your plate first. "Save your carbohydrates for the end of the meal, when you've already slowed the absorption process down, and you'll avoid a spiking blood-sugar level, which leads to fat gains."
We want to know what you think about MC@Work. Click here to tell us!
Celebrity news, beauty, fashion advice, and fascinating features, delivered straight to your inbox!