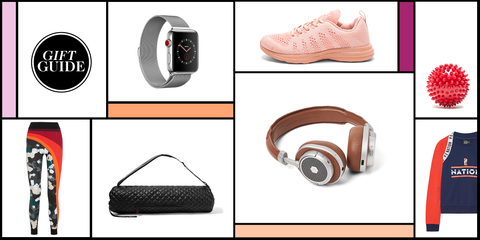 Apparently, there are people who don't work out in spurts. For them—but also for the post-Thanksgiving trotters, the New Year's resolution-ers, and everyone in between—12 fitness-focused gift ideas.
No wires, so clamp these tightly on your noggin as you wheeze to the beat of "Lemon."
Master & Dynamic, $450
You don't necessarily need a quilted bag for your yoga mat (that you definitely cleaned with an antibacterial wipe before rolling up), but it would put an end to accidentally ramming people on the street.
MZ Wallace, $125
Even better if your post-workout route home includes passing by a coordinating mural.
No Ka'Oi, $230
Personalize with your initials so Muffy from the country club knows exactly who beat her 40-love.
Parker Thatch, $325
For keeping your core temp up or whatever.
P.E. Nation, $160
Not a medieval torture device but a nice-feeling massage ball to untie all those knots.
Pro-Tech Athletics, $7
Now with even more metrics (and underwater capability) so you can better track your Fitness Journey from not-great to less not-great.
Apple, $699
"Here I am! Get a shot of my shoes," you say to the paparazzi posted up outside your gym.
APL, $140
If you think that oil-slick finish is cool now, just wait until after your 15th burpee.
S'well, $25
Miniature supplies for going from a Drake-themed cycle ride to drinks.
Tarte, $29
Okay, but if you do end up abandoning exercise, at least this 15-lb. weight will look like a nice modern sculpture on a side table.
Ubarre, $199
Thirty-nine pounds of Epsom salt for pouring into a bath so you can walk down the stairs the day after a heavy weightlifting session.
San Francisco Salt Co. $58