60 Workout Apps for Women Who Want Results (Without a Gym Membership)
Easy fitness plans you can follow without fear of judgment.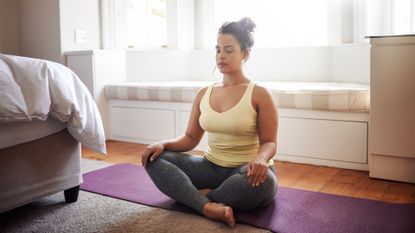 (Image credit: mapodile/Getty Images)
Sure, you know that regular exercise does wonders for your mental and physical health, but who has the time and patience to commit to a regimen and stick to it? Fortunately, the digital age has provided us with a great hack: Workout and exercise apps (opens in new tab) that you can stream on your phone, your TV, your tablet—wherever is best for you—and use at home or on the go. Turns out, there's a whole freaking market of apps designed to make exercise easier and more fun for you, no matter what kind of workout you feel like—jogging, barre, weight training, stair climbing, you name it—and they track your progress, so you don't have to. Plus, many of them are free, and you can get started instantly.
Obviously, the age of technology that brought us these apps has come with its own issues—but man, do these apps help you de-stress from thinking about them! Ahead we listed some of our favorite workout apps that require minimal equipment (opens in new tab), give you actual results, won't blow the bank, and may even be taught by a celebrity or two. Get ready to get your sweat on.
Aaptiv
DOWNLOAD IT (opens in new tab)
If you're someone who loves a spontaneous workout, Aaptiv is for you. The app provides a ton of different kinds of guided audio workouts, from stair climbing and rowing to 5k training, and you can pick from different trainers. Some trainers are listed as "fun and supportive," some are happy to push you to your limit, and others will inspire you to hit a specific goal, whatever yours is.
8Fit
DOWNLOAD IT (opens in new tab)
One Marie Claire editor swears by 8Fit (opens in new tab)—so much that she cancelled her gym membership after she started using it. The workout and nutrition app helps you customize workouts, create meal plans, and provides a step-by-step nutrition guide to help you meet your fitness goals. Consider it an app dedicated to creating healthy habits.
Couch to 5K
DOWNLOAD IT (opens in new tab)
Couch to 5K (opens in new tab)'s motto is quite literally "from the couch to the 5K finish line," targeting beginner runners who want to train for their first race. The best part? It only requires sweating for 30 minutes per day, three days a week for nine weeks (that's not as much as it sounds, trust me).
P.volve
DOWNLOAD IT (opens in new tab)
Can't bear those painful, grueling workouts that leave you aching for days? P.volve might be for you. Billed as high-intensity but low-impact, these workouts are designed to strengthen your muscles safely over time.
MyFitnessPal
DOWNLOAD IT (opens in new tab)
Under Armour's app MyFitnessPal (opens in new tab) is a three-for-one diet tracker, calorie counter, and exercise motivator. The app personalizes your goals based off of your body type and the food you're eating. There's about 5 million foods in their database to choose from so you're not just typing in "chicken"—which means you can determine how many calories you're actually taking in and burning off.
All Out Studio
DOWNLOAD IT (opens in new tab)
The most respected fitness publications—like Women's Health, Men's Health, Runner's World, and more—brought together the best workouts in one place. Hundreds of exercises are featured on the app, and new ones are continually added, so you're never stuck in the same old routine.
Pure Barre
DOWNLOAD IT (opens in new tab)
The classic low-impact, high-intensity workout has a range of programs—with different times, intensities, and equipment. It's perfect if you love this type of exercise and want to do it while you travel. The instructors give specific insight on how to use a chair or wall for support, and you can do the exercises with water bottles instead of weights, a pillow instead of a ball, or entirely equipment-free.
Daily Workouts Fitness Trainer
DOWNLOAD IT (opens in new tab)
If you're in the offseason of your sport or looking to ease yourself back into a workout routine, this is a great place to start. Choose from over 500 workouts or spice things up by picking one of their 10 to 30-minute randomized full-body workouts to change up your usual sweaty habit.
Daily Butt Workout
DOWNLOAD IT (opens in new tab)
The largest muscle in your body, good ol' gluteus maximus, deserves some major TLC every now and then. Spend just five minutes of your day with one of their many free workouts as a certified trainer takes you step-by-step to help you get results in no time.
MapMyRun
DOWNLOAD IT (opens in new tab)
Created by Under Armour, MapMyRun tracks your run, providing audio progress updates in real-time. It's considered one of the O.G. apps for runners. Don't let the name fool you—this fitness app allows you to log over 600-plus sweat-filled activities from over 400 devices. No workout will ever be missed again!
AllTrails
DOWNLOAD IT (opens in new tab)
Outdoor workouts hit different, especially when you're on a good trail, sidewalk, path that's making your run or walk a breeze. Alltrails is the ideal app for the outside workout person. Choose from 100,000+ hand-curated trail maps from bikers, hikers. You name it. They even have dog-friendly and kid-friendly settings, so uh, score!
Yoga Down Dog
DOWNLOAD IT (opens in new tab)
Doing the same workout day after day can be dull, not only for your mind but also for your body. Down Dog is changing that by offering a brand new yoga practice every time you come to your trusty yoga mat (opens in new tab). If you don't want new, feel free to choose from over 60,000 other options offered by the app's six teachers.
Kettle Workouts by Fitify
DOWNLOAD IT (opens in new tab)
You know that kettlebell sitting in your garage, back of your closet, maybe underneath your bed hiding in fear of the fact you don't know what to do with it? Fear no more! This app takes in a count of your skill level with the circular weight and gives you a bunch of quick video exercises to use with said weight. Get ready to feel the burn.
Pear
DOWNLOAD IT (opens in new tab)
Most fitness apps talk a big game of using voice technology to enhance your workout, but what if that voice actually did the exercise with you? Pear, a personal fitness coach app, features a real person working out alongside you. Whether you're running or in a downward dog position, someone is there with you in real-time, giving it the ultimate personal touch.
The Sculpt Society: Megan Roup
DOWNLOAD IT (opens in new tab)
Tons of A-listers flock to celebrity trainer Megan Roup to get their sweat on, so it was only time 'til she created an app. Choose from the app's huge library of workouts ranging from 5 to 50 minutes and see for yourself why fans of Roup consider it one of the most fun dance cardio and sculpting workouts they've ever tried.
Fitbod
DOWNLOAD IT (opens in new tab)
If you're all about the gains, look no further. Fitbod's primary focus is on strength-based workouts. The app plans your workout of the day from what you have nearby while using its training algorithm technology of past exercises you've completed. It's a helpful tool to make sure you never miss a leg day.
7 Minute Workout: Fitness App
DOWNLOAD IT (opens in new tab)
When you don't have the time to go hard at the gym, meet 7 Minute Workout. No equipment is necessary—just pick a video from their massive library of workouts, click play, and get ready to get fast results. There's a free trial period, but once it ends, it'll cost you $2.99/month.
MyZone
DOWNLOAD IT (opens in new tab)
MyZone features a heart rate accuracy of over 99 percent and uses the data they track from your workout to create personalized workouts. Whenever you're ready to move, the outcome will be infinitely better than the last time.
Endomondo
DOWNLOAD IT (opens in new tab)
Enjoy some friendly competition with friends as you each track each other's progress using Endomondo. Track your runs, walks, bike rides, and 60-plus other sports and strive to complete your personal best every week. The detailed data the app keeps track will help plan future workouts.
PIIT Pocket
DOWNLOAD IT (opens in new tab)
Cassey Ho, the creator of the wellness-driven blog Blogilates (opens in new tab) and one of the top female fitness channel hosts on YouTube, knows how to make sure you blow off some steam. Download PIIT Pocket, and you'll have free access to the Blogilates workout video library featuring over 400 different kinds of exercises.
FitOn
DOWNLOAD IT (opens in new tab)
If you find yourself off and on the fitness train, you'll love this app. All the workouts are free, meaning there's no long-term membership commitment. Browse by workout category, body part, length, and intensity, or choose by the amount of time you have. Have I mentioned there are workouts led by Gabrielle Union and Jonathan Van Ness? We're all in.
Openfit
DOWNLOAD IT (opens in new tab)
Throughout the day and night, live trainers are available on Openfit (opens in new tab) for 15-, 25-, or 40-minute sessions, guiding you through running, walking, HIIT, or strength routines that you can do without having to leave your apartment. No more excuses about not being able to find a trainer you like, either! There are plenty on here that are bound to be a fit.
Seven
DOWNLOAD IT (opens in new tab)
You may have heard of this concept, which rose to popularity several years ago as "the seven-minute workout." This app is an extension of that. The perfect workout for people who hate exercising/don't have a ton of time, Seven forces you to do tough exercises quickly and with barely any equipment: Think lunges, wall sits (a.k.a. a chair), and so forth. It's easy to take the exercises anywhere, and at the very least can serve as a quick workout between longer sessions.
Studio Tone It Up
DOWNLOAD IT (opens in new tab)
The community of women on Studio Tone It Up (opens in new tab) will guide you through workouts to get your body strong and toned, including yoga, cardio, barre, boxing, kettlebell, and strength training. New classes every week prevent you from getting sick of the same routine and the app even offers up daily moves to focus on if you don't have time to attend the 20- to 40-minute digital classes.
Yoga Wake Up
DOWNLOAD IT (opens in new tab)
While waking up can be a struggle, Yoga Wake Up might (opens in new tab) change your mind. Set an alarm for when you'll wake up, and the app will play a track that guides a short yoga sequence or meditation. It's the perfect way to start your day from the comfort of your own home.
Keelo
DOWNLOAD IT (opens in new tab)
Keelo is designed to leave no muscle behind when it comes down to your workout. Every workout is designed with you in mind; the app considers muscles you've worked on before, how long your workouts usually are, and how often you do them. You can do these exercises at home or at the gym. Either way, the app will be there with HD instructional videos along the way.
Ring Fit Adventure
BUY IT (opens in new tab)
Maybe it's the endorphins talking, but I'm totally hooked on this one. It's technically a Nintendo Switch "exergame," not an app, but it works. Think of it as a cross between a workout video and a Super Mario game—you'll pick up tokens, power-ups, and health restoratives as you literally jog through different levels, pausing to zap bad guys by completing mini-workouts (think: ten squats in a row). The harder you work, the more rewards you get, and the more progress you make through the adventure. I'm the last person who would use a phrase like "addicted to exercise," but I am addicted to this game. (Also, the app can tell when you're tiring and gently encourages you to put it away for another day, which I appreciate.)
Ladder
DOWNLOAD IT (opens in new tab)
Ladder (opens in new tab) is great for anyone who would like to seek guidance from someone like a personal trainer, but doesn't have the time to access one in real life. The app will create custom workouts with a personal trainer for you based on what you're seeking.
NeoU
DOWNLOAD IT (opens in new tab)
NeoU (opens in new tab) is basically a streaming service for fitness. The app has a ton of videos, from HIIT, barre, and yoga to strength training. You can also take this app on the go by downloading episodes for later, if you're worried you'll be working out from a dead zone.
TRX
DOWNLOAD IT (opens in new tab)
By now, you've probably seen the trendy suspension workout, which makes use of your body weight and looks deceptively easy (it is not). TRX allows you to do the work at home, and the trainer is light and compact—it won't even take up much space, in other words. Plus, it syncs with an Apple Watch so that you can get updated, real-time results.
SworkIt
DOWNLOAD IT (opens in new tab)
Only have five minutes for a workout? No problem. SworkIt (opens in new tab) is designed to make sure your consistent with your workouts and therefore offers over 400 different exercises, so you get a good workout in on your own time.
ConBody
STREAM IT (opens in new tab)
A military-style fitness bootcamp run by an ex-con (hence the name), ConBody is as intense as it sounds—it's not an app, but it does offer remote workouts. If you love a challenge, this is the workout for you.
Mirror
It took until 2019, but you can finally buy a mirror that (opens in new tab) can help you work out! When the mirror is off, it's just your regular mirror. When it's on, you'll see yourself, your instructor, and your workout classmates in the reflection. All you need is the space of a yoga mat, and you'll never have to leave the house to workout again.
Obé
STREAM IT (opens in new tab)
It can get a little pricey—a subscription for the year is $200—but Obé offers a ton of different class types, and has 14 live classes a day. No matter what workout you feel like, you'll find your people and sweat alongside them.
Sweat with Kayla Itsines
DOWNLOAD IT (opens in new tab)
If you don't follow Kayla Itsines on Instagram (opens in new tab), you've likely heard of her #BBG program. The Sweat with Kayla app (opens in new tab) is where the magic happens, allowing you to join a community of people across the world who are transforming their bodies. With an active subscription, you can use the app to follow daily gym-based or targeted workouts based on where you're at in the program, keep track of your progress, and connect with other #BBG members. Consistency is key.
Daily Burn
DOWNLOAD IT (opens in new tab)
If you're someone who's happiest working out in the privacy of their own home, give Daily Burn a shot. There are thousands of different workouts available, and it tailors your programs to your fitness level and goals. You do have to sign up for a paid membership, but there's a 30-day free trial.
Freeletics
DOWNLOAD IT (opens in new tab)
Freeletics (opens in new tab) is your best bet if you don't have easy access to equipment or a gym. The app offers users bodyweight workouts and more from five to 30 minutes for free, or you can pay $6.25 a month to throw in a training coach to the mix.
Zombies, Run!
DOWNLOAD IT (opens in new tab)
Are you someone who wants to run more often and for longer, but finds it kind of boring? This is the app for you. It's an immersive, long-term "exergame"—you guessed it, an exercise game—that makes you the protagonist of a story in which zombies are chasing you and you're trying to save humanity. This is as compelling as a really good podcast, and you'll forget you're even exercising.
Six Pack in 30 Days
DOWNLOAD IT (opens in new tab)
Strengthen your core with Six Pack in 30 Days, choosing which level of ab workouts you can handle and working your way up. No equipment is necessary, and it's suitable for even total gym newbies—the app demonstrates how to do classic core workouts like Russian twists and reverse crunches.
Butt Workout and Fitness App
DOWNLOAD IT (opens in new tab)
Do it for the booty. Hate doing butt exercises for a gym full of people to see? I feel you. This seven-minute butt workout has you covered with targeted methods for improving your glutes, like squats and donkey kicks.
Runkeeper
DOWNLOAD IT (opens in new tab)
Do you only want to keep track of your regular jogs and ensure you're improving gradually all the time? Try Runkeeper. The app is pared-down and easy to use, and diligently tracks your workouts, your progress over time, and your personal records. Perfect if you're looking to keep it simple.
Freeletics Bodyweight
DOWNLOAD IT (opens in new tab)
If you're still working on nailing the push up once and for all, Freeletics Bodyweight (opens in new tab) will help you build up muscle and tone your body. Big perk #1: You first undergo a fitness test to customize a weekly workout plan that's tailored to your body type and physical needs. Big perk #2: If you're stuck doing exercises in a cramped apartment, it has a 2x2 mode that provides workouts to fit a 2 meters x 2 meters space (NYC dwellers, this means you).
Strava
DOWNLOAD IT (opens in new tab)
Strava (opens in new tab) keeps track of running or cycling distance, speed, and endurance—especially useful for those hoping to compete in a marathon or triathlon in the near future (or at least dream about it). Compare your performance over time and share stats with friends on the app to give each other that extra push towards the finish line.
Runtastic
DOWNLOAD IT (opens in new tab)
Created by Adidas, Runtastic (yes, we know, the name is great) tracks your runs—but you'll also get audio feedback as you get those miles in. One of the coolest things about this app is that is tracks how many miles you put on a certain pair of running shoes, so the app will let you know when it's time to get a new pair.
Charity Miles
DOWNLOAD IT (opens in new tab)
Kill two birds with one app. Charity Miles (opens in new tab) allows you to donate to good causes while you burn calories. Sponsors like Johnson & Johnson, Chobani, and Humani donate a few cents for every mile you move biking, running, or even walking to charities like the ASPCA (opens in new tab) and Habitat for Humanity (opens in new tab)—even more incentive to lace up your sneakers and get to stepping.
Daily Ab Workout
DOWNLOAD IT (opens in new tab)
The free app Daily Ab Workout (opens in new tab) is one of the best ways to tone your core. Prop your phone up and watch fitness videos—it'll feel like the trainer is right in the room next to you counting reps.
Daily Yoga
DOWNLOAD IT (opens in new tab)
For those who want to be a little bit more zen (opens in new tab) on a daily basis and don't want to worry about falling over in yoga class while doing warrior pose, Daily Yoga (opens in new tab) offers a personalized coach and plenty of poses to choose from. There are also meditation classes available for people who want to de-stress and feel more focused.
Nike + Training Club
DOWNLOAD IT (opens in new tab)
Nike + Training Club (opens in new tab) is the ultimate app for fitness enthusiasts who want to experience an intense sweat session with a variety of options for their workout—so you never get bored. Choose from drills and audio guides from a professional Nike trainer, athletes like Serena Williams, or even stars like Ellie Goulding.
Relax Melodies
DOWNLOAD IT (opens in new tab)
So, you've done the cardio, the crunches, the planks, and even the downward-facing dog. What's next? Stretching and a good night's sleep for your body to recover. Relax Melodies (opens in new tab) allows you to cool down to a range of calming sounds including rain, wind, and white noise (i.e. not the sound of email alerts).
Fit Body
DOWNLOAD IT (opens in new tab)
If you're newly pregnant or well on you're well into your second trimester, this app is perfect for you. Or if you want something high intensity, they've got plenty of options for you, too.
Glo Yoga
DOWNLOAD IT (opens in new tab)
Get your zen on with this top-rated yoga and meditation app. Workout on your own or take a live class with other members in real time.
Gold's AMP Fitness and Training
DOWNLOAD IT (opens in new tab)
You guessed it—this app is brought to you by the people behind your local Gold's Gym. Now you can (literally) bring the gym home with you if you can't make it out of your house.
Peleton
DOWNLOAD IT (opens in new tab)
No bike, no problem! Peleton offers way more than just spin classes on their at-home fitness app. From HIIT classes to meditations, you can find the workout that best fits your lifestyle.
HIIT Workouts and Timer by 7M
DOWNLOAD IT (opens in new tab)
This app is perfect, no matter the level–even if you just want to workout for 15 minutes at a time. HIIT-style workouts break down your routine into four-minute intervals.
Tone it Up
DOWNLOAD IT (opens in new tab)
This app is top-rated when it comes to at-home workouts. It's woman-owned (the founders met at a gym in 2009) and have expanded into a massive woman-first community.
Adidas Training by Runtastic
DOWNLOAD IT (opens in new tab)
This running app syncs to your phone for Apple Watch to customize your running experience. Combine your run with one of their workout plans to meet your specific needs.
Peloton
DOWNLOAD IT (opens in new tab)
Yes, we all know you can use the Peloton app on a non-Peloton brand bike, but did you know that the app also has great strength, running, stretching, and HIIT workouts on it as well? Cyclist or not, the Peloton app boasts hundreds of workouts for every type of exerciser.
EQX
DOWNLOAD IT (opens in new tab)
Get a ~luxury~ gym experience at home with the the Equinox+ app, which features classes from the trendy gym, SoulCycle, Rumble, and more.
Alo Moves
Take your yoga practice to the next level with the help of Alo Moves. For $20 a month, you have unlimited access to new yoga routines, HIIT workouts, mindful mediations, and more.
Wild.Ai
DOWNLOAD IT (opens in new tab)
Wild.Ai is truly designed with women in mind. A personalized AI coach gives each user fitness, nutrition, wellness, and mental health advice based on their menstrual cycle.
Megan DiTrolio is the editor of features and special projects at Marie Claire, where she oversees all career coverage and writes and edits stories on women's issues, politics, cultural trends, and more. In addition to editing feature stories, she programs Marie Claire's annual Power Trip conference and Marie Claire's Getting Down To Business Instagram Live franchise.