Your Food Plan
Everyone's body burns calories at a different rate, so you need to customize your plan to your body. Use these steps: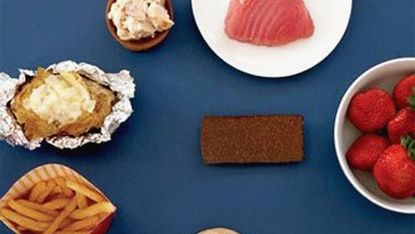 (Image credit: Ben Goldstein/Studio D)
1. Find how many calories you burn now
Your active metabolic rate (AMR) is the number of calories it takes per day to keep you at your current weight. Here's how to figure out yours. Can't be bothered to do the math? Get an estimate with our Estimated Metabolic Rate Chart
FIND YOUR AMR
Estimate your BMR
655
+ (4.3x____(weight in lbs))
+ (4.7x____height in inches))

– (4.7x___age in years))
= __ BMR
Find Your Daily Activity Score:
Desk job or other work where you sit down all day: 1.1
Walk half the day or more (stay-at-home moms, salespeople, doctors): 1.2
On the move all day (gardeners, mail carriers): 1.3
Physical labor all day (dancers, athletes, movers): 1.4
Estimate your Active Metabolic Rate:
BMR

x ___Daily Activity Score
+ 300 to 500*
=____ AMR, or how many calories you can eat in a day without gaining weight.
*This is the number of calories you burn with exercise. Choose 300 if you're doing this plan and you're small, over 40, and work out at a moderate intensity. Choose more if you're significantly overweight, work out intensely, or are tall.
2. Figure out how much you want to lose
A pound of fat is 3500 calories. So to lose a pound a week, you need to cut 3500 calories (about 500 a day) from your AMR. To lose 2 pounds, you need to cut 7000. Just don't eat less than 1200 calories a day, or you'll signal your metabolism to slow down, and you won't lose anything at all.
Other rules: no alcohol, no junk food, eat every four hours.
3. Consider what your week looks like
I don't recommend eating the same number of calories every day. First of all, some days you're in situations (like business dinners) where you need to eat more. Second, varying what you eat from day to day prevents your metabolism from slowing from getting used to fewer calories.
Suppose I need 13,300 calories per week to stay the weight I am now, taking into account the activity I do. To lose a pound, I need to eat 9800 calories per week. Rather than eating 1400 a day, I eat about 1200 three days a week, then eat 1500 and 1600 on other days, with one day at 1700. Mix it up how you want.
Sample Menus
Who says fewer calories equals bland? Here are some sample ways to get 1400 delicious calories a day (adjust for your particular calorie needs). They avoid white flour, refined sugar, high-fructose corn syrup, MSG, and trans fats — and you should, too.
MENU 1
Breakfast – (400 calories) 1 cup All-Bran cereal with ½ cup sugar-free skim milk and two scrambled eggs
Lunch – (400 calories) 4-ounce grilled ahi tuna over a bed of sautéed spinach and 1/3 cup wild rice
Snack – (200 calories) 1 apple and 10 raw cashews
Dinner – (400 calories) Chicken breast with wild rice and fig pilaf (see next page for recipe) and a large green salad with 1 tablespoon of low-calorie dressing.
MENU 2
Breakfast – Crustless quiche with one sliced tomato
Lunch – Chicken-and-black-bean burrito
Snack – 10 raw cashews and 1 apple
Dinner – Pork chops, spaghetti squash
MENU 3
Breakfast – 1 cup low-fat cottage cheese with cinnamon and stevia on 1 piece whole-grain toast (Ezekiel bread is preferable)
Lunch – Arugula salad with 12 shrimp and grapes
Snack – 1 piece of Ezekiel toast (or whole-grain bread) with 1 tablespoon peanut butter
Dinner – 6 ounces salmon with vegetable couscous
Chicken Breasts with Wild Rice Pilaf
Serves 4 (serving size is 1 chicken breast half and 1 cup rice)
½ cup water
1 (10-ounce) can fat-free, low-sodium chicken broth
¾ cup uncooked wild rice
1 Tablespoon butter substitute
1 cup finely chopped onion
½ cup finely chopped celery
¾ cup chopped dried figs
¾ teaspoon dried thyme
½ teaspoon freshly ground black pepper, divided
¼ teaspoon paprika
4 (4-ounce) skinless, boneless chicken breast halves
1 teaspoon vegetable oil
thyme sprigs (optional)
1. Bring water and broth to a boil in a medium saucepan. Add the wild rice; cover, reduce heat, and simmer for 1 hour or until rice is tender.
2. Melt butter substitute in a large nonstick skillet over medium-high heat. Add onion and celery; sauté for 5 minutes or until tender. Stir in the rice, figs, thyme, ¼ teaspoon black pepper, and paprika. Remove from heat, and keep warm.
3. Sprinkle the chicken with the remaining pepper.
4. Heat the vegetable oil in a large nonstick skillet over medium heat. Add the chicken breasts and cook for 7 minutes on each side or until done. Serve the chicken with wild rice pilaf and garnish with thyme sprigs if desired.
Go to the next page for more recipes
Roast Beef Lettuce Wraps
Serves 2
4 slices roast beef
4 large butter lettuce leaves
4 teaspoons fat-free cream cheese
4 teaspoons French's honey mustard
4 scallions, chopped
Place one slice roast beef on a lettuce leaf. Spread with 1 teaspoon fat-free cream cheese. Top with 1 teaspoon honey mustard. Sprinkle wraps evenly with scallions.
79 calories per serving
Don't want to plan your own menus?

Consider a customized daily food plan by Jillian Michaels.
Celebrity news, beauty, fashion advice, and fascinating features, delivered straight to your inbox!