7 Super-Fast Ways to De-Stress at Work
Bookmark for...always.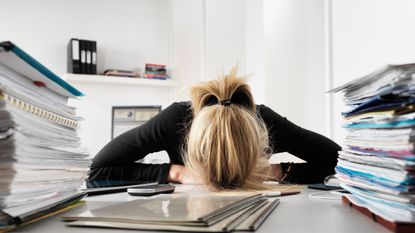 (Image credit: Getty Images)
Here's a hard dose of reality: If you're married to your job, it will inevitably drive you crazy. Yes, even if you're head over heels in love with it. We know this allllll too well, which is why we're always in search of ways to de-stress. The catch? We have no time to spend in a whole hour-long yoga class, which stresses us out more, which is why we're here with the modern woman's super-quick anxiety detox:
1. Trick your nervous system. "When we're stressed out, our stomach muscles contract, creating tension in the abdominal area and throughout the body," explains Irina Kushnir, an aromatherapy expert and health coach. "Chamomile and Ginger are soothing to the digestive system and grounding to emotions. Lavender, aka nerve tonic, is calming to the nervous system."
1. Stash Organic Lavender Tea, $4.99; drugstore.com.
2. Yogi Ginger Tea, $4.95; iherb.com.
3. Celestial Seasonings Chamomile Tea, $4.99; soap.com.
2. Try a breathing exercise. Dr. Brian Ghessi, director of the Alive wellness center, recommends the following: Sit upright. Take a few slow, deep breaths, inhaling through your nose, and exhaling through your mouth. Repeat with hands placed atop your chest, making sure your chest expands away from the spine as you inhale, toward it as you exhale. Now place hands on top of rib cage and repeat. Place hands on top of stomach and repeat. For tense areas, release your breath while saying (quietly so your coworkers can't hear you, obviously) "ahhh."
3. Apply sandalwood to your clothing. Jitters before a board meeting or bi-annual review? "Apply two drops of sandalwood to what you're wearing to alleviate pre-presentation stress," advises Robert Tisserand, an expert in aromatherapy and essential oil research.
4. Take a time-out. Tension builds up quickly through the workday, as we all know. Take two or three minutes every hour or two to chat with a coworker or walk around—anything that will help you relax and get into a different mindset, even for a moment.
5. Say no. "Women often have trouble setting limits, because they don't like to disappoint people who count on them," explains Priscilla Marotta. Ph.D., author of Power & Wisdom: The New Path for Women. If a task is going to make your blood pressure skyrocket, you should reassess before saying "yes."
6. Stretch at your desk. Considering that most of us spend all day staring at a computer screen, two of the most important areas to target are your neck and back. Tend to them while sitting in your office chair by rolling your shoulders once every hour—3 times back, and 3 times forward.
7. Mix essential oils into your foundation or moisturizer. Whether it's when you're first applying in the morning or for a midday reapplication, add 2-3 drops of oil to your daily skin care products. "A blend of clary sage relaxes face muscles with its antispasmodic therapeutic qualities," explains Kushnir. "Lavender and bergamot both uplift and help balance emotions. Ylang Ylang is also a hormone stabilizer."
1. Clary Sage Oil, $13.99; gohealthkick.com.
2. Aura Cacia Lavender Oil, $12.99; 12.29; iherb.com.
3. Aramacs Bergamot Oil, $10; 101herbs.com.
4. Jamaican Ylang Ylang Oil, $7.99; jamaicanoils.com.
You should also check out:
Lauren is the former beauty editor at Marie Claire. She love to while away the hours at coffee shops, hunt for vintage clothes, and bask in the rough-and-tumble beauty of NYC. She firmly believes that solitude can be a luxury if you've got the right soundtrack—that being the Rolling Stones, of course.