10 Fitness Experts on What They *Really* Eat Pre- and Post-Workout
(It's not protein powder straight from the tub.)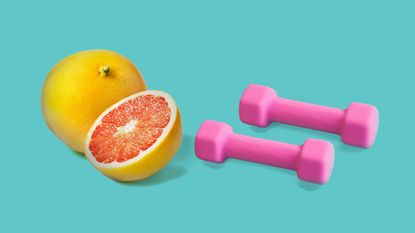 (Image credit: Getty, design by Betsy Farrell)
Marie Claire Newsletter
Celebrity news, beauty, fashion advice, and fascinating features, delivered straight to your inbox!
Thank you for signing up to Marie Claire. You will receive a verification email shortly.
There was a problem. Please refresh the page and try again.
Feeding yourself before exercising is an act of titration. Too soon after eating, and you throw up (or least feel like it). Too long, and you get dizzy. Then you keel over, your final resting place a mat slick with somebody else's sweat. But over time—if you're clever—you'll figure out that you need exactly 1.25 bananas with a heaping tablespoon of almond butter to not die while you work out. And if you're not that clever, that's okay: Here, we've enlisted 10 professional fit people to reveal their preferred pre- and post-physical-activity snacks.
Lauren Porat, founder of YogaSpark
"When your job involves getting super active and sweaty on a regular basis, you have to prepare the body properly. I am not a snacker—I love eating actual meals and feeling nourished, so my challenge is getting full but not too full. My ideal is to eat a medium-size meal about 2–3 hours before class so I feel fueled and not weighed down (or worse!) by it. All my before- and after-class go-tos represent a solid mix of protein, fat, and carbs for strength, satiation, and energy: a green smoothie with spinach, kale, banana, mango, almond milk, and protein powder; any form of nut butter and fruit open-face sandwich on multigrain bread; or avocado toast with a poached or fried egg on top. Only if I'm done working out for the day will I dig into a big salad with lots of veggies and tofu."
Tamara Stojkov, fitness ambassador forOrsden
"Pre-workout, oatmeal is packed with not only healthy carbs and fiber to keep you going for hours, but also contains a high amount of vitamins, minerals, antioxidants, and omega-3 and -6 fatty acids for overall health. Or I'll spread almond butter on two pieces of multigrain toast and top with banana slices and a tiny bit of honey. Afterward, I choose an all-natural, flavorless protein powder like Vega or Garden of Life and mix it with just water. Or a protein bar—I look for my protein bars to have 15–20 grams of protein and few or no preservatives. I love Rise Bar because their bars have just give ingredients and match my protein needs. I usually choose chocolate-flavored bars so it feels like a little post-workout treat."
"I recommend eating a well-balanced meal 2–3 hours before your workout. This gives food adequate digestion time. My workouts usually take place in the morning, so my meal—like an omelette, salad with beans and avocado, or a smoothie with pea protein and almond butter—always includes protein to help with muscle recovery, carbohydrates to give me energy, and fats to provide some important nutrients. Your post-workout meal (1–2 hours after) should be designed to refuel, aid in recovery, and hydrate. Mine include protein and healthy fats but tend to be a bit higher in carbs, as this is when my body can really use them. That could be a chicken breast with black beans and brown rice or another shake with hemp protein, spinach, pureed pumpkin, dates, and almonds."
Bree Branker, master instructor at IMAXShift
"Before teaching/taking spin, it's ideal to get some carbs in your system. Before bootcamp, I prefer something more substantial—eggs are my favorite, but sometimes, I'll jazz it up with a bacon, egg, goat cheese, avocado sandwich. TRY. IT. NOW! But let's not forget after...I'd vote a protein-packed smoothie or acai bowl, or even a fancy salad with fish or chicken, to really restock your body. Real talk, though: I usually just move on to the next meal of the day and go for a larger-than-average serving. After-burn is real—treat it that way! You're not tricking yourself, you ARE that hungry."
Anthony Fontana, martial arts expert and owner of Unlimited Martial Arts
"At least an hour prior to working out, I have grilled or seared white fish with a leafy salad and beans. This meal is packed with protein and essential nutrients to sustain energy throughout my two-hour training session. Forty minutes to an hour after working out, I drink 4 ounces of beef bone broth to instantly regain lost vitamins such as calcium, magnesium, and potassium. I also eat an 8-oz. piece of grilled chicken served with a roasted sweet potato or roasted new potatoes with garlic and oil."
Lauren Schwab, trainer at F45 Training
"Pre-workout: cinnamon toast organic rice cakes (Lundberg brand) with organic sunflower seed butter (unsweetened and salt-free from OnceAgain) with a cup of hot tea and spoonful of Hanah One, which is a superfood of 30 Ayurvedic herbs in a base of wild honey and ghee to boost endurance, mental clarity, and long-term health. This is a perfect all-natural boost for me right before a workout, plus it replaces coffee. Post-workout, I'll have a protein shake (Plant Head brand) with banana, unsweetened OnceAgain sunflower seed butter, ice, and coconut water. I'm usually not extremely hungry after a tough workout, so that's why my go-to is a protein shake that refreshes and goes down smooth. It also holds me over until my next meal!"
Heather Peterson, chief yoga officer at CorePower Yoga
"Because I typically work out in a heated room in yoga, I love to have hydration included in my pre-workout fuel. My go-to is 8 oz. of coconut water with two scoops of Sun Warrior Blend Chocolate Protein. It's light on my stomach (for all those belly-down poses) and gets me through a 60-minute workout. A favorite post-class pick-me-up is Larabar Bites, and you really can't go wrong with any of the flavors. The servings are usually 4 bites, but I think 2–3 is really enough as a quick snack and under 100 calories."
Kym Herjavec, 'Dancing with the Stars' pro and founder of The Bod Studio
"I eat many small portions throughout the day, as it is difficult to dance on a full stomach. I will either eat a flour-less banana pancake (1 banana, 2 whole eggs, pinch of baking powder, 1/2 teaspoon cinnamon, 1 teaspoon coconut oil, 1 tablespoon pure maple syrup) or a slice of Ezekiel sprouted-grain bread with sliced avocado beforehand. Both of these options give me great energy, and I'm not too weighed down. After my workouts, I will either have a green juice or a salad with some protein (salmon or chicken)."
Karena and Katrina, founders of Tone It Up
"I usually work out first thing in the morning, so I drink a big glass of water to rehydrate myself and usually get a boost of energy from a triple espresso and a little almond milk before working out. On days I'm getting in a longer workout, I grab a banana. After I work out, I always make a Protein Pancake using our Tone It Up Protein. I love it because it provides the amino acids to repair my muscles after a workout and it tastes SO GOOD! Berries and a drizzle of honey is my fave topping!"
Same as Karena, I like to work out before breakfast. Pre-workout, I always have an espresso with almond milk. For workouts longer than 30 minutes, I grab a Tone It Up bar. After my workout, I always look forward to a protein smoothie! I'm currently in love with this mango pineapple smoothie that has a pretty unique secret ingredient!"
Follow Marie Claire on Facebook for the latest celeb news, beauty tips, fascinating reads, livestream video, and more.
Celebrity news, beauty, fashion advice, and fascinating features, delivered straight to your inbox!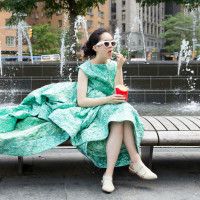 Chelsea Peng is a writer and editor who was formerly the assistant editor at MarieClaire.com. She's also worked for The Strategist and Refinery29, and is a graduate of Northwestern University. On her tombstone, she would like a GIF of herself that's better than the one that already exists on the Internet and a free fro-yo machine. Besides frozen dairy products, she's into pirates, carbs, Balzac, and snacking so hard she has to go lie down.