Here's What to Gift Your Boss for the Holidays
Did I hear someone say, "Employee of the Year?"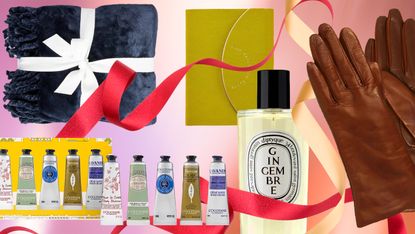 (Image credit: Future)
Deciding on the best gift for your boss can either be a walk in the park or a huge pain, depending on how well you know her. Not to mention, there's no rulebook on how much to spend or what's deemed "office-appropriate." But not to worry: We tapped Kate Bellman, the head of editorial and content at Nordstrom, for insight on navigating holiday gifting for your superior. Her first note? "A gift for a boss is a nice gesture, but not an obligation"—which means just by clicking on this round-up, you're already in good standing for that promotion you've been working toward.
With Bellman's insight, we scoured the internet to find the best holiday gifts for your boss, from a neck massager to lavish hand cream (which would also make a great gift for your coworkers). Even if you have just a general idea of your boss' taste, or at the bare minimum, a working relationship with her, it's hard to go wrong with one of the gift ideas on this list. As soon as your boss unwraps one of the below items, you're sure to stand out from the rest of the office. Did I hear someone say, "Employee of the Year?"
What to Keep in Mind
"First off, start with a gift that works within your budget," advises Bellman. "Never underestimate the sentiment of a genuine, hand-written card if that's what the budget allows!"
Remember the Office Culture
"It's also a great idea to recognize the culture of the office," says the Nordstrom expert. "Some have a no-gift policy, while others celebrate together through office parties or contribute to a singular team gift."
Pay Attention to the Little Details
"When it comes to picking a gift for your boss, it's best not to go too intimate or personal but to pick up on some details of their personality or interests. If they're never without a cup of coffee, a nice mug and a Holiday java blend tap into recognizing their day-to-day. If they like to travel, a travel-based coffee table book would make a thoughtful gesture. Cozy categories such as candles and throws are always a fail-safe or a classic desk accessory to give their office a timeless touch," Bellman offers.
Shop for the Best Gifts for Your Boss