The 16 Best Laptop Backpacks for Women in 2023
Stylish, take-anywhere backpacks that fit your laptop (and everything else, too).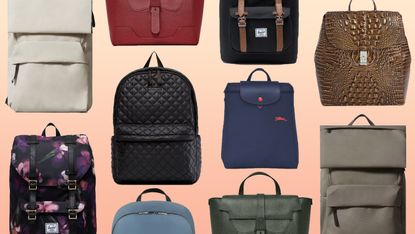 (Image credit: Brittany Holloway-Brown / Courtesy of Brands )
If you've recently started commuting to the office again, you know how important it is to have a great laptop backpack to bring with you. While, yes, a regular cotton tote bag would probably cut it, there's nothing worse than losing your keys, wallet, or your daily planner at the very bottom of your bag. Not to mention, having a secure, zipped-up spot for your laptop or work phone is a game-changer. So Marie Claire chatted with the experts—a.k.a. women who love having a laptop bag for work and know a thing or two about what to look for—about the very best work backpacks for women that can carry your laptop.
A step up from even the very best work bag, the laptop backpacks on this list make light work of carrying all of your essentials—be it a bevy of charging cables, a water bottle, or a change of gym clothes. And while all of the backpacks on this list are designed with function in mind, many of them are just plain stylish, too. Some are souped-up leather totes with a sleek, on-trend look, while others are made from water-resistant nylon or canvas. Ahead, we asked Cuyana co-founder Shilpa Shah and Bellroy's Co-Founder and COO Lina Calabria for their picks, in addition to rounding up a few of the laptop backpacks that keep the team at Marie Claire going from brands like Calpak, Longchamp, Herschel, and more.
Deals on Laptop Backpacks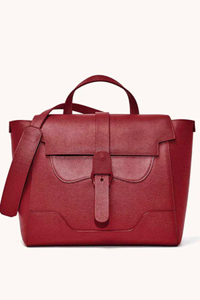 Senreve Maestra Bag, $945 $662 at Senreve
Select colorways of this back from Senreve (including this wine shade and others) are on sale for 30 percent off right now.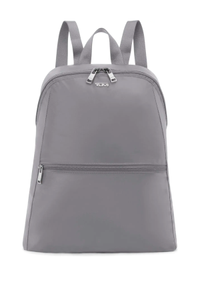 TUMI Voyageur Just in Case Packable Nylon Travel Backpack, $150 $119 at Nordstrom
A few colorways of this TUMI backpack are on sale right now at Nordstrom. This pale gray hue, a marble print, and a deep plum brown shade are all going for 20 percent off.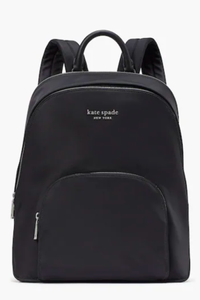 Kate Spade New York Sam KSNYL Nylon Laptop Backpack, $298 $149 at Kate Spade
This nylon backpack from Kate Spade is 50 percent off right now with a discount applied at checkout. Snag it for under $150 while you can.
How We Chose the Best Laptop Backpacks
There are plenty of laptop backpacks to choose from, and it's our job to discern which are truly the cream of the crop. To that end, there are a few key factors that all of the laptop backpacks on this list share:
Pockets for organizing: If you're on the hunt for a laptop backpack, it's most likely because you're sick of digging your belongings out of the bottomless pit that is your tote. All of the laptop backpacks on this list have several interior and exterior pockets; the majority of them have a dedicated sleeve for your laptop; and some come in several sizes to fit differently-sized laptops and other tech. As Shah says: "When shopping for a laptop backpack, organization is key."
Versatile: You likely want a laptop backpack that can take you from your office to happy hour to a date without looking out of place. All of these laptop bags come in neutral colorways and are sleek by design, so even the most practical bag in your collection looks tailor-made to your personal aesthetic. Some of the bags here also are convertible and can be worn as a tote bag or a crossbody bag, while others fold up into your carry-on suitcase for easy travel.
Comfort: Odds are, you're going to be carrying this backpack for hours on end. The backpacks on this list have thick, sturdy shoulder straps and are designed with weight distribution in mind so your back and shoulders won't ache. Some also have padding along the backside of the actual bag (and on the straps!) to keep you comfortable even as your belongings move around.
High-quality materials: We want you to love the laptop backpack you choose for years to come. With that in mind, we only selected backpacks that are made from materials that are built to last like leather, neoprene, canvas, or nylon.
The Best Laptop Backpacks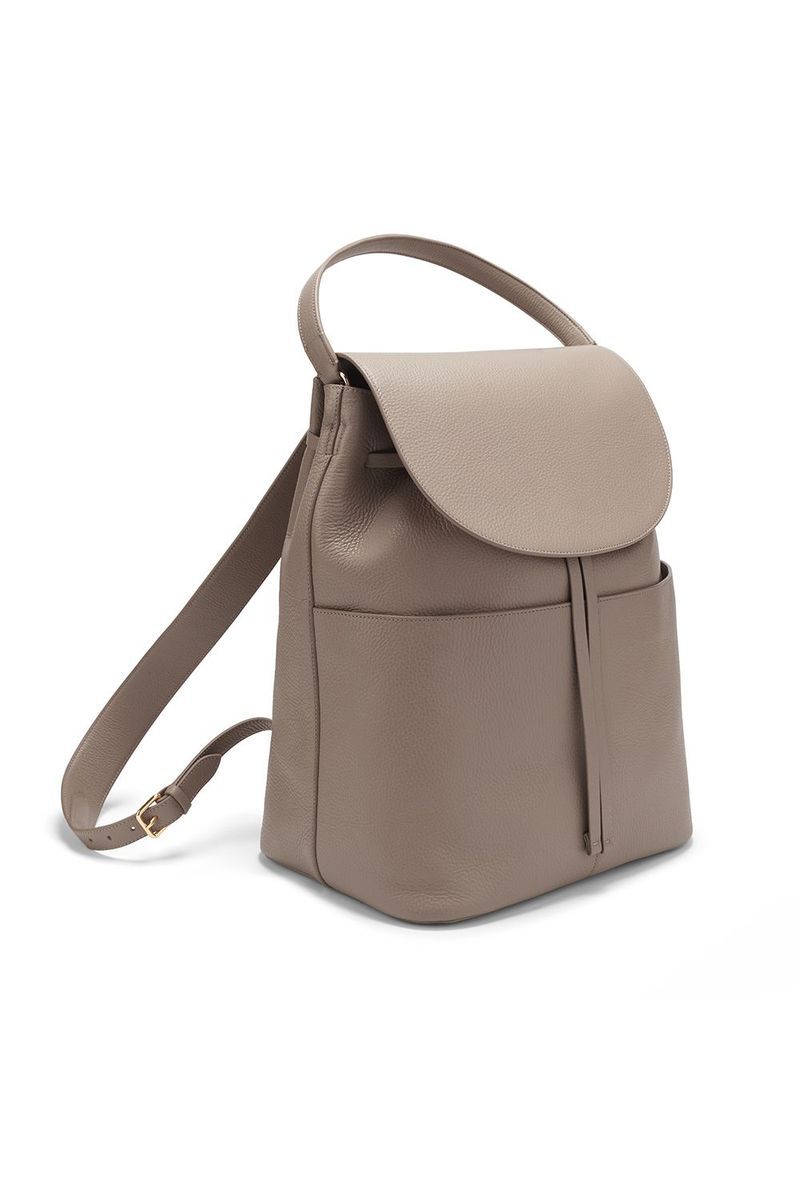 Best Laptop Backpack That Comes in Two Sizes
Shah says that Cuyana's Leather Backpack has been her "go-to for years." Available in two sizes—13 and 16 inches, respectively—this work bag comes with a laptop sleeve built-in alongside a larger slip pocket on the inside. "This bag was truly designed with comfort in mind, with wider back straps and adjustable notches to help you carry your necessities with ease," she says. You can shop it in multiple colors if this clay color is too hard for you to keep clean.
Pros: Comes in several colors; Comes in two sizes (13" and 16"); Fits a 16" laptop; Sustainably-made; Has a dedicated laptop sleeve inside; Has two interior pockets.
Cons: Costs over $200.
Customer Review: None available.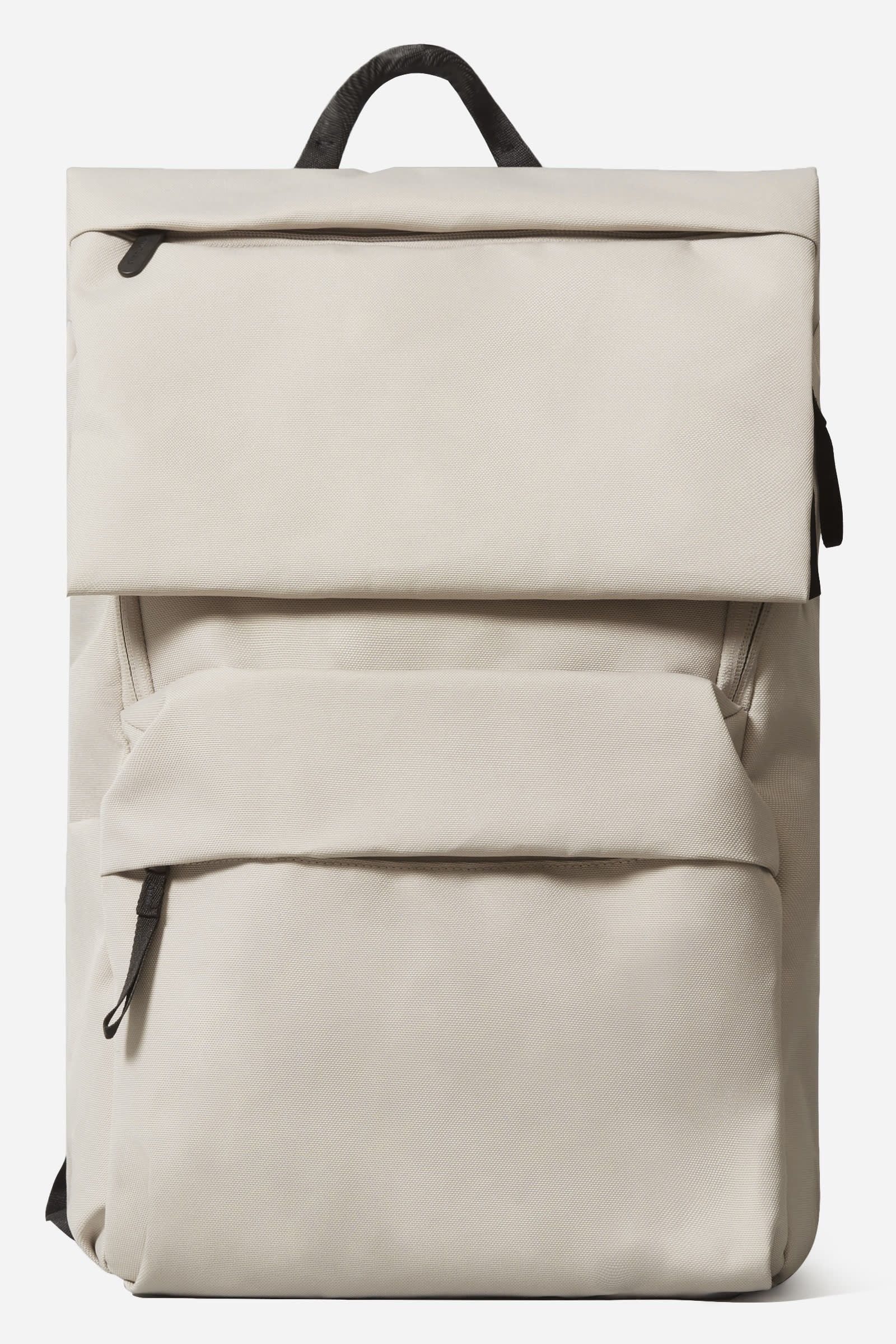 Best Roomy Laptop Backpack
Everlane The ReNew Transit Backpack
"This bag is an absolute star when I have a commute. It fits my (ginormous) laptop via a side compartment—which, by the way, is great for when I need to access it without rifling through the rest of my bag. (I haven't traveled with it yet, but apparently the exterior pocket is also awesome for when you need to remove your electronics for TSA). It's also got a bunch of zip pockets, slip pockets, two water bottle holders, and a strap for luggage. Apparently this is great for the organized traveler, but it's equally great for when I need to shove a bunch of things into it before I run out of the house." — Katherine J. Igoe, Contributing Edtor
Pros: Holds a 15" laptop; Costs less than $200; Has two water bottle containers; An interior zip pocket for security; Several exterior pockets for easy access
Cons: The water bottle pocket is designed for slim bottles.
Customer Review: "Very comfortable. Structured so it doesn't like like a drawstring bag but not too structured as to be unforgiving for oblong objects like a keyboard. Lightweight with large capacity. Zippers are good quality and I love the khaki color. I love wearing it into work and feel polished but not too feminine. Love avoiding leather (real or vegan) when possible too. Also- pockets galore." — Everlane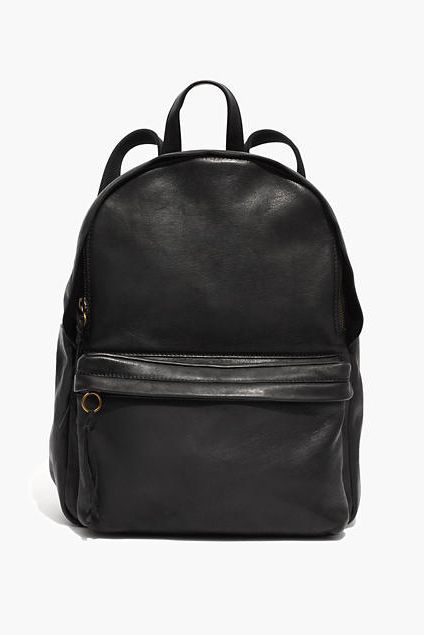 The Best Everyday Laptop Backpack
Madewell The Lorimer Backpack
If you're looking for an option that won't cost you a fortune, looks luxe, and works for everyday use, consider this 100% leather laptop backpack from fan-favorite brand Madewell. The buttery soft leather will wear with time, giving it the perfect lived-in feel. Plus, it's packed with tiny design details that make it great for gifting (read: it's monogrammable!). It doesn't have all the bells and whistles of other laptop backpacks on this list, but it gets the job done.
Pros: Comes in two colors; Is monogrammable;
Cons: Costs over $200; Users say the zipper breaks easily.
Customer Review: "Love this bag! Would fit a 13-inch mac book pro with no problem. I have a 15-inch mac book that I can wedge in there but it's a tight squeeze. Hoping it will stretch out a bit over time to add a bit more flexibility. This is definitely the nicest backpack I've ever owned!" — Madewell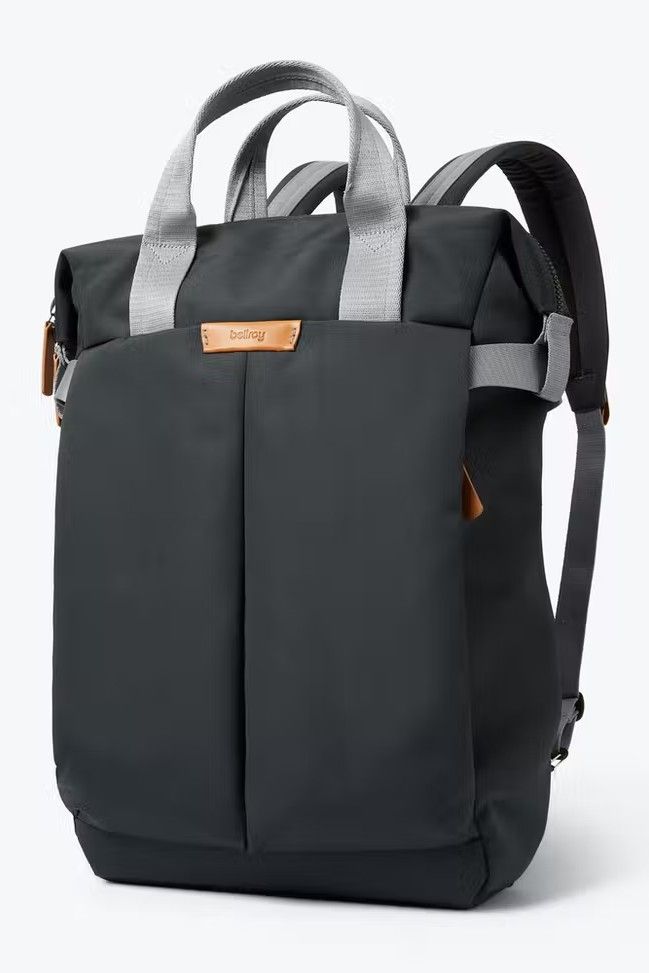 Best Laptop Backpack for the Minimalist
"The Tokyo Tote Compact is perfect for carrying a few things with really quick access in a tote format where you don't have to compromise on organization," says Calabria about this sporty backpack. It's available to shop in six shades including red, green, and black, and has plenty of design details that prove it's worth the price tag: padded shoulder straps, vertical front pockets for easy access to all of your essentials—plus, it's made from water-resistant nylon for all-season travel.
Pros: Has padded shoulder straps; Made from water-resistant nylon; Fits most 15" laptops; Backed by three-year warranty; Costs less than $200; Has interior pop-pockets for water bottle storage.
Cons: Some reviewers say the zippers are hard to open and close.
Customer Review: None available.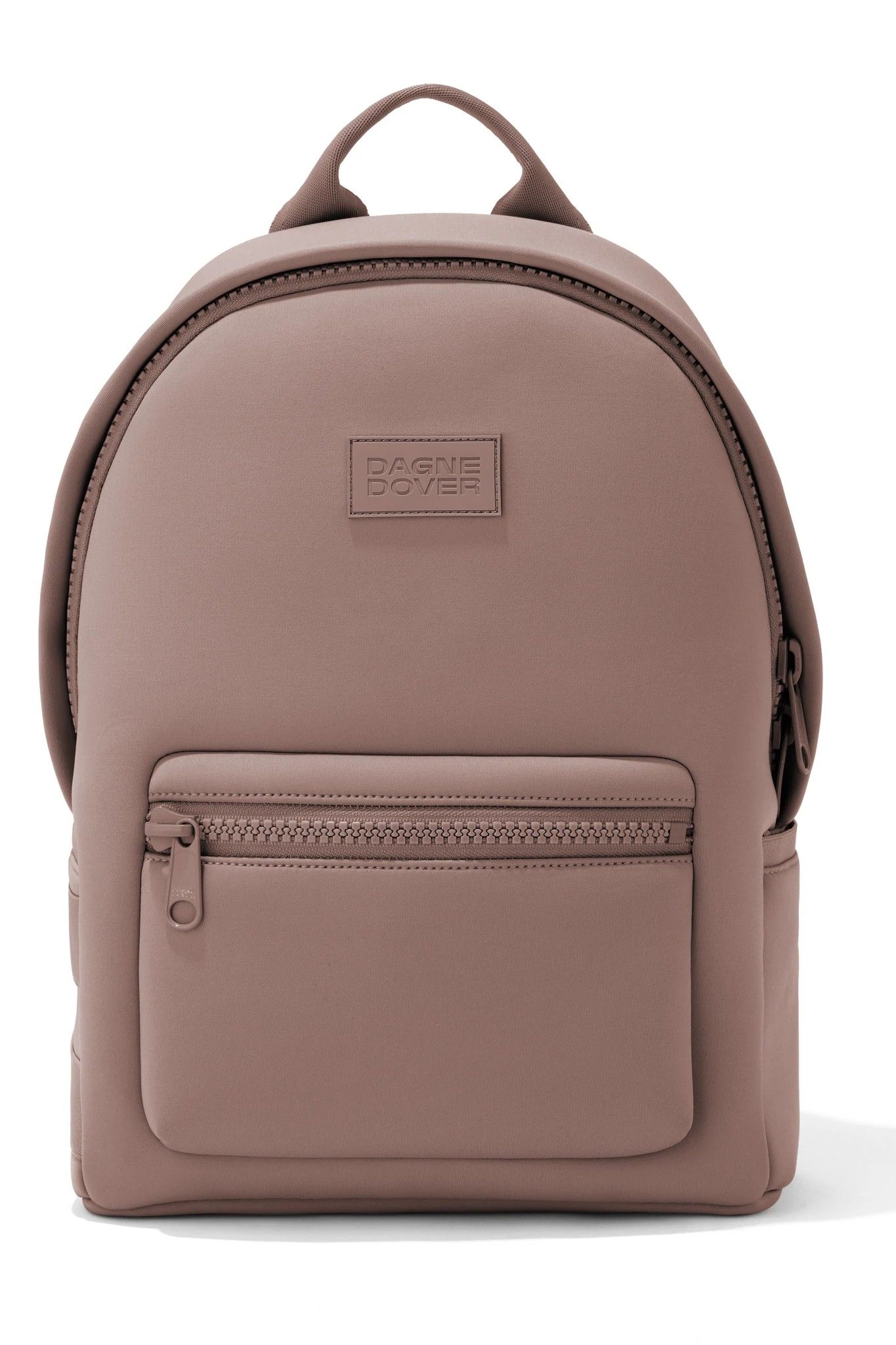 Best Laptop Backpack for Travel
Dagne Dover Dakota Neoprene Backpack in Medium
"I own the medium Dagne Dover Dakota Neoprene backpack in Dune, as well as the small and large limited edition Dusky Blue. I also own a large Indi Diaper Backpack in Storm Blue. I've built a collection of these Dagne Dover bags since 2019 because the neoprene is so light and soft. The main compartment is roomy enough for gym shoes and clothes, planner books, a makeup bag, as well as an exterior side pocket that can accommodate a thin water bottle (it's Larq compatible!). Also, the interior features a laptop sleeve with an elastic enclosure to keep your laptop or tablet in place—safe and separate from your other belongings. The adjustable straps are also made of neoprene so it's easy on the shoulders during your commute. The bags are water resistant, but not stain resistant. However I throw mine in the wash under delicates and lay flat to dry and it looks brand new again." — Tanya Benedicto Klich, Senior Editor
Pros: Costs under $200; Comes in multple colors; Has an interior laptop sleeve; Has adjustable shoulder straps; Is water-resistant; Machine-washable; Comes in three sizes; Top-rated; Fits over a suitcase handle.
Cons: Not stain resistant
Customer Review: "I use this backpack as my work bag. All the pockets help me keep my laptop, tablet and chargers, pens etc organized. The padded straps are comfortable and do not dig into my shoulders when the bag is full. It looks great and can be cleaned. I excited to use it as my carry on bag when I fly!" — Dagne Dover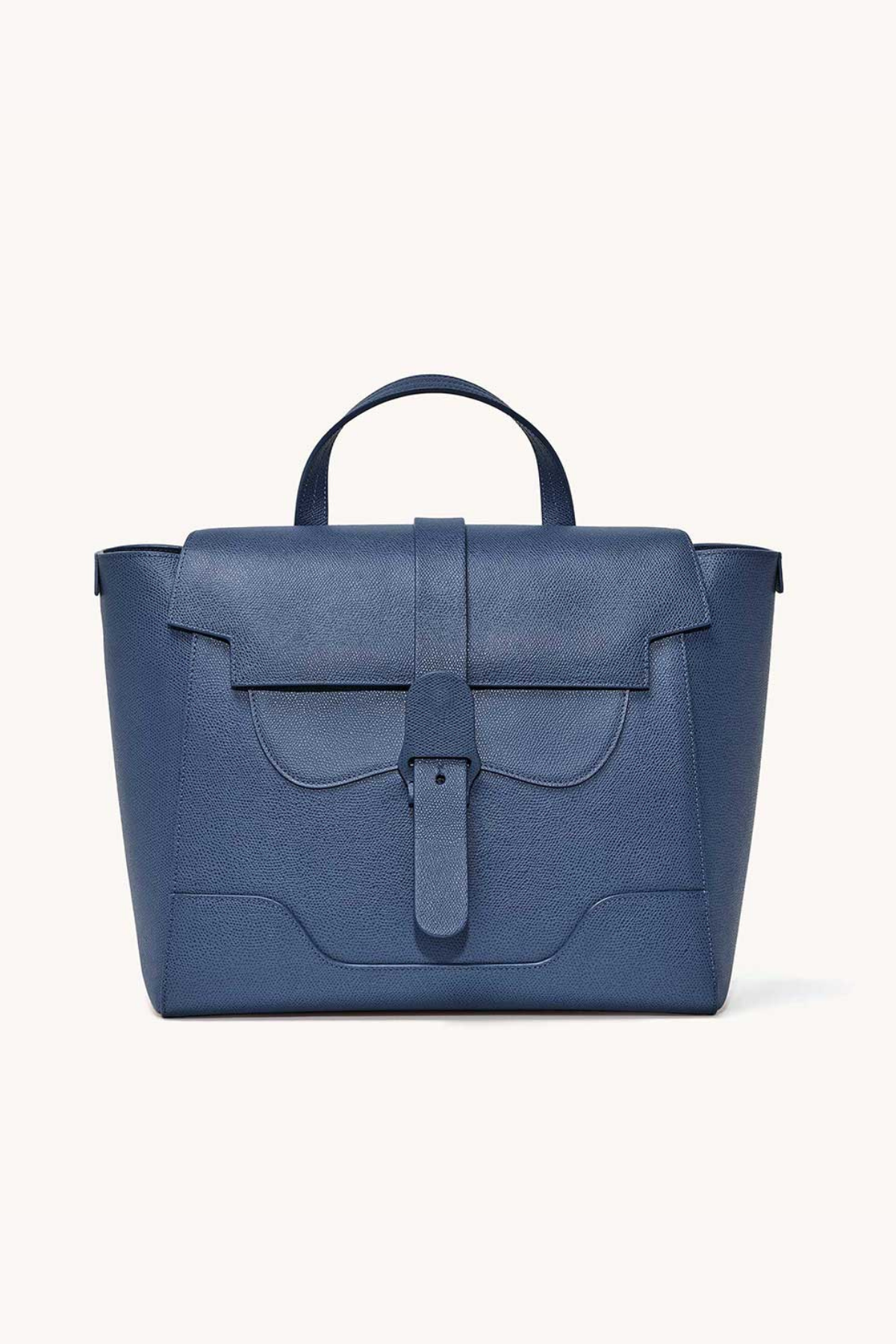 Best Convertible Laptop Backpack
This stylish (and convertible!) option from Senreve works as a tote or a backpack thanks to its four-way wearability, and looks stylish every which way you wear it. The stain-resistant texture also means that it will be super durable for years of constant use. However, it only has one exterior pocket and one interior pocket, so it's best if you're someone who travels light or has all of their essentials at the office already.
Pros: Comes in several colors; Can be worn four ways; Water-resistant; The main pocket fits up to a 15" laptop; Has a dedicated laptop compartment; Has seven interior pockets; has one zippered pocket.
Cons: Costs more than $200; The dedicated laptop compartment only fits an 11" or 13" laptop.
Customer Review: "I bought the Maestra in Pine in the Mimosa leather. The bag is stunning, very well made. I wanted a computer bag for work that actually had a computer pocket. Most totes advertised as work bags are very thin and offer no protection for the laptop. I also wanted a backpack so this bag is perfect." — Senreve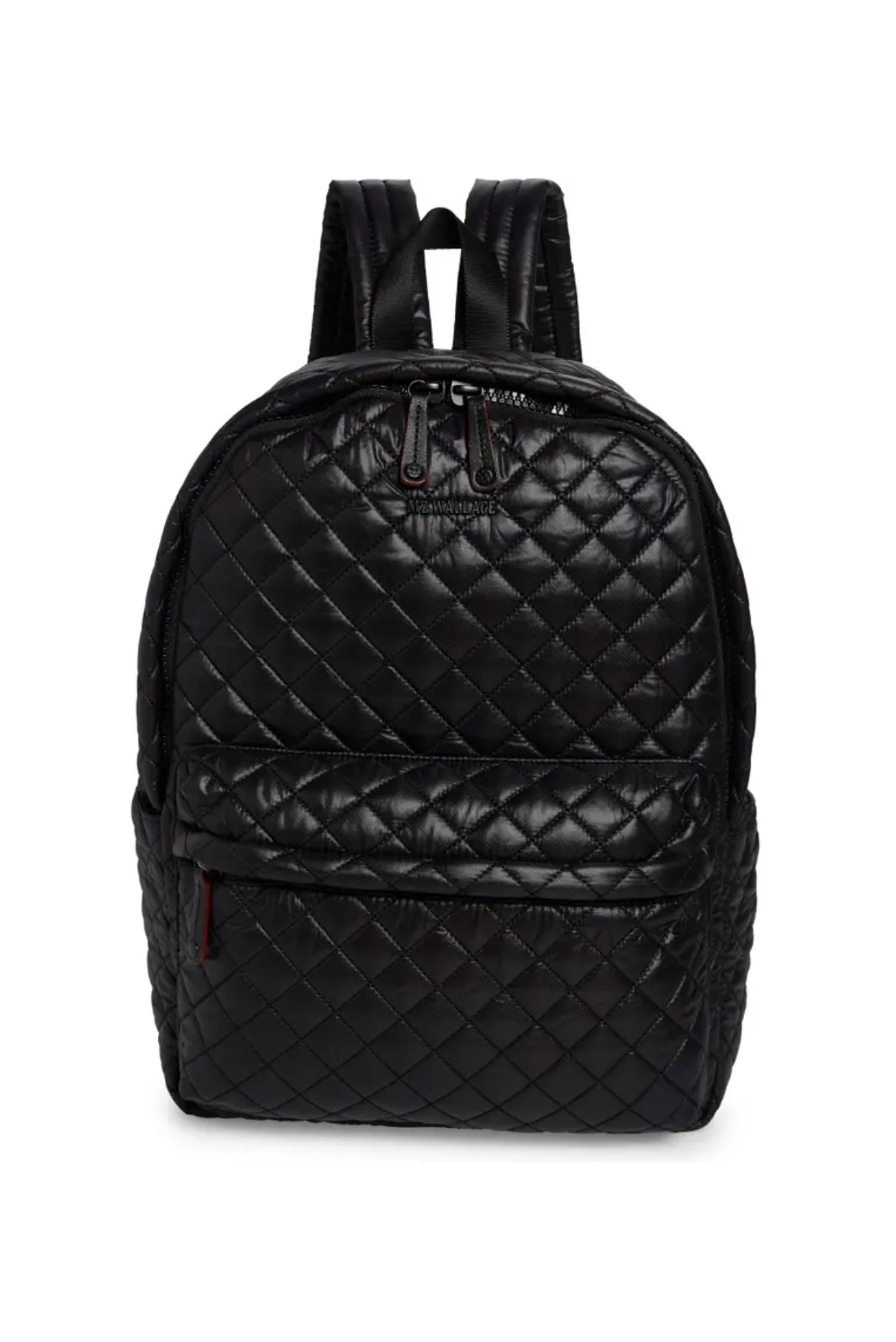 Best Laptop Backpacks for Commuters
MZ Wallace Metro Deluxe Backpack