Sarah Huckabee Sanders Gets Emotional During Vegas Briefing but Refuses to Talk Gun Policy
"There's a time and a place for a political debate," says the White House Press Secretary—immediately following the deadliest shooting in modern American history.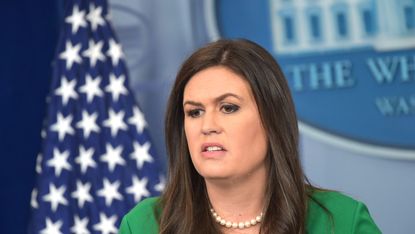 (Image credit: Getty Images)
White House Press Secretary Sarah Huckabee Sanders delivered an emotional briefing Monday after a mass shooting in Las Vegas left at least 58 dead and over 500 injured Sunday night. She was visibly choked up while talking about the memory of those lost, but when reporters asked what President Donald Trump planned to do about America's gun policies moving forward, Sanders shut them down.
RELATED STORY
"What these people did for each other says far more about who we are as Americans than than the cowardly acts of a killer ever could," she began in her opening statement. She was visibly choked up while talking about the innocent victims.
"The memory of those who displayed the ultimate expression of love in the midst of an unimaginable act of hate will never fade," she said, holding back tears. "Their examples will serve as an eternal reminder that the American spirit cannot and will not ever be broken. In the days ahead we will grieve as a nation, and we will come together as a nation."
Press Secretary Sarah Huckabee Sanders holds back tears as she reads a White House statement about the Las Vegas shooting. pic.twitter.com/w7KsbjNid6October 2, 2017
See more
But her tune changed once people wanted to talk policy. When a reporter asked Sanders if the president planned to pursue tighter gun laws, she said talking policy would be considered "premature" without all of the facts.
"Today is a day for consoling the survivors and mourning those we lost," she said. "Our thoughts and prayers are certainly with all of those individuals. There's a time and place for a political debate, but now is the time to unite as a country." (But keep in mind that she represents a Republican administration which is unlikely to sign off on any sweeping gun control legislation anytime soon.)

Sarah Huckabee Sanders: "There's a time and place for a political debate, but now is the time to unite as a country" https://t.co/nUHQt5a3NUOctober 2, 2017
See more
However, other politicians have been more vocal and don't think "thoughts and prayers" are going to cut it. Former Democratic Representative Gabrielle Giffords, who was representing Arizona when a gunman attempted to assassinate her in a 2011, stressed the importance of talking about policy during a time of tragedy.
"Now is the time to take positive action to keep America safer," she said in an official statement. "Do not wait. The nation is counting on you."
Here's Gabby Giffords on the Vegas shooting massacre pic.twitter.com/AIOoIuIKJJOctober 2, 2017
See more
I'm Eileen, the digital news reporter at Hearst Digital Media. As a member of the newsroom, I report on a wide range of news, including entertainment, politics and lifestyle. I also cover red carpet events for over 20 of Hearst's magazine brands. I previously held positions at CNN, Facebook and MTV, where I worked as a digital producer, writer and on-camera host. Fun facts: I'm fluent in Spanish, a BU alum, and love fashion and travel.