"We Are Not Doing Our Jobs—and People Are Dying Because of It"
In the aftermath of the Las Vegas massacre, Congresswoman Carolyn B. Maloney opens up about how this country's gun laws have failed us.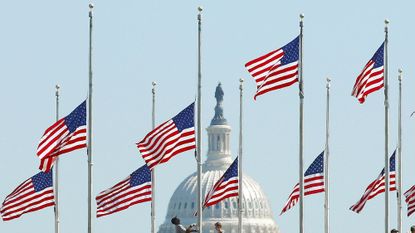 (Image credit: Getty Images)
Marie Claire Newsletter
Celebrity news, beauty, fashion advice, and fascinating features, delivered straight to your inbox!
Thank you for signing up to Marie Claire. You will receive a verification email shortly.
There was a problem. Please refresh the page and try again.
On Sunday night, the Las Vegas strip was turned into a war zone. A lone gunman, from his hotel room window, murdered 59 innocent people and wounded more than 500. It is the worst mass shooting in modern U.S. history.
We're still learning how and why this madman committed this atrocity, but one thing we know for certain is that our country is failing to keep Americans safe from gun violence. We have been failing for years.
No advanced country in the world even comes close to the U.S. with regards to gun violence rates. Every day, 32 Americans are murdered with a gun. America has 42 times as many firearm homicides as England and Wales, 20 times as many as Australia, and more than six times as many as Canada. We also own more guns than any other developed nation. In fact, the United States—which accounts for just 4.4 percent of the world's population—has almost half of all civilian-owned guns around the world.
I mourn those who were gunned down in Las Vegas, just as I did those at the Pulse Night Club in Orlando, and the children and teachers who were murdered at Sandy Hook Elementary School, and the many other mass shooting victims we've lost in these events that have become all too common. It is appropriate to express our "thoughts and prayers" whenever a tragedy like this happens, but it is not enough. Without action to prevent the next massacre, these words ring hollow.
No one should have weapons like the ones the Las Vegas shooter had, enabling him to inflict that much horror and evil, to take and irreparably change so many lives. There are common-sense, widely supported gun safety reforms that we can put in place that will save lives and respect people's rights to own firearms under the Constitution.
Nearly 90 percent of Americans support universal background checks, 84 percent support closing the gun show loophole, 68 percent support banning assault-style weapons, and 65 percent support banning high capacity magazines. As members of Congress, we are sent to the Capitol to represent the American people, our constituents. Clearly, we are not doing our jobs—and people are dying because of it.
After the passage of the 1994 assault weapons ban, we saw a 6.7 percent decrease in total gun murders and a 67 percent decline in the use of assault weapons in crime, yet we allowed this law to expire in 2004. We know that gun trafficking and straw purchases are some of the most common ways for criminals and other individuals who legally cannot own guns to get their hands on a firearm. Yet our federal gun trafficking laws are so weak that federal prosecutors rarely use them to bring charges. We even prohibit our federal public health researchers from studying gun violence.
RELATED STORIES
There are bills before this Congress to fix these shortcomings, to make this country safer. I've introduced bills to strengthen our gun trafficking laws and allow federal research into gun violence. Other members have introduced bills to implement universal background checks. But time and again, the Republican-controlled Congress has refused to allow even a hearing on these bills, let alone a vote.
We all know why. The gun lobby, led by the National Rifle Association (NRA), has had an iron grip on our government for years. Its allies in Congress have not only blocked new gun safety reforms, but they've also systematically worked to weaken the protections we do have.
Americans do not want military-style assault weapons on our streets. We don't want ammunition magazines intended for war in our hotel rooms and nightclubs. We don't want someone who cannot buy a gun at a gun shop to be able to buy a gun at a gun show.
It's long past time Congress stopped answering to the gun lobby and started answering to the American people.
READ OUR SPECIAL REPORT
Celebrity news, beauty, fashion advice, and fascinating features, delivered straight to your inbox!
Julie Vadnal is a freelance writer and founder of the weekly newsletter Jules. (You should definitely subscribe.) Her work has appeared in New York, Cosmopolitan, Domino, Real Simple, and Architectural Digest. She lives in Brooklyn.