So, the GOP Website Published Trump's Fake News Awards
And the internet is losing it.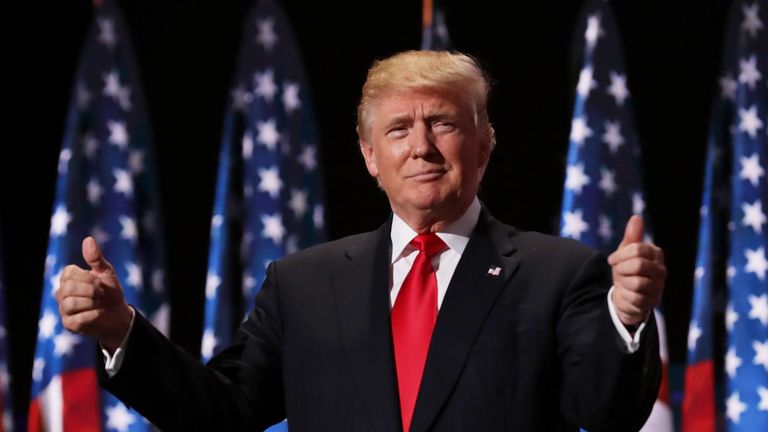 (Image credit: Getty Images)
'Tis the season for awards shows, and Donald Trump graciously presented us with his own. Last night, he announced his winners—or rather "losers"—of the "Fake News Awards." Via Twitter. Obviously.
He tweeted out a link to the list of 11 awards that are now live on the GOP's website—which stopped working for a bit because so many people were trying to access it.
The highly anticipated awards had lots of Twitter users talking—mostly about the ridiculousness of the the whole event, but also about what Trump could have spent his time doing instead and why the national GOP website decided to post the awards. Here are just a few of the best reactions:
Chrissy Teigen
Mark Hamill
1-I've done my homework!2-Had my hair done for the Red Carpet!3-I am SO ready for THE FAKE NEWS AWARDS!!!4-Ignore loser President Jefferson who never even bothered to create an Award Show & is not only a buzz-kill, but is also quite dead. pic.twitter.com/0PYhDaY0RMJanuary 17, 2018
See more
David Martosko
Noah Shachtman
This is bullshit. I demand @thedailybeast get its due. https://t.co/SHMLBUyezXJanuary 18, 2018
See more
JayMac News Show
BenGarrison Cartoons
Jimmy Kimmel
For @CNN @WolfBlitzer accepts @RealDonaldTrump's #FakeNewsAwards pic.twitter.com/qPwYZt9XqSJanuary 18, 2018
See more
Richard Hine
TIL: For all his screaming about fake news, Trump wasn't able to find any truly serious/uncorrected mistakes in the mainstream media. The lies he tells on Twitter each day are far worse and a lot more dangerous #FakeNewsAwardsJanuary 18, 2018
See more
Luke McGarry
Finally! Today's the day! @realDonaldTrump's Fake News Awards are today! ...right? pic.twitter.com/0K4MBUDY0AJanuary 17, 2018
See more
Joyce Carol Oates
Twitter #Resistance very disappointed that fake POTUS fake Fake News Awards lacks a Twitter category. So many of us are eligible! veritable army of tweet-mongers deserving of fake POTUS opprobrium. nominations?January 18, 2018
See more
Palmer Report
William LeGate
Just 51 hours until the government shuts down, and the GOP is more focused on their #FakeNewsAwards than doing their own jobs. Not only does the GOP control every branch of government, but Trump refused to sign their bi-partisan bill. As always, they will try to blame the Dems.January 18, 2018
See more
Ambrish Saxena
RELATED STORY
RELATED STORY
RELATED STORY