Here's What the Presidential Candidates Had to Say About Diversity at Last Night's Brown and Black Forum
The Democratic hopefuls talked about the issues that specifically affect minority communities.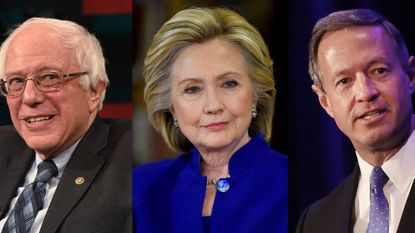 (Image credit: Getty Images)
Monday night's Brown and Black Forum went live at Drake University in Iowa on cable network Fusion, individually prompting the three leading Democratic candidates about the concerns of Latinos and African Americans. Their statements on race, immigration, and sexual assault are particularly pertinent just a few weeks before the first caucus of 2016.
Under the persistent direction of Fusion hosts Jorge Ramos, Akilah Hughes, Alicia Menendez, and Rembert Browne, candidates Hillary Clinton, Bernie Sanders, and Martin O'Malley notably couldn't skirt around difficult questions. The forum covered a lot of ground—everything from Black Lives Matter, domestic terrorism, white privilege ("where do I start?" Clinton said), and immigration raids, to police violence, Social Security, and Hillary's favorite rumor about herself (a headline announcing Hillary's alien, ET-esque baby, if you're wondering).
The Forum, created in 1984 by former Iowa state representative Wayne W. Ford and Mary E. Dominguez Campos, is the nation's oldest non-partisan presidential forum that focuses on minority issues.
Each candidate appeared on stage for approximately 30 minutes to answer questions from the hosts and college students in the audience. Both Sanders and O'Malley mentioned their frustration with the Democratic National Convention's scheduling, which has made it harder for candidates to connect with the public. (The DNC announced that there would be only six aired debates.)
Sanders kicked off the night, making it clear that the primary fight of a presidency will be making public colleges and universities tuition free.
"Here's a radical idea," Sanders added. "In the last 30 years, trillions of dollars have been redistributed from the middle class. Making public colleges and universities tuition free is not a radical idea."
Hughes asked how the Senator would respond to a white student who feels that affirmative action limits them from higher education.
"I would say to that white kid, you deserve an education, so does the black kid next to you, and so does every kid in America. And in the richest country of the history of the world, we can do that, and we're going to pay for that, by the way," Sanders said.
He emphasized that sexual assault on college campuses should be treated as a serious crime beyond university law enforcement, further warranting a national discussion about sexuality.
"I am a United States Senator who believes in science and facts," he said, on the topic of abstinence-only [sex] education. "When sexuality is an intrinsic part of human life, we should not run away from it. We should explain biology and sexuality to our kids on a factual basis."
Sanders, who is living modestly during his campaign, ushered in big laughs when he referred to the presidential headquarters as "public housing."(He was asked if it was off-brand for a Democratic socialist to live in a mansion.)
Martin O'Malley was put on the spot with a question about the lack of diversity on his campaign staff, which is 82 percent white. O'Malley partially dodged the question by defending his campaign staff as the smallest of the Democratic candidates, but emphasized that, "In these early states probably the majority of the field staff are white, but I can tell you that the leadership of my campaign and every cabinet I have put together I have had a great deal of diversity and I have made judicial appointments that were historic."
Clinton was grilled about her positions on immigration and border control, saying that although she has supported border control, she will not assume the role of "Deporter-in-Chief." She took a stance against the raids of Central American immigrant homes and offered a plan to provide government counsel for unaccompanied children. However, Clinton couldn't guarantee the end of deportation for unaccompanied youth.
"I can promise that I will do everything possible to provide due process," she said. "We have to change the immigration asylum and refugee laws, and right now, until we do, we have to try to figure out how to handle this very large group of predominantly women and children coming north."
Later, Ramos asked if Clinton could confirm that she would not use the term "illegal" when referring to undocumented immigrants.
"That was a poor choice of words," she said. "I haven't used it since. I won't use it in the future."
When questioned about how she will address racism, Clinton listed several issues: criminal justice, police reform, and incarceration reform needs to take priority.
"I believe strongly that this has to be the highest priority of the president," she said. "It is such a violation of what we say our values are, equal before the law," she added. "We have systemic racism and bias that is implicit in our system."
Clinton also reiterated that the Hyde Amendment, a prohibition of federal funds for abortion, should be repealed.
Of course, it wouldn't be a political forum without subtle aggression towards fellow opponents.
"It could be that the candidate for the Democratic nomination isn't so inevitable anymore," Sanders said at the forum.
With 20 days until the Iowa Caucus, the polls for the Democratic nomination are essentially tied. Clinton claims a three-percentage point lead over Sanders in Iowa, and Sanders has a four-percentage point gain in New Hampshire, according to a recent NBC News/Wall Street Journal/Marist poll.
Follow Marie Claire on Instagram for the latest celeb news, pretty pics, funny stuff, and an insider POV.