A Democrat and a Republican Go Head to Head on What Drafting Women Will Really Mean for the United States
If the House approves the bill recently passed by the Senate, women over the age of 18 will have to sign up.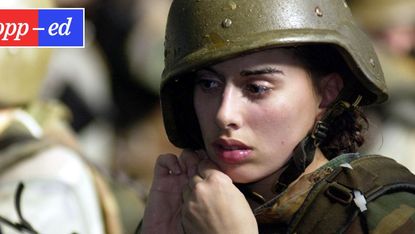 (Image credit: KATJA CHO / GETTY IMAGES)
Opp-Ed is a new column from MarieClaire.com in which two women—from opposing political sides—explain their points of view on hot-button issues. Our "Opp-Editors," Sam and Morgan, are both former government officials and current political analysts who hail from across the aisle—and, perhaps most interestingly, are long-time friends. Here, they hash it all out.
The Senate passed a bill last week that would require women over the age of 18 to register for the draft. Prominent Republicans and Democrats alike stood behind it (perhaps surprising, considering today's divisive political environment). Even Hillary Clinton—who I strongly hope will be our next President—voiced her support, and I could not agree with her more. The fight for gender equality in the military must extend to the draft, if it becomes necessary to implement.
In many ways, this policy is just catching up with reality. I vividly remember my first deployment to a war zone—I had the privilege of working alongside the military for almost a decade and have seen firsthand the incredible progress women have achieved.
I remember the dust, the heat, and, of course, waves and waves of men. Everywhere. As a 24-year old female civilian, I stuck out like a sore thumb amidst the tens of thousands of male soldiers that made up the Coalition supporting Operation Iraqi Freedom. There were about 150,000 U.S. troops on the ground when I arrived in Baghdad back in 2007, but the military roles open to women were narrow—so much so that male sergeants desperately searched for a bulletproof vest that would fit me because they only had "man sizes."
The women I did observe were inspiring—and resolute. They've been serving in the U.S. military since its inception, often on the very edge of roles that were not technically open to them. Women have been notoriously under-utilized thanks to broad restrictions like the 1981 Supreme Court ruling against women registering for the draft.
But critics of the bill–including outspoken Conservatives like Senator Ted Cruz–are still fear-mongering by evoking sexist images of defenseless young girls on the front lines of combat. This is a misrepresentation of how military service works. Each soldier that either enlists or is drafted won't necessarily be sent to the front lines. Soldiers are assigned to divisions based on his/her capabilities and available positions. Every potential recruit has to pass a series of tests and meet specific requirements to qualify for combat—including men.
A co-ed draft stands to vastly improve our armed services by tapping an additional, qualified cohort to serve—but also by forcing the military to address issues of sexual assault in its ranks, something it desperately needs.
We haven't used the draft since 1973, and hopefully we won't have to anytime soon. But if we do, leaving out 50 percent of the population is a disservice to our country.
Sam is a political commentator who served previously as the Senior Advisor to the National Security Advisor in the Obama Administration and as Deputy U.S. Treasury Attaché to Iraq. She holds a B.A. in Asian and Middle Eastern Studies from the University of Pennsylvania and Masters Degree in Security Studies from Georgetown. Follow her on Twitter.
Sam and I, although from incredibly different political and cultural backgrounds, had the fortune of finding each other in Baghdad in late 2007. Throughout my 20s, I worked alongside the military while in the U.S. government in a civilian capacity, and I'm also an Officer in the U.S. Navy Reserves. As Sam noted, it wasn't exactly the bastion of gender neutrality, but we worked hard to prove our worth to the war effort. And I can attest, as a woman who has served twice overseas in a civilian role, that we are not frail beings who need our politicians to protect us—rather we are the ones protecting them.
While my party isn't entirely aligned on this issue, the vast majority of Republican Senators voted in favor of the legislation to include women in the draft (which is actually an outdated term—we got rid of "the draft" after the Vietnam War in 1980, replacing it with the "Selective Service"). One of the most respected defense hawks in the Senate, Lindsey Graham, said of women being potentially drafted:
"Women members of the military have become indispensable in the all-volunteer force. They have excelled many times over. Taking half of the population off of the table at a time of great threat to our nation makes no sense to me. No one will be assigned to a combat role unless they are qualified; however, in the event of a national emergency where we would need to resort to the draft, I believe America would be best defended by enlisting qualified women to defend our great nation."
The Senators who voted against this amendment (many of whom are without military service) cited not wanting to force women into combat—but this is a red herring. In the unlikely event that our country were involved in a war so gargantuan that we needed efforts beyond our current all-volunteer force, we would look to the selective service for many positions, not just those in direct combat.
But even so, more than 9,000 female troops have earned Combat Action Badges in Iraq and Afghanistan. And hundreds more have earned valor awards. So it's a moot point.
One would hope and pray that our country never sees the type of global war that would require Selective Service. But in the event that it does, the military is quite adept at analyzing a person based on his—or her—capabilities and assigning them to the most fitting role. And a co-ed draft will not change that.
Morgan is a political analyst, the former Deputy U.S. Treasury Attaché to Saudi Arabia, and a current U.S. Navy Reserve Officer (her views are her own she does not speak on behalf of the military). She holds an M.B.A/M.A. from Johns Hopkins University in Business Administration and Government. Follow her on Twitter.
Follow Marie Claire on Facebook for the latest celeb news, beauty tips, fascinating reads, livestream video, and more.
Marie Claire email subscribers get intel on fashion and beauty trends, hot-off-the-press celebrity news, and more. Sign up here.
Sam Dangremond is a Contributing Digital Editor at Town & Country, where he covers men's style, cocktails, travel, and the social scene.