If You Care About Immigration, Here's What You Need To Know About The Midterms
When it comes to the midterm election, immigration issues going forward could look very different depending on which party wins control of the House and the Senate. In other words, yes, your vote matters.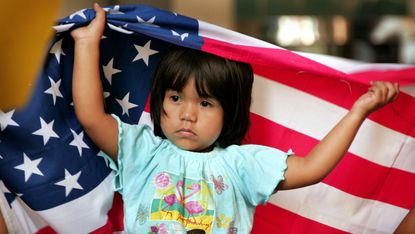 (Image credit: Getty Images)
Marie Claire Newsletter
Celebrity news, beauty, fashion advice, and fascinating features, delivered straight to your inbox!
Thank you for signing up to Marie Claire. You will receive a verification email shortly.
There was a problem. Please refresh the page and try again.
President Donald Trump's policies aimed at severely limiting immigration aren't likely to disappear anytime soon. But despite his anti-immigrant agenda, Congress holds the power to either fall in line with Trump's wishes—or fight them. When it comes to the midterm election, immigration issues going forward could look very different depending on which party wins control of the House and the Senate. In other words, yes, your vote matters.
"Protection of Dreamers and keeping families together is absolutely on the ballot in November," says Tom Jawetz, vice president of immigration policy for the Center for American Progress Action Fund, in an interview with MarieClaire.com. "[It] requires new leadership in Congress in order to perform the basic functions of government that would allow us to reign in this administration."
Along with health care and the economy, immigration is one of the most important issues to voters this year, according to a July poll from The Wall Street Journal and NBC News. The Trump administration's move to separate thousands of migrant children from their parents at the border shocked the nation, and hundreds of children remain in detention even after a federal court ordered the administration to reunite all the families by July 26.
Trump has also tried to end the Deferred Action for Childhood Arrivals (DACA) program, which allowed people brought to the U.S. as minors to legally stay in the country. He heavily politicized the death of student Mollie Tibbetts, claiming that stricter immigration laws could have stopped her murder (in spite of Tibbetts' dad insisting, "Do not appropriate Mollie's soul in advancing views she believed were profoundly racist"). And don't forget about the travel ban on Muslim-majority countries that he signed his first week in office. Both efforts were tied up in court, but the Supreme Court upheld the latest version of the travel ban in June.
Two weeks prior to the midterms, Trump claimed on Twitter that only his approach to immigration would stop "unknown Middle Easterners"—a not-so-subtle references to members of ISIS or other terrorist groups from the region—from entering the States via "migrant caravan." (The migrant caravan is real, but experts insist there is no evidence whatsoever that anybody with terrorism links is present.)
In The Midterms, Congress Is The Star Of The Show
Voter turnout during midterm elections is historically low, with only about 36 percent of eligible voters casting ballots in 2014. And young Americans are traditionally reluctant to vote in midterm elections, even though they make up a majority of the electorate. But voting for members of Congress is critical for those who want to see the administration's recent trajectory on immigration issues change course. While Congress doesn't have the power to stop Trump's executive orders, it can—if the majority party chooses—push back against the president's agenda.
FiveThirtyEight predicts that Democrats have a 78 percent chance of flipping the House this year, but just a 22 percent chance of flipping the Senate. If Democrats control the House and Republicans maintain control of the Senate, House Democrats will have one major advantage, as Jawetz explained. In crafting appropriations bills, they would be able to provide more oversight on the administration's spending when it comes to immigrant detention centers and U.S. Immigration and Customs Enforcement (ICE).
Case in point: In September, Democrats criticized the Trump administration for shifting $10 million from FEMA's operating budget and $200 million from various parts of the Department of Homeland Security to bolster ICE's funds. Roughly $93 million went toward immigrant detention, according to a document made public by Sen. Jeff Merkley (D-Oregon).
Even if Democrats didn't have the power to protect Dreamers or end the travel ban, they could at least hold the administration accountable when it tries to spend more taxpayer money on detaining immigrants.

Look Out For Campaigns' Fear-Based Rhetoric
There's no denying that the president's anti-immigrant rhetoric has oozed into political campaigns around the country. Although mimicking Trump's focus on illegal immigration didn't prove successful in Ed Gillespie's gubernatorial run in Virginia last year, similar tactics are popping up in 2018 congressional races.
"It's a well-calculated play that they're trying to execute for political reasons," Jawetz said, "because what they don't want to do is have a conversation about the record that the president's amassed over the last two years that demonstrates not only abject cruelty on the issue of immigration itself, but also this persistent effort to take people's health care, remove protections for pre-existing conditions, [and] cram through Congress this enormous tax scam."

Take Brian Kemp of Georgia, for example, who is running against lifelong progressive Stacey Abrams for the governorship in one of the most closely watched races of the midterms. A far-right conservative in the mold of Trump (who, for his part, has endorsed Kemp), one of Kemp's campaign ads referenced his "big truck," which Kemp said he would happily use to "round up criminal illegals." (He then added: "Yep, I just said that. If you want a politically incorrect conservative, that's me!")
Jawetz also pointed to Rep. Barbara Comstock (R-Virginia), who has introduced legislation that would give the government the authority to deport immigrants suspected of gang activity and centered an entire campaign ad around the MS-13 gang Trump frequently talks about. Comstock's opponent, Democratic candidate Jennifer Wexton, accused her of "fearmongering and race-baiting," The Washington Post reports.
The Midterms Will Impact 2020, Too
If Republicans keep control of both houses of Congress in the midterms, Jawetz predicts that the government's action on immigration issues won't simply stay the same, but could actually get more extreme as campaign season for the 2020 presidential election will kicks into gear.
"I think we can expect the next two years to be even uglier than what we've seen over the last two years," Jawetz said, referring to the possibility that Republicans keep control of the House and the Senate after the midterms. "If we have no body in Congress that is willing to stand up and serve as an effective and meaningful check against this administration's worst impulses, I think we're going to see that the separation of 2,600 children was not in fact a low point in this administration's treatment of immigrants and immigrant families."
The Best Political Swag to Buy for 2020
At the end of the day, the only way to really have a say in what happens in the midterms is to vote on Nov. 6. You can register to vote and find your polling place here.
From explainers to essays, cheat sheets to candidate analysis, we're breaking down exactly what you need to know about this year's midterms. Visit Marie Claire's Midterms Guide for more.
RELATED STORIES
Celebrity news, beauty, fashion advice, and fascinating features, delivered straight to your inbox!