Jamie Lee Curtis Tells Fox News What's Up After The Network Accused Her of Being a Hypocrite
Fox's headline read: "Jamie Lee Curtis wields firearms in new 'Halloween' movie despite advocating for gun control."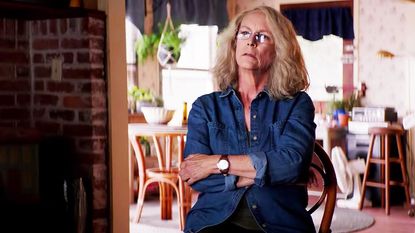 (Image credit: Universal)
Marie Claire Newsletter
Celebrity news, beauty, fashion advice, and fascinating features, delivered straight to your inbox!
Thank you for signing up to Marie Claire. You will receive a verification email shortly.
There was a problem. Please refresh the page and try again.
Jamie Lee Curtis is not here for Fox News' games. On Wednesday, a Fox News article went live that accused Curtis of being a hypocrite when it comes to her gun control activism, headlined: "Jamie Lee Curtis wields firearms in new 'Halloween' movie despite advocating for gun control." The article was widely mocked on Twitter, with even Dictionary.com chiming in to point out the dictionary definition of "acting." Curtis spoke to USA Today about the whole thing later Wednesday, saying: "It was just silly, because they were trying to make a point without ever asking me what I really think."

The Fox News article paints Curtis as a gun control advocate whose characters wield the same kind of weapons she's pushing for reform on. "Curtis's on-screen actions stand in contrast to her real-life persona as an advocate for gun control—one of several Hollywood actors who use firearms in their films while preaching against them away from the set." The article adds: "In light of several high-profile mass shootings, Curtis has voiced her support for gun reform legislation. But she's also appeared in films such as "True Lies," "Virus," "Halloween II" and "Blue Steel" where she uses firearms multiple times."
Here's how Curtis responded, per USA Today:
I am vocal about common-sense gun safety and gun laws. For instance, I fully support an assault weapon ban, I fully support a bump stock ban. I fully support the Bill of Rights. And fully support the Second Amendment. And have absolutely no problem with people owning firearms if they have been trained, licensed, a background check has been conducted, a pause button has been pushed to give time for that process to take place. And they have to renew their license just like we do with automobiles—which are weapons also.
[Filmmakers] knew that [Halloween character] Laurie was going to be someone who used firearms. And I think there were myriad types of firearms that could have been used in the movie. I was very clear with the filmmakers that she used the weapons (that) were intended for self-defense for her and her family.
Which is a lot more calm and reasonable than my own response would have been, frankly, given that my own response would probably have just been a random outpouring of curse words.

On the bright side, the article sparked an entire subgenre of comedy on Twitter. Here are some of the best.
It's... a movie. Jamie Lee Curtis was using make-believe guns. Oh and Michael Myers isn't a real person. Just so you guys know. https://t.co/li4kiAXJCxOctober 10, 2018
See more
"Johnny Depp wields scissorhands in new 'Edward Scissorhands' movie despite advocating for human hands" https://t.co/vbKx8udoE4October 10, 2018
See more
Guns don't kill people. Jamie Lee Curtis kills people. pic.twitter.com/DGvphGZpLfOctober 10, 2018
See more
Josh Brolin wields Infinity Gauntlet in new 'Avengers' movie despite advocating against mass genocide https://t.co/ey6Jcy2T2HOctober 10, 2018
See more
Fox News: "Jamie Lee Curtis uses guns in Halloween despite advocating for gun control!"Me: "Gary Sinese got his legs blown off in Forrest Gump, but I see him walking around no problem!" pic.twitter.com/gTyayW7pNvOctober 10, 2018
See more
Tim Allen murders Santa Claus in 1994 movie despite advocating for celebration of Christmas https://t.co/I7NV0egJsfOctober 10, 2018
See more
Curtis concluded to USA Today: "I'm an actress who's in slasher movies. I have to be responsible for my own personal choices in my own personal life. But I am an actor for hire. And honestly, if I had made my career as a pacifist actor, I would never have worked, ever."
RELATED STORIES
Celebrity news, beauty, fashion advice, and fascinating features, delivered straight to your inbox!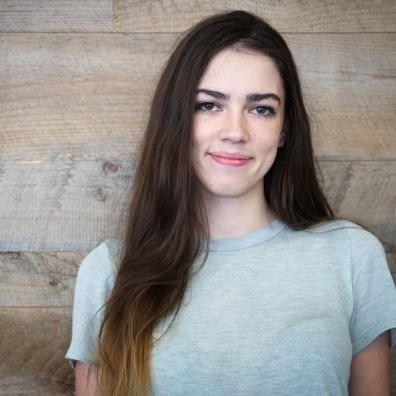 Jenny is the Director of Content Strategy at Marie Claire. Originally from London, she moved to New York in 2012 to attend the Columbia Graduate School of Journalism and never left. Prior to Marie Claire, she spent five years at Bustle building out its news and politics coverage. She loves, in order: her dog, goldfish crackers, and arguing about why umbrellas are fundamentally useless. Her first novel, EVERYONE WHO CAN FORGIVE ME IS DEAD, will be published by Minotaur Books in 2024.