Trans Rights Organizations to Donate to Right Now
The White House is trying to write trans people out of existence, literally.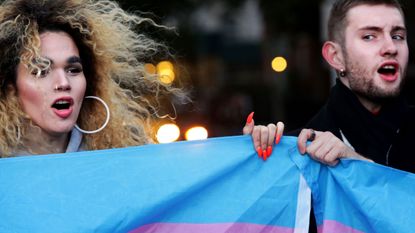 (Image credit: Yana Paskova)
This weekend, the New York Times revealed that the Trump administration was actively considering ways to strip rights from trans and gender non-conforming (GNC) Americans. One memo sent to the Department of Health and Human Services attempted to narrow the definition of gender so as to exclude trans people, which said in part, "The sex listed on a person's birth certificate, as originally issued, shall constitute definitive proof of a person's sex unless rebutted by reliable genetic evidence." That means that the genitalia you were born with would define how you were listed legally, regardless of how you identify. If you dispute this classification, then under the new guidelines you would be genetically tested. The HHS is seeking to make these definition changes under Title IX, which is supposed to prohibit discrimination based on gender.

Though it's depraved, this isn't the first time Trump and his administration have attacked trans and GNC rights: In May, it was announced that questions about gender and sexual orientation would not be included on the upcoming census. And in July of last year, Trump abruptly tweeted that he would ban trans folks from enlisting for military service, a move that even military leaders were largely unaware of prior to the announcement. (That ban was lifted by the Justice Department, though trans recruits reportedly still encounter barriers to actually signing up for duty.) All of which means that Trump has made it clear that he intends to roll back rights and protections for trans and GNC folks, constitutionality be damned. (For a full list of these attacks, the National Center for Transgender Equality has been keeping track.)
When the latest story dropped, social media was immediately flooded with outraged responses and calls for solidarity to defeat Trump's hateful policies:
Heard about the latest attack on our community. Remember: we're stronger together. Don't run and hide. We have to be more visible and unified than ever! https://t.co/Ct3Pa29Jyj pic.twitter.com/kPtM8UpHrJOctober 22, 2018
See more
This attempted erasure of trans lives is disgusting. They are literally trying to eliminate the already threatened livelihood of trans people. We exist! We always have, we always will.October 21, 2018
See more
We must not give up the fight. But in the face of this affront on my existence and the existence of my community I choose love not fear. We exist and always have.Trump Administration Eyes Defining Transgender Out of Existence https://t.co/G4rKB1mVfeOctober 21, 2018
See more
Attempts to marginalize the trans and GNC communities, like this latest attack from the Trump administration, leads to more stigmatization and higher risk of violence and economic disenfranchisement for those communities, which already face a higher rate of discrimination. According to a 2012 study from the National Center for Transgender Equality, 63 percent of respondents faced "serious discrimination," which includes loss of jobs and housing due to bias, bullying, and physical and sexual assault.
Trans rights are human rights, which means an attack on trans and GNC folks is an attack on everyone. One of the most important ways you can tell this administration that you don't support their hateful policies is to vote on November 6. (Here's a guide to everything you need to know for the midterms.) For other action items, Out has a really helpful guide.
You should also make a point of supporting organizations that prioritize helping trans and GNC people. Here are a list of seven groups, in no particular order, that need your attention and material support:
Make sure that after you donate you follow these organizations on social media and signal-boost as much as possible. Keep an eye out for chances to rally and protest in your area.
And whatever you do, don't forget to vote.
RELATED STORY
Celebrity news, beauty, fashion advice, and fascinating features, delivered straight to your inbox!
Cady Drell is a writer, editor, researcher and pet enthusiast from Brooklyn.