New York City Deputy Mayor Alicia Glen Is Making Her Hometown the Best Place on Earth for Women
In the wake of the 2016 election, Alicia Glen became hell-bent on making NYC a safe haven.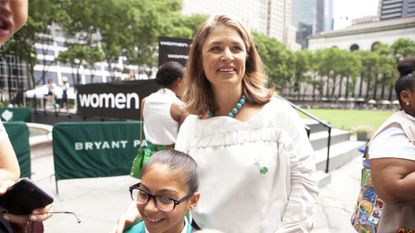 (Image credit: REBECCA GREENFIELD)
New York City's deputy mayor for housing and economic development, Alicia Glen, is surrounded by women. Some are full-grown women in suits and sneakers or heels or nurse's uniforms or smocks with CVS name tags pinned on. Others are of the junior variety—collegians with long, flowing hair and cutoff shorts the size of underpants. Still others are women of the future: Girl Scouts in green uniforms with French braids and no makeup and campfire badges sewn on their vests. All of them are clustered around Glen in New York's Bryant Park on this sweltering June day because Glen is sick of seeing statues of nothing but white men all over New York City.
"Give me a break. Enough is enough," says Glen—a cheerful, hard-charging 52-year-old former Goldman Sachs exec with the dry, wisecracking style of Veep's Selina Meyer and the sturdy, bright-eyed appeal of a college field-hockey captain. "Today is the day we finally start putting women where they belong: on pedestals," she continues as she and New York City's first lady, Chirlane McCray, announce the launch of She Built NYC—an initiative "to honor the women who've built this town" and correct the fact that 90 percent of New York's current monuments honor men. "There are 22 monuments in Central Park and only one of them is of a woman, and it's Alice in Wonderland. She's not even a real person."
Glen's announcement is met with whooping and cheering and applause—along with suggestions from several Girl Scouts who feel strongly that Eleanor Roosevelt should be among the first memorialized. But really, the launch is just the latest step in Glen's larger mission, which is to turn New York City into the greatest place in the world to be a woman.
"The idea is that this is a city where we have your back," says Glen, who launched New York's first portal for women, Women.nyc, this past summer. Described as a "one-stop shop for women," the site offers services ranging from how to hire a lawyer to how to apply for funding for women filmmakers to who to call if you're being harassed in the workplace. "Nobody's going to grab your pussy here. Nobody's going to discriminate against you," explains Glen, who has a sign that reads "I'm not bossy, I am the boss" on her desk at City Hall and travels with a cocktail dress and heels in the back of her SUV. Unsurprisingly, she came up with the notion of transforming NYC into a haven for women in the wake of Donald Trump's election in 2016. "On top of that, this is a city where women will have the greatest likelihood of having real economic success and power," she continues. "And the city government plays a role in that."
To that end, Glen has pushed local government to invest more than $800 million in women-owned businesses since Mayor Bill de Blasio appointed her in 2014. New York has the smallest wage gap in the country at the moment and recently established mandatory paid parental leave for city employees. And last year, de Blasio passed legislation that prohibits employers from asking a prospective employee's salary history—a tactic that historically has kept women's salaries lower. "If the city government is there, using their balance sheet, designing programs, putting their resources, branding, marketing, calling on the rest of the private sector to engage in this, we have a real chance to not just brand ourselves as the greatest city in the world for women but to actually make it true," says Glen.
It's not exactly what one would describe as a "modest goal," but Glen isn't exactly a modest sort of person. A born and bred New Yorker, she is the sort of person who grew up feeling that Manhattan was the "center of the universe" and wanting a powerful role in the center of that universe. The eldest daughter of "big, bougie Upper West Side lefties," she was raised by "two supersmart badass women" to speak her mind from the get-go. (Her mother was a feminist lawyer; her stepmother was in charge of the Roosevelt Island Operating Corp. and the NYC Department of City Planning.) "I went to West Side Montessori, which now is, like, you have to chop off your right hand to go to West Side Montessori," quips Glen, who still lives on the Upper West Side with her husband, Daniel, and two daughters (Olivia, 22, and Rosa, 18). She swears she gets eight hours of sleep a night—though she admits she averages eight cups of coffee and Fresca "by the caseload" to get her through the workday, which involves responding to every message within 24 hours. "Here's my guide to life," she says. "Ninety percent of being successful is returning phone calls and emails."
After attending Columbia Law School and working at Brooklyn Legal Services for a few years, Glen went to work as assistant commissioner for housing finance at the New York Department of Housing, Preservation, and Development ("That was where I really figured out how to put deals together") before eventually heading to Goldman Sachs to head up its Urban Investment Group. In addition to arranging financing for the hugely successful bicycle-share Citi Bike program, she was vocal from the start about planning to hire as many women as possible for her team—to push hard for women to get promoted whenever she could, and to make sure, as she says,"it wasn't just a bro-fest all the time." Regarding the current gender-discrimination lawsuit against her former employer, she says, "I felt when I was at Goldman that serious efforts were made to assure women were compensated fairly. I personally never experienced any sexual harassment or overt discrimination. However, there was a more subtle and challenging issue—a culture where there was always a question of how many women would be elevated to influential or powerful roles."
She now has the power to change city government culture, though when de Blasio made Glen deputy mayor, the collective mission of raising up all of the women on the island was not exactly part of her remit. De Blasio wanted Glen to take over the Departments of City Planning and Affordable Housing and Parks and Recreation and Cultural Affairs and roughly a million other departments. (Officially, she heads 20 agencies employing 15,000.) She was already a pro at housing and planning, and she loved the opportunity to think of Manhattan as her own personal Monopoly board—in a good way. "Listen, a million people have moved to New York City over the last 20 years, and we've only added enough affordable housing for 200,000," she says. "That's a problem I want to fix."
So far, under her leadership, the city has undertaken the most comprehensive affordable-housing program in American history, launched citywide ferry service, and invested heavily in advanced manufacturing, biotech, and technology. "Cities need to grow if they want to be successful," says Glen. "Can you think of a time more important than now to have a city where we are continuing to welcome people? Look what's going on in the world. If New York City isn't pro-growth, then we have lost the plot completely."
For Glen, pro-growth and pro-women go hand in hand, a vision that's evolved significantly since she arrived at City Hall. Initially, Glen really liked the idea of giving female entrepreneurs a boost, so in 2016, she launched WE (Women Entrepreneurs) NYC, the first project of its kind to offer training, services, and funding to women-led businesses. Under its umbrella, Glen recently launched WE Venture and WE Legal in order, she says, "to put together as many pieces of the puzzle to be successful as possible." But it took Trump to make Glen realize where her true mission lay—that it wasn't just the future female fat cats of NYC that she wanted to empower but women of all professions and ambitions: the sanitation workers and the nurses and the bus drivers and the teen moms and the politicians and, yes, the aspiring gazillionaires too.
"When Trump won, I was like, 'That's it.' On one level, you wanted to just get under the covers and drink, but then I thought, 'Wow, what more important time for cities to become more relevant, to be places of progressive thinking, places where you can push back?' Everybody here was invigorated and excited about the idea of making our city sort of the antidote to everything that was going on. I said, 'Let's take this women thing and just blow it up. Wouldn't it be amazing if we tried to put forth the case and the brand that New York City is the best city in the United States and, dare I say, hopefully, in the world, for women to make it?' "
The ultimate vision for Women.nyc, Glen says, is almost for it to function as a kind of Google for women. "I want to make this the simple go-to place, no matter what their question is. When you think, 'Can I still get the morning-after pill?' you go to Women.nyc and we tell you. On the subway when you see an ad that makes you want to start a shoe company, you go on Women.nyc and learn how to sign up for a shoemaking course at FIT. At a dinner party, when all the bros are sitting around talking about the capital they've just raised from their connections at UBS, I want women to be able to go to Women.nyc and get an appointment with a venture-capital specialist the next day," says Glen, who, when she's not working, has a fondness for "good TV" like the true-crime documentary The Staircase and admits to being an "obsessive" skier known to skip town when there's a big dump of powder in Utah. "I hate the gym," she says. "I don't understand these power women who somehow get up before work and go to the gym for two hours, but I am a very serious skier."
Of course, not everyone is crazy about Glen's vision for a female-dominated NYC. "There are huge segments of people who are like, 'How can you focus on women? It's got to be all about inclusivity.' That's true, but I say, 'Why don't we start with fixing the basics?' Once women make as much or more than men, then I'll worry about the rest of it, but right now, this is the most pronounced example of overt and systemic discrimination on the planet, and that has to change."
RELATED STORY
Marie Claire email subscribers get intel on fashion and beauty trends, hot-off-the-press celebrity news, and more. Sign up here.