Will Trump Be the Only President in 100 Years Not to Throw the First Pitch at an MLB Game?
Molly Knight investigates.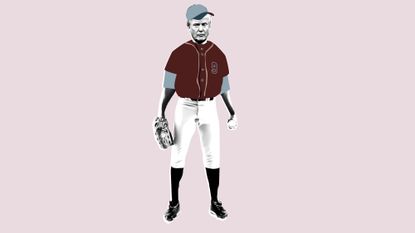 (Image credit: Photo Illustration, Mia Feitel)
With Americans bitterly divided on life-and-death issues like reproductive rights and immigration, it might not seem like throwing out a ceremonial first pitch at a major league baseball game is all that important. But consider this: Every single sitting U.S. president has done it since William Howard Taft opened the Washington D.C. season in 1910. And every president since Ronald Reagan has showed off his arm on a major league field at some point during his first year in office. (The popular Reagan perhaps would have thrown out a first pitch in 1981 had he not been shot on March 30 of that year, days before the season began.)
A trip to the mound for Donald J. Trump in the near future would be anything but ceremonial. It would mark the first time our president, who ran on the platform of American Toughness, showed his face in public since his inauguration. Over the last three months, Trump has been safely chauffeured from the White House to one of his hotels to his campaign rallies to his private club and back again, insulated by a gauzy cocoon of yes-men who tell him that any polls that show him to be unpopular are fake, and any people protesting against his agenda are paid. In the early days of his own presidency, Barack Obama participated in town halls, appeared on The Tonight Show, and sat courtside at an NBA game between the Wizards and the Bulls. Trump on the other hand was forced to cancel his only public appearance yet, a friendly trip to a Harley-Davidson factory in Milwaukee, out of fear that protesters would steal his headlines and undercut his populist narrative.
Potential booing aside, Trump would surely welcome a chance to show off his athletic prowess and Adonis-like physical form. After all, according to his personal physician, the soon-to-be-71-year-old is the "healthiest individual ever elected president"—George W. Bush's six-minute miles and Barack Obama's visible abdominal muscles be damned.
Trump has actually already thrown out a ceremonial first pitch once, as a civilian back in 2006 in honor of the Jimmy Fund (see photographic evidence here), so I know it's possible. And with the baseball season rapidly approaching, I decided to sleuth it out myself.
I began my quest by contacting the club that will host the first game of the season this Sunday, April 2: the Tampa Bay Rays. Trump could easily hop on Marine One for a quick ride from where he weekends at Mar-A-Lago in Palm Beach to watch the Rays play his favorite team, the New York Yankees. I emailed a Rays spokesman multiple times to ask if they would let Trump throw out the first pitch that day. I did not receive a response. Undeterred, I wrote to the Yankees to see if they would have their hometown boy to the ballpark to open a game this season. "We won't have a comment (on that)," wrote director of media relations and publicity Jason Zillo. Emboldened by my progress (i.e. receiving a reply at all), I turned my focus to Trump's other hometown team, the New York Mets. They also ignored repeated requests for comment.
The second game of the opening night tripleheader will take place in Arizona between the Diamondbacks and the San Francisco Giants. I reached out to the Diamondbacks to see if they had heard from Trump associates about a first pitch or if they had invited him. "I can tell you officially that we have not been asked by the Trump administration to throw a first pitch," wrote Josh Rawitch, senior vice president communications for the Diamondbacks. Rawitch added that he was unsure how to book a presidential first pitch, because his 19-year-old organization has never hosted one.
An organization that does have experience organizing presidential first pitches, however, is the St. Louis Cardinals. And they host the third and final game on opening night against the World Champion Chicago Cubs. Surely, this would be Trump's best opportunity to show off his skills! I contacted the Cardinals vice president of communications, Ron Watermon to find out. "I know that baseball has a great history and tradition of presidents throwing out first pitches, but I am not aware of any plans to have the President throw out a first pitch prior to our game," he wrote. "The Cardinals have had both President Bush and President Obama throw out ceremonial pitches at Busch Stadium." George W. Bush threw out the first pitch to open Busch Stadium in 2005, and the club hosted Barack Obama during the 2009 all-star game. Since the Cardinals have recent experience booking presidents, I asked Watermon how that works. "MLB invited President Obama to throw out a first pitch at the All-Star Game in 2009," he wrote. "I don't know the background on how President Bush's first pitch came about as I wasn't directly involved."
Aha! Maybe I was going about this all wrong. Perhaps Trump's first pitch would not be orchestrated by an individual team, but by Major League Baseball itself. I emailed MLB's chief communications officer, Pat Courtney, to ask if the league was in the process of setting up a first pitch for Trump. "Major League Baseball has a long history with our President throwing out a ceremonial first pitch at a game," Courtney wrote. "In most instances, the individual club invites the President to throw at a first pitch at their ballpark. It would be for the President or a club to confirm if a request has been made and accepted."
So if MLB wasn't working on it, and none of the teams hosting games on opening night were working on it, and the two New York teams weren't working on it, I decided my best bet was to reach out to the two clubs with the closest ties to the president himself.
The Miami Marlins are owned by Jeffrey Loria, who donated $250,000 to Trump's campaign. He is also rumored to be up for the ambassadorship to France—the most plum diplomatic assignment Trump could gift such a generous friend. I emailed the Marlins senior director of communications, Matt Roebuck, to see if Mr. Loria would invite Mr. Trump to throw out the first pitch. "I sent it up the ladder, but haven't gotten an answer," he wrote in response. "I'll let you know when (if) I hear." I followed up with a week later; still nothing.
Earlier this month, Jon Heyman of Fan Rag Sports reported that the Washington Nationals were considering inviting Trump to throw out a first pitch at their ballpark, not for political reasons, but because presidents throwing out first pitches in Washington D.C. was tradition. I contacted the Nationals multiple times to see if they would have him and never got a response. After stonewalling reporters on the issue all spring, the Nationals announced this morning that they did, in fact, invite President Trump to throw out the first pitch on opening day next Monday—but he declined. The White House blamed a "scheduling conflict."
It's unclear if President Trump's conflict is stepping out in front of more than 41,000 fans of America's favorite pastime with a 36 percent approval rating and a not-great pitching arm.
But if POTUS can make time for 36 holes of golf every weekend, surely he can find time in his schedule to take his place on the mound, fire a 98-mile-per-hour strike that will go down in history as one of the greatest pitches ever, and make everyone tired of winning.
Molly Knight is a writer and author of the bestselling book The Best Team Money Can Buy. Follow her on Twitter here.
Celebrity news, beauty, fashion advice, and fascinating features, delivered straight to your inbox!
Molly Knight wrote about baseball for ESPN the Magazine for eight seasons. Her work has also appeared in The New York Times Magazine, Glamour, SELF, Vanity Fair, Baseball Prospectus, and Variety. Her first book, The Best Team Money Can Buy: The Los Angeles Dodgers Wild Struggle to Build a Baseball Powerhouse, was a New York Times Bestseller.