Who Is Leading the Democratic 2020 Polls?
As the fall Democratic primary debates gets closer, some DNC polls are giving us insight as to which candidates are leading the 2020 presidential race.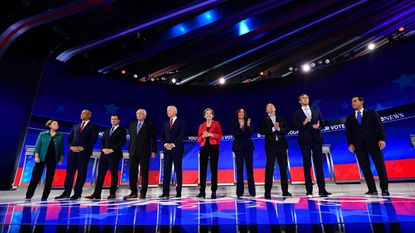 (Image credit: FREDERIC J. BROWN)
As the fall Democratic primary debates get closer—10 candidates have made the cut so far, with about a week left to qualify, as of this writing—some initial Democratic polls (opens in new tab) are giving us insight as to which candidates are leading the 2020 presidential race.
Now, as was made clear in 2016, polls are far from the only indicator of future success, and they can be flawed or inaccurate. However, they can indicate how voters are initially leaning, who has popular sway, and who just doesn't have enough support to potentially move forward. It's a benchmark, not a crystal ball, basically.
So here's how the Democratic polls stand as of this moment, bearing in mind that these numbers can and will change as 2020 gets closer.
This is what the numbers look like now.
The strongest-polling candidates, who are now considered to be co-leaders, are Joe Biden, Bernie Sanders, and Elizabeth Warren. Depending on who you ask, the numbers vary a little.
Joe Biden:
Elizabeth Warren:

New York Times: 16%
Politico: 16%
CNN: 18%

Bernie Sanders:
New York Times: 17%
Politico: 21%
CNN: 17%
But Biden still has an edge over the top two—although, those poll results are from slightly different dates, so they're not an exact comparison. Behind these three, Kamala Harris and Pete Buttigieg generally follow to round out to the top five. Cory Booker, Beto O'Rourke, and Andrew Yang generally follow those candidates.
Of course, the numbers are fluctuating and will continue to do so—and they're not always a good predictor of primary results, anyways. Warren's supporters are quite concentrated, for example, while Biden has broader appeal across different types of voters. There's a debate coming up in October, and another candidate just qualified (opens in new tab)—billionaire Tom Steyer. So the stage might actually look a little more crowded then, which may have an impact on polling as well. Several candidates, including Kirsten Gillibrand, have since exited the race, largely because of polling numbers, so we can expect that trend to continue as the numbers continue to come in.
Here's how it looked in August.
The New York Times has provided a comprehensive analysis of the numbers and what they might mean. Here's how the candidates are stacking up against each other so far (if they're not on the list, they've gotten one percent or less overall):
Joe Biden: 30% ($22 million raised)
Elizabeth Warren: 16% ($25.2 million raised)
Bernie Sanders: 14% ($36.2 million raised)
Kamala Harris: 8% ($23.8 million raised)
Pete Buttigieg: 5% ($32.3 million raised)
Cory Booker: 2% ($9.5 million raised)
Andrew Yang: 2% ($5.2 million raised)
Beto O'Rourke: 2% ($13.0 million raised)
Amy Klobuchar: 1% ($9.1 million raised)
Tulsi Gabbard: < 1% ($3.5 million raised)
It's important to look not just at the percentage, but the amount of money raised, which is another indicator of potential popularity and success (as well as the ability to fundraise effectively). Again, this has the potential to change very quickly, which is why numbers are pulled weekly.
Meanwhile, CNN polls, which were just updated August 20 and can be seen here (opens in new tab), have only a sample size of about a representative sample of 1,000 people who were called and interviewed over the phone. So CNN's numbers are smaller and not necessarily representative of the entire voting public.
We'll update this post as the race continues.
For more stories like this, including celebrity news, beauty and fashion advice, savvy political commentary, and fascinating features, sign up for the Marie Claire newsletter.

subscribe here (opens in new tab)
RELATED STORIES
Katherine's a Boston-based contributor at Marie Claire who covers fashion, culture, and lifestyle—from "Clueless" to Everlane to news about Lizzo. She's been a freelancer for 11 years and has had roles with Cosmopolitan and Bustle, with bylines in Parents, Seventeen, and elsewhere. It's "I go to dinner," not "Her huge ego," but she responds to both.