When Are the Democratic Presidential Debates? 2020 Is Coming Up Fast
Let's get ready to rumble!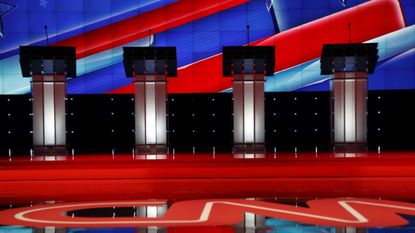 (Image credit: Getty Images)
Marie Claire Newsletter
Celebrity news, beauty, fashion advice, and fascinating features, delivered straight to your inbox!
Thank you for signing up to Marie Claire. You will receive a verification email shortly.
There was a problem. Please refresh the page and try again.
As a person who knows little to nothing about all forms of sports, my version of the Olympics will be the 2020 election's presidential debates. But instead of medals, the winner gets to be the President of the United States of America! (Personally, right now, I'd rather have the medal.)
And since this is the year that everyone and their mother decided they wanted to run to be the Democratic candidate for President of The United States—I can't really blame anyone for wanting to take over the job from its current holder—the Democratic National Committee has announced plans to hold 12 debates during the 2020 presidential primary.
Update, 9/25/19: With only three more debates left before the 2020 Democratic National Convention (slated for next summer!), candidates are dropping like flies after being unable to either meet the requirements to stand onstage or just bolster public support for their campaigns. Bill de Blasio, current mayor of New York City, is one of them; he recently ended his run for president after not having the backing to continue his campaign. Also predicted to be missing from the next round of debates is one Marianne Williamson, who hasn't yet met the mandatory threshold for either the amount of polls or donations needed to appear at the next debate.

Still, 17 of the Democratic candidates are trudging forward, and so far, 12 of them have qualified to stand onstage at the next debate, meaning that we might have two nights of Dems debating instead of one like we did this month. The debate(s) on Tuesday, October 15 (and possibly October 16) at Otterbein University in Westerville, Ohio, and will be hosted by CNN and The New York Times. The candidates slated to make an appearance at the October debate(s) are as follows: Joe Biden, Pete Buttigieg, Kamala Harris, Bernie Sanders, Elizabeth Warren, Beto O'Rourke, Corey Booker, Andrew Yang, Amy Klobuchar, Julián Castro, Tom Steyer, and Tulsi Gabbard.
Update, 9/12/19: The third Democratic debate is Thursday night, and the field has narrowed considerably. Only ten candidates qualified to take the stage, by getting at least 2 percent in four official polls recognized by the DNC and 130,000 unique donors to their campaign. Those candidates will be Joe Biden, Pete Buttigieg, Kamala Harris, Cory Booker, Amy Klobuchar, Bernie Sanders, Elizabeth Warren, Beto O'Rourke, Andrew Yang, and Julián Castro.
This doesn't mean that candidates who didn't qualify are automatically out, but the lack of visibility of not participating in the debate will have negative effects on their campaigns. Jay Inslee, Kirsten Gillibrand, and South Moulton removed themselves from the race right before the August 28 deadline (after it probably became clear they wouldn't qualify). But others are still hanging on.
The stage also may also look a little more crowded in October, according to CNN: "It looks like an 11th [candidate], billionaire investor and Democratic activist Tom Steyer, will meet the Democratic National Committee's qualifying threshold for the October round."
There'll be a lot to look for during these debates, including how lesser known candidates like Andrew Yang will stand out. But probably the most intense battle will take place between Biden, Warren, and Sanders, who are co-leading strongly in the polls.
Update: 7/29: Just days before the second Democratic debate, seven candidates have already secured their place at the third stage of debates, set to happen this fall 2019. To solidify their spot, the hopefuls have to do two things: Reach 2 percent or above support in at least four approved polls and have at least 130,000 unique donors (with at least 400 of those donors spread over a minimum of 20 states). The fall debates are scheduled to take place on September 12-13, and anyone hoping to have a shot at guaranteeing their lectern has to meet both requirements before August 28.
Having met both the polling and donor provisions, many of the big names in the race are already headed straight for the third round of debates. Joe Biden, Bernie Sanders, Elizabeth Warren, Kamala Harris, Pete Buttigieg, and Beto O'Rourke are slated to make an appearance, and, as of this morning, so is Cory Booker! Several other candidates are this close to securing their place among the political heavy hitters; Amy Klobuchar hasn't quite reached the donor condition (she's just 30,000 shy of the minimum), and both Julián Castro and Andrew Yang are currently working on those getting their poll numbers up.
As for the rest of the candidates, the chances of them being able to participate in September are slim, to say the least. Should they somehow meet the requirements after next month's deadline, the fourth series of debates in October may still provide them another opportunity to make their points be heard to the general public. But it may be for naught—in a race this jam-packed with high profile candidates, missing even a single chance to promote one's policies and connect with the American people may prove to be the final nail in coffin for their campaigns. May the odds be ever in their favor.
Update, 7/25: The details about round two of the Democratic debates have been announced, and we are definitely in for a show, folks. The second debates are scheduled for Tuesday July 30 and Wednesday July 31; the candidates and their live audience will meet in Detroit's Fox Theater, and the those of us watching at home will be able to tune in to CNN from 9pm to 11pm EST.

Moderated by CNN's Don Lemon, Dana Bash, and Jake Tapper, this month's lineup looks a lot different than the first round of debates. The candidates were split into the different groups based on how well they polled after the June debates, and we're expecting an even more heated conversation this time around. On Tuesday, fan favorite Elizabeth Warren will take on Bernie Sanders as well as Steve Bullock, Pete Buttigieg, John Delaney, John Hickenlooper, Amy Klobuchar, Beto O'Rourke, Tim Ryan, and Marianne Williamson. In the last debate, O'Rourke surprised his competitors by busting out into full Spanish (he's from El Paso, so it kind of tracks), but this time around, he might just find himself beaten out for "most random moment of the night" if spiritual guru Williamson makes real moves to promote her radical platform of peace.
On Wednesday night, we'll be treated to a rematch between Joe Biden and California's Kamala Harris—in the last debate, Harris took the former vice president to task for not advocating for busing as a U.S. senator in the 1970s, delivering what many viewers believe was a TKO when she passionately reminded Biden that she was one of the children directly affected by the de facto and de jure segregation of the busing era. In more recent days, fellow Democratic candidate Cory Booker also has had a lot to say about Biden, and we can probably expect the two to exchange words during the second debate as well. They'll be joined by Michael Bennet, Bill de Blasio, Julián Castro, Tulsi Gabbard, Kirsten Gillibrand, Jay Inslee, and Andrew Yang to discuss both national and local topics, from the sweeping Trump-mandated ICE raids to the Flint water criss.
Update, 6/26: Well, we're finally here: The day of the first Democratic debate of the 2020 election cycle. As a refresher (in case you don't feel like scrolling), the more than 20 candidates in the running will be split into two debate nights, assigned by lottery. The debates, which are taking place in Miami, will air on NBC on Wednesday, June 26 and on Thursday June 27, from 9pm to 11pm EST.
The lineup on Wednesday, June 26 (that's tonight) includes ten, allegedly lottery-selected contenders (if it was random, why does it still have the look of an undercard debate, a la the Republican primaries leading up to 2016?). That's when Elizabeth Warren, a frontrunner, will go head-to-head with a bunch of candidates with something to prove—and a few who are there to remind us that they are people who exist—including Beto O'Rourke, Amy Klobuchar, Jay Inslee, Cory Booker, Julian Castro, Bill de Blasio, Tulsi Gabbard, Tim Ryan, and John Delaney. Watch for Warren trying to rise above the fray, and for the others to explain exactly where they stand on the issues that have made her a recent powerhouse. Some pundits are predicting that this night could be Warren's to lose.
The second debate, on Thursday, has current favorites Joe Biden and Bernie Sanders squaring off, plus Kamala Harris, Kirsten Gillibrand, and Pete Buttigieg, who will no doubt all jockey to differentiate themselves from the pack. Andrew Yang will be there too, giving him a chance to advocate for his intriguing platform in front of a major national audience (check out where he stands, including on the issue of universal basic income, here). Also onstage will be a few people named Marianne Williamson, Michael Bennet, Eric Swalwell, and John Hickenlooper, who are apparently also running. Maybe we'll know literally anything else about them after Thursday.
With such a giant field and only two hours per debate, any candidate will be lucky to have the time to truly articulate their platforms. But it'll be interesting to see how cordial Democrats are able to keep their tones, and whether they'll start jabbing or hold Donald Trump up as a common enemy. Either way, we have a feeling the herd will thin a bit after this week.

Update, 5/10: We have a time and a place, people. The very first Democratic debate of 2020 season will be June 26 at 9 p.m. ET, and it'll be at the Adrienne Arsht Center in Miami, Florida. It'll be closely followed by a second debate on June 27 at 9 p.m. ET, where the remaining ten candidates—a total of 20 will debate over the course of the two evenings—will hash it out.
Yes, we already have more than 20 Democratic candidates in the race, but only 18 have technically qualified so far (you need one percent support in a handful of polls). If more than 20 end up qualifying by late June, then only the top 20 candidates will be featured in the debate.
Update, 4/16: Now we're hearing that Washington Democrats want a third presidential primary debate in Seattle, Washingon, according to The Seattle Times. There's a petition to that effect that's being delivered on April 25. There's also more updates on the exact timing and nature of said debates:
"Last month, Washington Gov. Jay Inslee, who is among a growing group of Democratic presidential contenders, signed a measure moving the state's presidential primary from May to the second Tuesday in March. State Democrats recently changed the state's selection process for presidential nominee from caucus to primary. The DNC is already planning debates in Miami in June and Detroit in July."
We also know that the lineups for the debates will be selected at random, with the first half taking the stage on the first night, and the second half on the second night (given how jam-packed the race is now, a third primary debate would actually potentially help spread out the candidates, give everyone a chance to talk, and hopefully not give us election fatigue way before the race even starts).
Watch this space—we'll continue updating as we get more information, which the DNC has promised to release soon.
Original post: The first two debates are slotted for June and July of 2019, and then one debate in each of September, October, November and December of that year. We'll have another six debates in 2020, with the final debate taking place in April, around two months before the Democratic National Convention in July 2020.
RELATED STORY
I mean, I was thinking they were going to do this Bachelor Bracket-style (I told you, I know nothing about sports) but I guess this works.
According to DNC Chair Tom Perez, none of the 2019 debates will be held in the states that hold early primaries and causes like Iowa, New Hampshire, South Carolina and Nevada, but rather would take place in the lead-up to their respective contests in 2020.
The DNC did not offer any specific dates or debate sponsors in terms of information, or even the standard to which they will use to determine entry into the debates. But the chairman did share that the DNC will initially consider more elements, such as grassroots fundraising, rather than just polling to determine the standards for qualifying for the first few debates. Oh—and anticipating a large and varied field of candidates, Perez also offered the idea of holding debates on consecutive nights and randomly dividing the field for the first two.
"We will likely have a large field of candidates...We expect that large field, and we welcome that large field," Perez said to CNN. "Accommodating a large field of such qualified candidates is a first-class challenge to have." The chairman also added that be believed "random assignment is the fairest way to give everybody that opportunity to make their voices heard and articulate what they are standing for."
So, why is this happening? Because in 2016, the DNC was accused of bias against Senator Bernie Sanders and former Governor Martin O'Malley by taking steps that were perceived to protect former Secretary of State and then-presidential nominee Hillary Clinton.
The DNC is trying to give every candidate a chance to show their platform to voters while "also avoiding weakening the eventual nominee for the general election." The plan came about after consulting with Democratic politicians, strategists and activists, including former and current advisers to Secretary Clinton and Senator Sanders, as well as potential media partners, according to the DNC. However, they did not consult with any potential 2020 nominees or their aides, in order to avoid any perception of bias.
Now, this debate plan is one of many moves put in place by the DNC in order to rebuild what seemed to be broken, and Perez himself has said that the DNC hopes to make the debate process more transparent going into 2020 and "ensure that no candidate participating in our presidential nominating process gains any unfair advantage—real or perceived—during our primary season."

Let's get ready to rumble! (They should open each debate with Jock Jams. DNC, call me.)
For more stories like this, including celebrity news, beauty and fashion advice, savvy political commentary, and fascinating features, sign up for the Marie Claire newsletter.
RELATED STORIES
Celebrity news, beauty, fashion advice, and fascinating features, delivered straight to your inbox!