What Happens If There's A Recount In Wisconsin?
With over 98 percent of the votes counted, it appears that Joe Biden will take the state. But Donald Trump's team is already clamoring for a recount.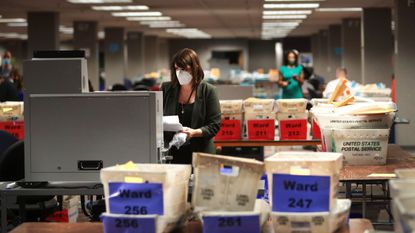 (Image credit: Scott Olson)
Across the country, voters on each side of the political aisle are holding their breath while we wait to find out who will be the next President of the United States. With a record-high turnout and surge of mail-in voting, it will take some time for us to know with certainty who will be elected—but polling indicates a tight race, especially in key battleground states such as Pennsylvania, Michigan, and Arizona. Also thrust into the spotlight: Wisconsin, a swing state with historically nail-biting elections. Donald Trump narrowly won the state in 2016 by less than 23,000 votes, becoming the first Republican candidate to do so in decades.
With the influx of mail-in and absentee votes this year, ensuring that all votes are counted is taking time. In Wisconsin (and other critical swing state Pennsylvania), the process was delayed because legislatures prohibit election officials from counting mail-in ballots until election day. But as of midday Wednesday, according to the official Wisconsin Elections Twitter feed, nearly all votes in the state of Wisconsin have been counted. The Associated Press projected Joe Biden the winner with 1,630,389 votes, a 0.6 percent margin over Trump, nabbing the Democratic candidate 10 crucial Electoral College votes.
Shortly afterwards, Trump's campaign manager Bill Stepien released a statement stating that they would be "immediately" be calling for a recount in the state. Here's how that would work.
Does Wisconsin state law require automatic recounts?
According to Ballotpedia, no, there are no automatic recounts in Wisconsin. (In some states, like Pennsylvania, there will be an automatic recount if the margin is very slim.)
But can a defeated candidate request a recount?
Yes. In the state of Wisconsin, if the margin is 1 percent or less, the aggrieved party (Trump in this situation) does have the right to request a full or partial recount.
How would a recount work?
According to state legislation, in presidential elections the petition for the recount has to be filed by 5 p.m. "on the first business day following the day on which the commission receives the last statement from a county board of canvassers for the election following canvassing of all valid provisional ballots," a.k.a. by 5 p.m. on the first business day after the final and full results are officially announced (as a reminder, at press time that has yet to happen; the AP calling the race does not mean that the final count is official). Election officials would then recount the votes in the state to ensure accuracy.
How long would a recount take?
After the petition is submitted, officials have 13 days to do the recount. If the results are disputed again, Trump will have five business days to appeal to the circuit court. Eventually, that will be heard by a judge without a jury. (Trump has threatened to take the election as a whole to the Supreme Court if he loses.)
Who pays for the recount?
That depends. If the margin is greater than .25 percent of the total vote, the requesting party pays the recount fee—that money get refunded should the recount change the election outcome. If the margin is less that .25, the state handles the bill. In this case, the Trump campaign would be responsible for the fee as they trail by .6 percent.
Has this happened in Wisconsin before?
Yes. In fact, in 2016 Green Party candidate Jill Stein asked for a recount, which ended up changing the outcome by a mere 163 votes for Trump. It's one the reasons Wisconsin beefed up their restrictions and rules when it comes to recounts.
Can we expect more recounts?
Probably. Key battleground states with razor-thin margins will be hotly disputed and contested. We can expect to see recount requests in states like Pennsylvania, Arizona, Georgia, Nevada, Michigan, North Carolina, and more.
So what should we do for now?
Sit tight. Slow counting does not mean things are looking one way or another, or that there is a flaw in the system. As Stacey Abrams puts it: "What is most important isn't the speed of the count; it's that every eligible vote is counted."
Megan DiTrolio is the editor of features and special projects at Marie Claire, where she oversees all career coverage and writes and edits stories on women's issues, politics, cultural trends, and more. In addition to editing feature stories, she programs Marie Claire's annual Power Trip conference and Marie Claire's Getting Down To Business Instagram Live franchise.