When Will 2020 Election Results Be Announced?
Election Day is no longer a single day.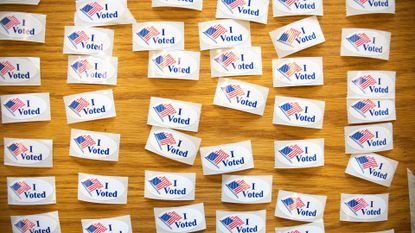 (Image credit: LOGAN CYRUS)
It's been almost 70 years since the first time Americans watched election results being tallied in real time on CBS, and ever since, we've expected to know who the next president will be within a few hours of the polls closing on Election Day. Even in years when the results are contested or represent a confusing disparity between Electoral College and popular votes (hello, 2016), we usually have a pretty conclusive idea of who has won by the morning after Election Day. 2020, however, was different.
It's time to get comfortable with the idea of an "Election Week" following what we might want to reclassify as the voting "deadline" on Nov. 3. With the number of mail-in ballots submitted this year expected to amount to more than double those sent in 2016, and with elections offices and voting locations especially understaffed—all due to the COVID-19 pandemic—we won't know for certain whether Donald Trump or Joe Biden has won the election for days after Election Day, or possibly even longer. So, while the major news networks carried on the tradition of live-tracking poll returns all night long, it wasn't surprising when they didn't have a solid projection by the wee hours of Nov. 4.
This is what we can expect in the days and weeks after Election Day, and what we know about the delay.
Crucial battleground states are still counting ballots.
As of the afternoon of Nov. 6, a handful of states that were predicted to be the deciders of the 2020 election still have significant numbers of uncounted ballots that could make or break either candidate. Here, according to The New York Times, is where the race stands in each of those states, and when they expect to have counted every vote:
After several days in which Trump was leading in Pennsylvania, Biden jumped ahead on Nov. 6, and currently leads by more than 14,000 votes, with 96 percent of the state's votes reported so far. The last 4 percent of ballots—mail-in votes predicted to favor Biden—are expected to be counted by the end of the day on Nov. 6, when the Keystone State's 20 electoral votes can finally be awarded to one of the candidates.
Georgia, too, flipped overnight, when the remaining votes from heavily Democratic urban and suburban areas of the state helped Biden overtake Trump. Sixteen electoral votes are up for grabs in Georgia, where Biden currently leads by about 1,500 votes. More than 98 percent of the votes have been counted; the remaining ballots are absentee, provisional, and overseas military votes, and while they may be counted by the end of the day on Nov. 6, there will definitely be a recount in the state.
With 92 percent of the vote counted, Biden is up in Nevada by more than 20,000 votes. The state's election officials have reportedly said they won't release any more results until 7 p.m. ET on Nov. 6. There are six electoral votes available in Nevada.
Though some news organizations called Arizona for Biden in the wee hours of Election Night, many others still have not. Biden currently leads in the state by nearly 40,000 votes, with about 94 percent of ballots counted. More votes are expected from every county, including the largest, Maricopa County, where about 142,000 early votes still need to be counted. Their next update will be posted around 9 p.m. ET on Nov. 6.
Trump leads in North Carolina by more than 76,000 votes with 95 percent reporting. Ballots postmarked by Election Day will be accepted by the state until Nov. 12, so it could be more than a week before we know who will receive North Carolina's 15 electoral votes.
Absentee ballots will keep flowing in after Election Day.
As evidenced by the above timelines, the main reason we weren't able to declare a winner of the presidential election on Nov. 3 is that almost one-third of the United States merely require mail-in ballots to be postmarked, rather than received, by Election Day, and a handful more require postmarks from just one day prior to Election Day. In a normal year, this means there are often a small number of extra ballots left to be counted after polls have officially closed, but usually not enough to make a major difference in the results.
In 2020, however, up to 80 million Americans were estimated to be voting by mail, and USPS slowdowns made it very possible that even ballots postmarked and sent back well in advance wouldn't be counted until Nov. 3 or later. On top of all of this, swing states Wisconsin, Pennsylvania, and North Carolina extended their mail-in ballot deadlines this year to continue counting absentee votes after Election Day—despite Republicans' attempts in the Supreme Court to limit absentee ballot counting in the latter two states. With all of these factors at play, ballots received after Election Day could certainly have a sizable impact on election results.
Some states couldn't start processing ballots until Election Day.
As if all of that wasn't enough to slow down the mail-in ballot counting process, some states don't even allow election officials to start processing and verifying ballots until Election Day rolls around, and the majority of states aren't allowed to actually begin tabulating mailed-in votes until Election Day, even if they can start the processing and verification process well in advance. And as they tabulate these votes, some states have further guidelines that prevent them from reporting mail-in vote counts until long after day-of in-person voting has begun or even closed; according to a New York Times investigation of every state's mail-in vote-counting systems, New York and Alaska said they would not be reporting any mail votes at all on Election Day.
While Michigan, a swing state, changed its rules just this month to allow election officials to begin processing absentee ballots the day before Election Day, per NPR, many others have not. According to the National Conference of State Legislatures, in about 20 percent of states, including Pennsylvania and Wisconsin, mailed ballots cannot begin to be processed until Election Day—and in some cases not until the physical polls have closed.
To reiterate: Many states were expecting record-setting numbers of absentee ballots this year, and with poll workers unable to start processing and counting them as they flooded in, there's inevitably a huge backlog of mailed ballots that will take several days after Nov. 3 to tally. According to the Times investigation, only eight states were expecting to have at least 98 percent of their total votes counted by noon on the day after the election. That's why many states seemingly swung across the aisle overnight after polls closed, once absentee ballots were finally allowed to be counted across the U.S., and why final results may not come until well after Election Day.
Early returns created confusion.
Though absentee votes couldn't start being counted until Nov. 3 in most states, some states began to release early voting results well before Election Day. According to the University of Florida's U.S. Elections Project, with only a few days left to go until Election Day, more than 85 million Americans had already cast their ballots via mail-in or early voting, with registered Democrats far outnumbering Republicans.
As those numbers continued to grow throughout the early voting period, there were plenty of headlines touting what appeared to be an early lead for Biden. But those headlines and the early voting numbers needed to be taken with a grain of salt: For one thing, party affiliation does not automatically determine a person's vote. For another, there is a well-documented party divide when it comes to early voting, with Trump supporters expressing a significantly higher preference for in-person voting and more distrust in mail-in voting than Biden supporters, according to a recent Pew Research Center poll.
This, then, explains why the election has seemed to be swinging back and forth between the two candidates, and will continue to do so before a winner is announced—first leaning toward Biden with early voting numbers, then toward Trump with the first in-person numbers, before going absolutely haywire as in-person polls close and mailed votes are officially tabulated, with states flipping between red and blue depending on which votes were counted first.
Trump may be reluctant to accept initial results.
Trump has been sowing distrust in the validity of mail-in ballot counts for many months now (with absolutely nothing to back up his outlandish claims) and has refused multiple times to commit to accepting the results of the election outright if they don't grant him a second term. Putting aside for a moment the massive threat that poses to our democracy, in which the peaceful transfer of power is a key tenet (*nervous laughter*), there's a good chance the Trump administration will make a point of fighting the results we get in the days after Nov. 3 if they don't favor the current president.
In fact, about a week before the election, after the Supreme Court ruled against Republicans' attempts to block North Carolina votes from being counted after Election Day, Trump tweeted, "This decision is CRAZY and so bad for our Country. Can you imagine what will happen during that nine day period. The Election should END on November 3rd."
For the record, "what will happen during that nine-day period" is that votes that were legally cast on or before Election Day will be legally counted. The ruling does not allow votes to be cast after Election Day, and furthermore, it's completely normal for legitimately cast votes to continue being counted after the polls close on Election Day. This and similar rulings are absolutely not the conspiracies or fraud schemes Trump is attempting to paint them as.
He doubled down on these fear-mongering claims and threats of illegal election tampering just a few days before Election Day. In conversation with reporters on Nov. 1, though he denied reports that he would prematurely declare victory on the 3rd, before all votes have been counted, Trump did return to his favorite hobby of incorrectly asserting that mail-in ballots are rife with fraud, and threatened yet again to take legal action against the rulings that mail ballots received after Election Day be counted—even if they were cast and mailed on or before Election Day, in accordance with state laws. "We're going to go in night of, as soon as that election is over, we're going in with our lawyers," he said. "I don't think it's fair that we have to wait a long period of time after the election."
Again, what's actually not "fair" in this situation is his proposal to leave thousands, if not millions, of Americans' completely valid votes uncounted.
The closest precedent we have for a candidate refusing to accept election results is the 2000 election, in which the vote count in Florida was too close to call and required a recount. This led to multiple weeks of legal battles, with the Supreme Court ultimately required to settle the recount dispute. Al Gore held off on conceding to George W. Bush until the day after the SCOTUS decision, which came in mid-December, 36 days after Election Day.
Trump has repeatedly predicted that the results of this election will also be decided by the Supreme Court, which will seemingly be the only way he would accept a Biden win. This, of course, is the primary reason he and Senate Republicans were in such a rush to fill Ruth Bader Ginsburg's SCOTUS seat with Amy Coney Barrett—in the hope that a majority conservative-leaning Supreme Court will override any semblance of a free and fair election and grant him the win, even if the actual results indicate otherwise. Checks and balances, who?
Biden will also take his time before accepting any early results.
Biden, too, has said that he won't be automatically accepting any premature Election Night projections, albeit for vastly different reasons than his competitor. While Trump has consistently refused to agree to accept the results of the election at all if he doesn't agree with them, Biden says he will, with the very reasonable caveat that those results comprise the actual will of the American people.
When asked during a CNN town hall in mid-September whether he would indeed accept the results of the election, Biden replied, "Sure, the full results. Count every vote."
Not long after, during the first presidential debate, Biden urged Americans to ignore Trump's threats about refusing to cede power. "Vote whatever way is the best way for you. ... Because he will not be able to stop you from determining the outcome of this election," Biden said at the time. "I will accept it, and he will, too. You know why? Because once the winner is declared once all the ballots are counted, that'll be the end of it."
And, in response to his opponent's repeated threats of taking the election by force, democracy be damned, during a final campaign stop in Philadelphia on Nov. 1, Biden asserted, "The president's not going to steal this election."
For her part, Hillary Clinton has also advised Biden not to concede the election until every single vote has been counted. "Joe Biden should not concede under any circumstances, because I think this is going to drag out, and eventually I do believe he will win if we don't give an inch, and if we are as focused and relentless as the other side is," she said in an August interview on The Circus, adding that the only way Trump can win is "by either suppressing or stopping voting, or outright intimidating people into feeling that they have to go with the strong guy to stand up against all these threats that Trump is going to gin up to scare people."
Basically, with so much up in the air and a certain someone doing everything he can to cast doubt on and around the 2020 election, be prepared not to know definitively who our next president is until at least a few days after Election Day—if not a full 36 days later.
Marie Claire email subscribers get intel on fashion and beauty trends, hot-off-the-press celebrity news, and more. Sign up here.
Andrea Park is a Chicago-based writer and reporter with a near-encyclopedic knowledge of the extended Kardashian-Jenner kingdom, early 2000s rom-coms and celebrity book club selections. She graduated from the Columbia School of Journalism in 2017 and has also written for W, Brides, Glamour, Women's Health, People and more.