Bernie Sanders' Inauguration Meme Is the Perfect Mood for Winter 2021
"Out on the town having the time of my life with a bunch of friends."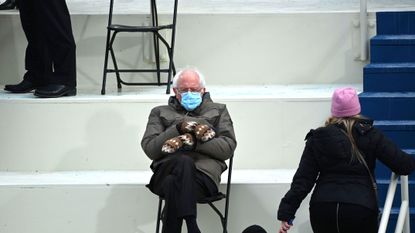 (Image credit: Brendan Smialowski)
I am once again asking you to apply an extremely versatile photo of Bernie Sanders to a multitude of situations in your life—because, yet again, the Vermont senator has gone viral for merely being his 79-year-old self. Sanders' latest meme-able event arrived almost exactly a year after his last, the still-applicable "I am once again asking you" moment from a late 2019 fundraising video. Upon his arrival at the Jan. 20 inauguration of Joe Biden and Kamala Harris as the nation's new president and vice president, Sanders plopped down in a folding chair far away from the rest of the audience (social distancing king!), burrowed into his coat and cozy-looking knit mittens, and waited for the festivities to begin. And thus, a meme was born.

As with previous widely circulated photos of Sanders, the most relatable thing about this snapshot is the septuagenarian's constant air of no-nonsense grumpiness and a general vibe of being immediately over whatever is happening if it doesn't directly pertain to his legislative goals—in the same way that, say, you might be incredibly over a party if you're just not in a partying mood. That vibe, plus Sanders' admirable dedication to COVID protocols, just might qualify this incredible photo as not only the first truly great meme of 2021, but also a perfect encapsulation of this particular moment in history.
In an added bonus, viewers have noticed that Sanders appears to be wearing the exact same Burton coat in his 2021 meme as he was in the fundraising video that soon became his 2020 "I am once again asking you" meme. That relatively casual parka (especially compared to the stunning designer coats donned by pretty much everyone else at the inauguration) and the manilla folder Sanders was clutching throughout the ceremony also contributed to a general sense that, as one Twitter user wrote, "Bernie dressed like the inauguration is on his to do list today but ain't his whole day."
As for the mittens, according to BuzzFeed News reporter Ruby Cramer on Twitter, they were gifted to Sanders by a Vermont teacher who made them out of repurposed wool sweaters and recycled plastic bottles. If you had "Bernie Sanders becomes a sustainable fashion icon" on your 2021 bingo card, go ahead and cross it out.
And now, without any further ado, please enjoy the best applications of Sanders' inauguration vibe:
Celebrity news, beauty, fashion advice, and fascinating features, delivered straight to your inbox!
Andrea Park is a Chicago-based writer and reporter with a near-encyclopedic knowledge of the extended Kardashian-Jenner kingdom, early 2000s rom-coms and celebrity book club selections. She graduated from the Columbia School of Journalism in 2017 and has also written for W, Brides, Glamour, Women's Health, People and more.