6 Simple Steps to Support International Women's Day
Six simple steps to show your support for women's rights.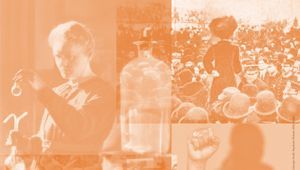 (Image credit: Courtesy of CARE)
It's been nearly fifty years since Neil Armstrong uttered his infamous line "That's one small step for man, one giant leap for mankind." But while mankind was making strides, the evolution of women's rights had come to a standstill.
Cue International Women's Day, the annual celebration of women and their achievements worldwide. Held annually on March 8, the day aims to inspire women to think globally and act locally through activities ranging from political rallies to networking events. Now in its hundredth year, IWD is encouraging women and men to show their support so we've come up with five ways you can, too.
1. Watch

WeAreEquals (opens in new tab)
Often recognized for his masculinity, Daniel Craig is trading in suits and ties for a more demure drag. Almost unrecognizable donning a blond wig and pearls, the James Bond actor stands silently while actress Judi Dench narrates the short clip. Aimed at highlighting the societal obstacles women face at home and in the work place, the advertisement poses a pivotal question: Are we equals?
2. Read

CARE's Top 10 Myths About Women (opens in new tab)

We've heard the generalizations. It's a man's world. A woman's place is in the home. But instead of the quick sticks-and-stones retort, CARE's Mythbusters report presents the stories of women who defied the odds, featuring ten myths associated with the assumed lack of power females possess, including the heroes who refused to listen.
3. Sport

The Color Orange (opens in new tab)
In honor of CARE's annual celebration — which includes an annual conference and tribute concert—supporters are encouraged to dress in the organization's signature hue. New Yorkers needing a reminder need only look up, as the Empire State Building will light up the skyline in orange on Tuesday night.
4. Share

Women On The Verge Inspirational Blog Posts (opens in new tab)

Women on the Verge is an online community urging bloggers nation-wide to share the stories of their heroines. Whether it's your mother's story or that of a courageous cousin, log on and share the accounts of women who have inspired you.
5. Listen

KBOO Community Radio (opens in new tab)

No matter your locale, tune in online to Portland's KBOO FM Radio for all-day coverage highlighting the societal roles of women throughout history. The 24-hour broadcast will embrace the power of females through various music and informational programming.
6. Buy

DVF Limited-Edition Items (opens in new tab)

The powerhouse designer has created a unique t-shirt and tote with a bold message that all women can relate to. Simplistic and empowering, the DVF merch also includes the Proud to be Woman album featuring veritable female anthems from artists like Katy Perry and Madonna.
For more on ways to make a difference, visit the International Women's Day website (opens in new tab) for a list of events and resources in your neighborhood.