Every Celebrity Who Voted In the 2020 Election and Posted a Photo to Prove It
It's not an election without a (legal) voting selfie, okay?!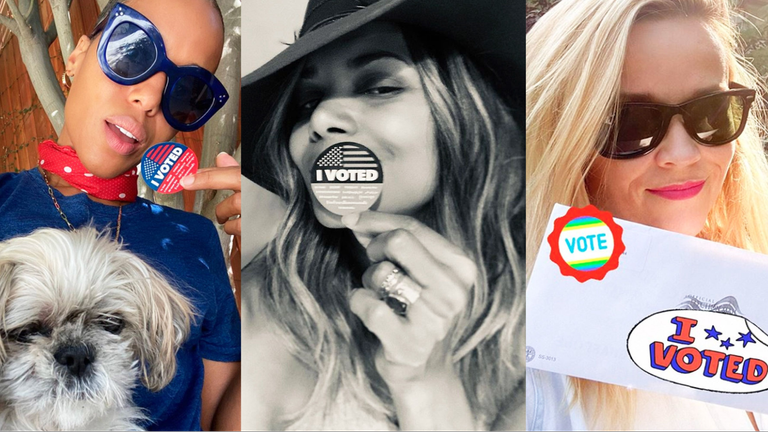 (Image credit: Instagram )
As November 3 looms, many of us have already voted early. More than 22 million Americans and counting have already cast ballots in the 2020 election as of October 16, and some political analysts predict this election could have one of the highest turnout rates ever. How cool is that? So while you were busy double-checking your voter registration status, making sure your mailed-in ballot was requested, and stocking up on cute voter merch, some of your favorite celebrities were getting out the vote.
It's become an odd but wonderful rite of passage for stars to hit up Instagram and post a photo of them experiencing the serotonin boost that is doing your civic duty. I'm a fan of it, naturally. Someone with such a high profile using their powers for the greater good, such as sharing how people can vote and tips for filling out a mail-in ballot, screams icon status, at least to me.
Now, if you're worried if it's technically legal to take a quick little photo with your ballot and post it online, it all depends on your state. It's legally frowned upon in New York, while in California, patrons are free to snap away. (If you want to see where your state lands on the list, click here.) Ahead, check out 63 A-listers who have already hit the polls and have the selfies to prove it.
Jennifer Lopez
Jenna Dewan
Hillary Clinton
Awkwafina
Camila Cabello
Drew Barrymore
Charlize Theron
Anne Hathaway
Jimmy Fallon
Julia Roberts
Lena Dunham
Brie Larson
Emmy Rossum
Ashley Benson
Vanessa Hudgens
Karlie Kloss
Jennifer Lopez
Nick Jonas
Michelle Obama
Kiernan Shipka
Beyoncé
Brittany Snow
Madelaine Petsch
Demi Lovato
Mariah Carey
Snoop Dogg
Natalie Portman
Jessica Alba and Cash Warren
Lady Gaga
Jonathan Van Ness
Viola Davis and Julius Tennon
Gigi Hadid
Jonathan Scott and Zooey Deschanel
Demi Moore
Lizzo
Blake Lively and Ryan Reynolds
Shonda Rhimes
Selena Gomez
Kerry Washington
Lily Collins and Charlie McDowell
Elizabeth Banks
Camila Morrone
Kevin Jonas
Ashlee Simpson Ross
Lucy Hale
Zoë Kravitz
Elle Fanning
Whoopi Goldberg
Reese Witherspoon
Joe Jonas
Tracee Ellis Ross
Mandy Moore
Mae Whitman
Joey King
Bebe Rexha
Faith Hill and Tim McGraw
Halle Berry
Salma Hayek
Yara Shahidi
Busy Philipps
Will Ferrell
Cobie Smulders
Laura Dern