Racist Photo Sent in Wake of Sorority Rush at University of Alabama
University of Alabama and national chapter of the sorority in question are investigating image captured from social networking site.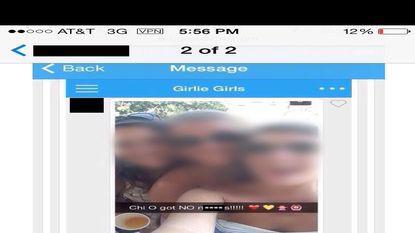 (Image credit: Courtesy of Recipient)
As news of the positive results of rush at the University Alabama was spreading on August 16, so too was an image that calls into question just how much progress the sororities have truly made.
The photo, a screenshot captured from the social media app Snap Chat and emailed to Marie Claire, shows three white women with an incredibly offensive caption that contains a racial slur and appears to celebrate that no black women pledged the sorority Chi Omega. The message in the caption is a bit puzzling, as according to a statement from the national leadership of Chi Omega, the chapter pledged two African American women on Saturday.
UA President Judy Bonner issued a statement in response to the widely-circulated photo earlier today, noting that the school's Office of Student Conduct and the national headquarters of Chi Omega were conducting investigations. "We are all extremely disappointed when any student uses language that is disrespectful or offensive to any segment of the UA community," Bonner said in the statement. "We are especially sad that this incident occurred on a day that was an exciting and happy one for the young women who participated in fall recruitment."
She continued, "Behavior, actions and choices that disparage other students are particularly reprehensible and do not represent the values or meet the expectations of our University community. UA and the members of our Panhellenic sororities took great strides forward on bid day by pledging a diverse group of young women that included 21 African American members. The results of bid day and the dedication of hundreds of students, employees and alumni who worked extremely hard this past year to achieve the important and significant milestones UA reached on bid day cannot and should not be dismissed or minimized. I want to assure you that The University of Alabama will not allow this incident to interrupt our progress. We will continue to work diligently and with a renewed commitment to make sure that UA is a welcoming and inclusive campus every day of the week."
In a statement posted on the Facebook page of the national page for the Chi Omega sorority, Chi Omega says they took "swift disciplinary action" and the woman who took the photo is no longer a member of the chapter. "What was expressed is absolutely reprehensible and completely inconsistent with Chi Omega's values and policies," the national sorority said in the statement. "Chi Omega embraces women from all walks of life, who come together to form a network of friends with high standards and similar values."
University officials were made aware of the photo Saturday afternoon, as many on campus were celebrating the fact that all 21 black women who signed up for formal sorority rush this year had been offered bids to join. Last year, ascandal erupted at the university after some sorority members spoke out against racist practices that barred black women from joining their houses and kept the sororities almost entirely segregated throughout their 110-year history at Alabama.
In response to the scandal, Alabama administrators opened a new informal round of rush. By spring, the university reported its Panhellenic sororities had 21 African American members, representing about 0.4% of the total sorority population. (With the additional 21 members who pledged during rush this year, black women now make up 0.8% of membership in Alabama's Panehellenic sororities.)
This year's formal rush provided the first true test of whether the integration that came under pressure last year would have a lasting effect. Though the news this year was seen as a sign of progress, the photo shows the mind-sets among some on campus may not yet have similarly evolved. It also begs the question of whether the sorority members are truly embracing their new black sorority sisters, or whether they are admitting them just to ward off further attention from the media.
For more on the University of Alabama's fall 2014 rush, read Revolution on Sorority Row.
Photo Courtesy of Recipient
Celebrity news, beauty, fashion advice, and fascinating features, delivered straight to your inbox!
Kayla Webley Adler is the Deputy Editor of ELLE magazine. She edits cover stories, profiles, and narrative features on politics, culture, crime, and social trends. Previously, she worked as the Features Director at Marie Claire magazine and as a Staff Writer at TIME magazine.