21 Black Women Accept Bids to Join University of Alabama Sororities
After a scandal-plagued year, all of the black women who participated in formal rush this year at the University of Alabama were offered invitations to join.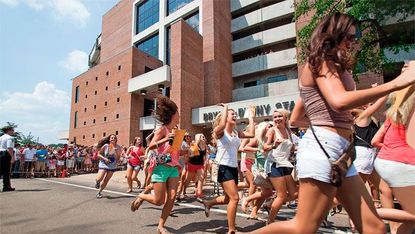 (Image credit: Archives)
Marie Claire Newsletter
Celebrity news, beauty, fashion advice, and fascinating features, delivered straight to your inbox!
Thank you for signing up to Marie Claire. You will receive a verification email shortly.
There was a problem. Please refresh the page and try again.
For the first time in the 110-year history of sororities at the University of Alabama, all of the African American women who participated in formal rush this year were offered invitations to join. This comes after a scandal erupted last fall when sorority members spoke out about racist practices that barred black women from joining their ranks.
This year, the university reports that 2,276 women signed up for formal recruitment, which concluded on August 16 with Bid Day, during which rushes are offered official invitations, known as bids, to join sororities. Among the rushes, were 190 minority women, 21 of whom self-identified as African American. According to Deborah Lane, Alabama's associate vice president for university relations, all 21 black women received bids—none withdrew from rush or were dropped from every sorority.
All 16 sororities that participate in formal rush offered bids to black women, though it is unclear whether each of the houses now has African American members as the 21 black women only joined 10 of the 16 sororities.
"We have not reached our destination," Lane said in a statement. "But we will continue to move forward with resolve, energy, and enthusiasm. And, while numbers are not the only measure of success, they do indicate that we are making progress."
That progress is long overdue. Before last fall's scandal, only one woman who was identifiably black had ever been offered a bid to join a sorority at Alabama. Last fall, after a highly qualified black woman was rejected from every sorority during formal rush, a handful of sorority members spoke out against segregation, sparking a march on campus and a new round of informal rush, known as continuous open bidding. By spring, 21 black women had joined traditionally white sororities through the open bidding process.
In an article in Marie Claire's September issue (on newsstands now), current and former sorority members revealed the internal conversations and orders from alumnae that kept the nation's largest Greek system segregated until this year. "We were told we do not take black girls, because it would be bad for our chapter—our reputation and our status," says Yardena Wolf, 20, a junior and member of Alpha Omicron Pi, who says many of the women in her house worried fraternity members would no longer invite them to parties if they had a black member. Others said their parents would make them withdraw from the house if they had an African American member. Another sorority member, Caroline Bechtel, 21, a senior and member of Phi Mu, said her sorority had a list of women who were to be dropped from formal rush and "anyone who was a minority was automatically added to it." She adds, "Sometimes they'd say things like, 'Oh, she wore an ugly dress,' but it was so obviously wrong, so obviously racism."
Upon hearing the result of Bid Day this year, Wolf, who moved out of her sorority last year and as a "early alum" at her sorority did not participate in rush this year, said she was "so, so thrilled" by the news. "I'm really proud of the dedication of all of these women to continue the progress from last year to make the Greek system a more inclusive environment for everyone on campus," she says. "I'm so happy to see this huge step forward, especially because it came organically this year."
While the news is a sign of progress, black women still only make up roughly 0.8 percent of membership at Alabama's Panhellenic sororities.
For more, read
Revolution on Sorority Row
.
Related:
Janelle Monae Threw a Sorority Party

Sorority Girls Gone Wild (and Really, Really Gross)
Photos via Victoria Hely-Hutchinson/Austin Bigoney/The Crimson White
Celebrity news, beauty, fashion advice, and fascinating features, delivered straight to your inbox!