Women of Texas, Meet Women in the World
San Antonio hosts Gloria Steinem, DvF, Eva Longoria and more at the women's issues summit.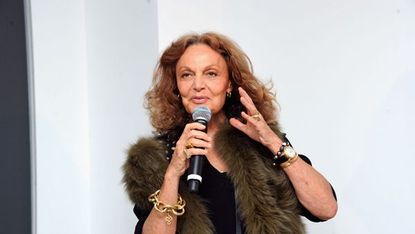 (Image credit: Getty Images)
Marie Claire Newsletter
Celebrity news, beauty, fashion advice, and fascinating features, delivered straight to your inbox!
Thank you for signing up to Marie Claire. You will receive a verification email shortly.
There was a problem. Please refresh the page and try again.
Multiple-time Women in the World guest and fashion icon Diane von Furstenberg.
"Don't mess with Texas women" has always been a popular slogan (and bumper sticker) in the Lone Star State, and for good reason: Texas women have always been known for their brassy, no-nonsense feistiness. It's no joke—it's in the water. So it makes sense that when media mogul Tina Brown took her Women in the World summit—a day-long TED-like conference of panels, Q&As, and performances centered on domestic and international women's issues—on the road this week after five years in New York's Lincoln Center, she decided to bring it to San Antonio, Texas.
A sold-out audience at the Empire Theatre got the classic Women in the World treatment: Icons popular with Brown's WITW family, like Ms. magazine founder and feminist activist Gloria Steinem, the only woman who mentioned Texas's reproductive rights crisis and the importance of reproductive freedom ("It affects everything else"), and designer/philanthropist Diane von Furstenburg, who playfully gave us a preview of her upcoming tour for her memoir The Woman I Wanted to Be with gems like, "I wanted a man's life in a woman's body" and "It's a lot of work to be a woman; you're always faking this and that." (The winning quip, perhaps, was DvF's description of her writing process: She's never been to therapy, she said, but writing her memoir was "Like therapy. Like a long visit to the gynecologist.")
This being Texas, the panels were heavy on Texan politics. In the morning, we heard Texas native and Democratic activist Eva Longoria, organizer Rose Castro and one of her Democrat-heavyweight twin sons, Rep. Joaquin Castro, and labor leader Dolores Huerta, who co-founded the United Farm Workers, discuss the rise of Latino power on the political stage. Of a potential Clinton/Castro 2016 ticket, Rep. Castro said "It's possible!" (His twin brother Julian is the former longtime mayor of San Antonio and currently the Secretary of Housing and Urban Development.) Later in the day, former Senator Kay Bailey Hutchinson and Ambassador Karen Hughes, former advisor to President George W. Bush, sat down with political analyst Liz Chadderdon and former Hillary Clinton advisor and Fox News analyst Jehmu Greene; Chadderdon stressed that it's all well and good for women to run for office—and yes, we need more of that—but it's not enough to just run. Women need to win, which takes money, tough choices, and guts.
While the San Antonio audience gladly welcomed their hometown heroes and representatives, they were most enthralled by the international stories on the stage—a central part of Brown's Women in the World effort. Documentary directors Deeyah Khan and Xoel Pamos shocked the audience with their stories of the ongoing horror of honor killings; Pamos's story of two sisters, Amina and Sarah Said, who were killed by their father in Lewisville, Texas in a 2008 honor killing, hit particularly hard, as did the news that 28-30 honor killings still occur in the U.S. every year. Ugandan nun Sister Rosemary Nyirumbe described her school for girls rescued from the hands of Joseph Kony's Lord's Resistance Army; Liberian Bishop Nathan S. Kortu detailed counseling the children and families of those who had died in the Ebola epidemic; and in one of the most moving segments, peacemaker Robi Damelin (part of the Parents Circle, a grassroots organization of Israelis and Palestinians who come together to grieve their lost loved ones), talked about writing a letter to the Palestinian family whose son killed hers in the line of fire. "There's no such thing as instant reconciliation," she said. "It doesn't happen like that."
The day ended with the many participants' calls to action—ways for the audience to take what they'd learned onstage out into the world. And who better than Steinem to be the last at the podium. In the next 24 hours, she urged us to "go out and do one outrageous act of social justice." It could be telling a coworker your salary; it could be speaking up about why your workplace isn't diverse; it could be telling a partner to pick it up himself. "I promise you, if you all do this," she said, "the world will be just a little bit better."
Image via Getty
Celebrity news, beauty, fashion advice, and fascinating features, delivered straight to your inbox!