Arizona Passes Crazy New Law That Makes Doctors Tell Women Their Abortions Are "Reversible"
What?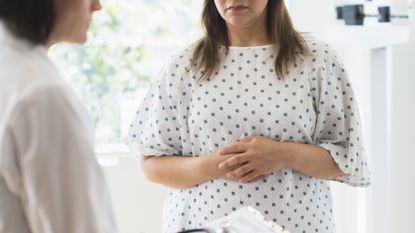 (Image credit: Getty)
Imagine you find out you're pregnant. You're not ready to have a baby. You make a difficult decision and book an appointment to end the pregnancy. You set money aside, and take time off to go to the clinic. And then when you get there, your doctor tells you your abortion is reversible.
Actually, that last part isn't imagination—at least not for women in Arizona. On Monday, a controversial law passed in the state requires (opens in new tab) doctors who perform drug-induced abortions to inform women that the procedure may be reversible, despite the fact that most doctors say this is medically incorrect. Largely based on the research of Dr. George Delgado, a physician who claims he was able to save pregnancies before the second pill in a drug-induced abortion was taken, this new legislation is part of a broader law meant to keep insurance purchased from the federal health care exchange from covering abortions.
Arizona is already a hostile place for women's reproductive rights: Women have to receive state-directed counseling, including information meant to dissuade them from terminating, before having an abortion, and must wait a day before going through with the procedure. Health care plans under ObamaCare only cover the cost of an abortion if the woman's life is in danger, or if she is a victim of incest or rape. Ninety-seven percent of the state's counties don't have an abortion clinic, and yet measures to keep doctors from remotely administering a drug-induced abortion via telemedicine are lined (opens in new tab)up at the ready (opens in new tab).
Sadly, none of this is an April Fools' joke. The slippery slope of women losing their reproductive freedoms is dangerous and real—and it's not even a little bit funny.
You should also check out:
A Look at Where Abortion Politics Stand Now (opens in new tab)
These Will Be the Biggest Feminist Issues of 2015 (opens in new tab)
Why I've Decided I'm Not Having Kids (opens in new tab)
Elizabeth Kiefer is a features editor at Cosmopolitan, where she focuses on enterprise stories, narrative reporting, and cultural coverage for the magazine's print and digital platforms.