Congressman Out to Personally Prove Women Couldn't Possibly Graduate from Ranger School
Shouldn't you be making laws or something?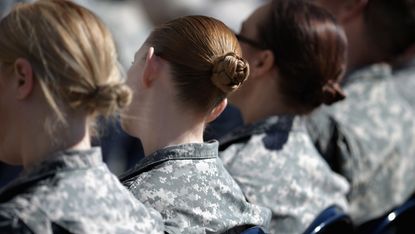 (Image credit: Getty Images)
Update, 9/23: According to a letter obtained by People (opens in new tab), a congressman has asked the Pentagon's top Army leader to produce documents related to the performance of the women who began Ranger School at Fort Benning, Georgia earlier this year.
A source close to the investigation says Rep. Steve Russell, R-Okla., took it upon himself to make the request after hearing that the women "got special treatment and played by different rules," such as carrying lighter equipment, undergoing pre-training not given to male candidates, and being allowed to redo phases.
"The training of our combat warriors is paramount to our national defense," wrote Russell, a combat veteran and Ranger graduate. "In order to ensure that the Army retains its ability to defend the nation, we must ensure that our readiness is not sacrificed."
An Army spokesperson insists that no standards were lowered and that First Lts. Kristen Griest and Shaye Haver "accomplished the very same demanding standards of Ranger School as previous classes."
Original story, 8/18: Two military women just broke a major—and grueling—glass ceiling. The Washington Post reports (opens in new tab) that women are set to graduate from the Army's Ranger school for the first time in history.
The two unnamed women will get the sought-after Ranger tab along with the rest of their graduating class at a ceremony in Fort Benning, Georgia. "This course has proven that every soldier, regardless of gender, can achieve his or her full potential,"Army Secretary John McHugh said in an announcement. "We owe soldiers the opportunity to serve successfully in any position where they are qualified and capable, and we continue to look for ways to select, train, and retain the best Soldiers to meet our nation's needs."
Fox News reports (opens in new tab) that the process takes 62 days overall, and covers woods, mountains, and swamps. Ranger students have to do 49 push-ups, 59 sit-ups, and run five miles in 40 minutes, and then do mock combat missions on little food or sleep. Seventeen other women and hundreds of other men also tried, but failed, to make the cut. The graduates are both in their 20s and both graduates of West Point; they're the first women to graduate since the school began in 1950.
Alas, there's a catch: the two female graduates still can't apply to join the 75th Ranger Regiment, an even more selective Special Operations group that is still male-only. That could change if the Pentagon opens up all combat units to women, which could happen next year, according to ABC News (opens in new tab).
To get a glimpse of what the Army's Ranger school puts them through, take a look at this vid:
Follow Marie Claire on Instagram (opens in new tab) for the latest celeb news, pretty pics, funny stuff, and an insider POV.
Megan Friedman is the former managing editor of the Newsroom at Hearst. She's worked at NBC and Time, and is a graduate of Northwestern's Medill School of Journalism.