Ivanka Trump Says You Can't Fault Her Father on Abortion Rights Because He's "Real"
Slyly adds that she's BFFs with Chelsea Clinton.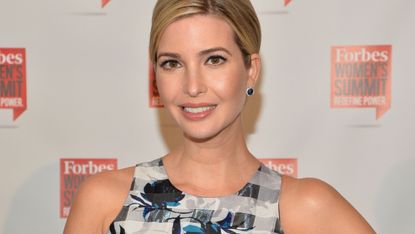 (Image credit: Getty Images / Slaven Vlasic)
As Donald Trump hones in on the Republican Party's nomination for president, his daughter Ivanka Trump addressed her father's campaign at the Forbes Women's Summit in New York City—but left out his stance on abortion and gender equality. Instead, she played the dutiful daughter, casting herself not so much as her father's advisor, but rather just as his child.
The elder Trump has alienated women by calling for prosecuting those who have abortions and pulling federal funding from Planned Parenthood. He also vowed to appoint anti-abortion justices to the Supreme Court and has accused Democratic opponent Hillary Clinton of "playing the woman card."
Trump has backpedaled on some of his comments about women, but his daughter said the public criticism that he's wavered on key issues such as abortion and immigration is unfounded because he is "real."
"With him, what you see is what you get," said Trump, whom Donald has called one of his closest advisors. "I think people respect the fact that he's bold enough to say what he's thinking."
Trump, who stands to become the nation's First Daughter as well as leader of the Trump Organization, the family's investment conglomerate, appeared poised and thoughtful while being interviewed by CBS News anchor Gayle King, despite calling her time on the campaign trail so far "a wild, chaotic, and exhausting time in my life."
She didn't explicitly endorse his candidacy or ask conference attendees, which included power players such as Treasurer of the United States Rosie Rios, NASDAQ President and C.O.O. Adena Friedman, and Kate Hudson, to support him.
"I'm a daughter who loves and respects her father," she said simply.
Trump did note that she's been impressed by his instinct on the campaign trail and that the race has been an opportunity for the country to see his leadership skills. "It's hard to be an inspiring leader, and he's very inspiring," she said.
When King asked if her father plays nicely with others, Trump said it depends on the context. "He can be very tough," she added.
King also asked if the 34-year-old fashion entrepreneur, Trump Organization executive, and mother of three was surprised that her father has made it so far in the race. "I try not to get ahead of myself, but I wouldn't have been surprised," Trump said. She answered King's question of whether she has given thought to a future in the White House with a simple "no."
Meanwhile, she discussed how she hopes to use her website, ivankatrump.com, and her line of office-chic clothing, shoes, and handbags, to change the demeaning narrative in the U.S. around working women. "There's still this hilarious caricature," she said. "I don't think I've ever heard the expression 'working man' or a 'man who works.'"
Trump emphasized that she remains close friends with Chelsea Clinton. That's a challenge, given the antagonism between their parents. This week, for example, Hillary Clinton attacked Donald Trump for refusing to release his tax returns before the election in November. "Our friendship is distinct from politics," she said. Of the public criticism inevitable in a political campaign, Trump said, "I'm pretty thick-skinned, so I've learned to be a bit more tolerant of it."
But Trump underscored that her father is committed to his bid for the presidency. "When he sets his mind to something, I've never not seen him achieve those goals."
Follow Marie Claire on Facebook for the latest celeb news, beauty tips, fascinating reads, livestream video, and more.
Celebrity news, beauty, fashion advice, and fascinating features, delivered straight to your inbox!