Gender Selection Comes Stateside
Freaky Trend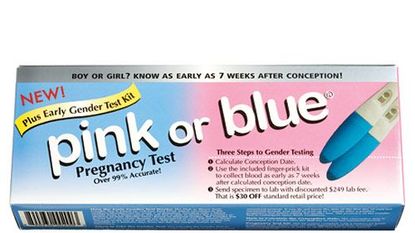 (Image credit: Jesus Ayala)
Marie Claire Newsletter
Celebrity news, beauty, fashion advice, and fascinating features, delivered straight to your inbox!
Thank you for signing up to Marie Claire. You will receive a verification email shortly.
There was a problem. Please refresh the page and try again.
FETICIDE — terminating a pregnancy based on the baby's gender — is illegal in India, yet the U.N. estimates that 2000 female fetuses are aborted there every day. Barbaric, horrific — and a problem that's 7000 miles away, right? Wrong. Now available in the U.S. is the Pink or Blue Early Gender Test ($240), an at-home kit that purports to determine a fetus's sex from a pinprick's worth of the mother's blood as early as seven weeks after conception. Convenient, particularly for couples who "always wanted a girl" or in ethnic communities that value sons over daughters, as the test gives would-be parents ample time to abort if the gender they wind up with is not to their liking.
"Unless there's a real medical concern, like a high risk of a sex-linked disease, there's no good reason to perform such early sex tests," says Dr. Arthur Caplan, chair of the Department of Medical Ethics and the director of the Center for Bioethics at the University of Pennsylvania. "And I'd be skeptical about their accuracy." In fact, a class-action suit by parents alleging incorrect results was recently brought against another gender-test kit.
Terry Carmichael, VP of marketing for Consumer Genetics, Inc., makers of the Pink or Blue, says the test (available online) is most popular among "young moms-to-be who are really excited to find out and are doing it without their husbands' knowing so they can surprise them. That's the majority of the people purchasing this product." He offers no numbers, but refers us to the company's consent form, which includes a clause prohibiting the use of the kit for gender selection — which is nonbinding and unenforceable. More effective is the company's policy in India and China: They don't sell there. "The demand for this type of test for gender selection would be extremely high," admits Carmichael. As for the consent form, what if people ignore it? "Well, that is an issue," he says, "but we do everything we can."
Celebrity news, beauty, fashion advice, and fascinating features, delivered straight to your inbox!