Here's Every World Leader That Donald Trump Has Insulted Since Taking Office
He's been a bit weird to some of our allies over the last couple months.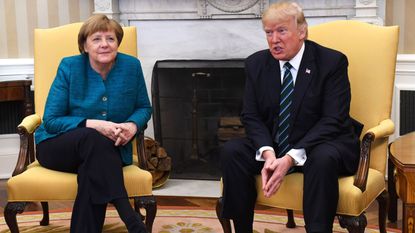 (Image credit: Getty Images)
Marie Claire Newsletter
Celebrity news, beauty, fashion advice, and fascinating features, delivered straight to your inbox!
Thank you for signing up to Marie Claire. You will receive a verification email shortly.
There was a problem. Please refresh the page and try again.
Donald Trump has been in office for just over two months, and he's already managed to make relationships with top U.S. allies a bit awkward. Here, a country-by-country breakdown of some of his offensive moves:
On Friday, President Trump met with German Chancellor Angela Merkel. As the two sat next to each other in the Oval Office, photographers snapped their image and began requesting that the two shake hands. Merkel turned to face Trump and asked him if he wanted to shake hands, and Trump... did not respond to her. At all.
Instead, he sat stone-faced, looking forward. White House Press Secretary Sean Spicer later said that Trump did not hear Merkel's request, which is possible. But it's hard to believe he missed the chorus of photographers requesting the same. They did shake hands earlier that day when Merkel first arrived at the White House.
Trump's comments at a joint press conference later did not help smooth things over. Refusing to back down from his repeated (unsubstantiated) claims that former President Obama wiretapped him, Trump made an awkward joke about Obama having wiretapped Merkel in the past—a sore point between the two countries.
Shinzo Abe of Japan:
Trump's interaction with Merkel wasn't the president's first awkward handshake moment. Japanese Prime Minister Shinzo Abe was one of the first world leaders to meet with Trump after the inauguration. Trump forced an unbelievably awkward 19-second handshake on Abe. A meme showing the Japanese prime minister's discomfort almost immediately went viral.
Melania Trump also raised eyebrows during the meeting. It's traditional for the first lady to spend time showing the wife of a foreign leader around while the two are in town. Although Melania eventually met with Akie Abe, she left her alone for the early part of the trip.
Malcolm Turnbull of Australia:
Shortly after his inauguration, Trump had what should have been one of his most pleasant interactions with a world leader: a telephone call with Australian Prime Minister Malcolm Turnbull.
Australia has been one of the United States' closest allies, which might be why it was so shocking that the first phone call between the two leaders was such a mess. In the call, Trump reportedly argued with Turnbull about a refugee agreement between the two countries, bragged to the prime minister about the size of his electoral college win, and ended the call less than half an hour into what was expected to be an hourlong talk.
Trump also reportedly told Turnbull that of all the phone calls he had with world leaders to date, this one was "the worst call by far."
Theresa May of the United Kingdom:
Despite the friendly relationship Trump has developed with British Prime Minister Theresa May, the president put her country in a bit of an uncomfortable position last week when he accused the U.K. of helping President Obama wiretap him.
In a conference last week, U.S. press secretary Sean Spicer referenced a Fox News commentator's belief that British intelligence agency GCHQ helped Obama wiretap Trump. The U.K. vehemently denied the claims, with the GCHQ putting out an extremely rare public statement calling the claims "utterly ridiculous."
Follow Marie Claire on Facebook for the latest celeb news, beauty tips, fascinating reads, livestream video, and more.
Celebrity news, beauty, fashion advice, and fascinating features, delivered straight to your inbox!