Trump the Dealmaker Couldn't Close: Obamacare Replacement Dies in the House of Representatives
If only it had health insurance.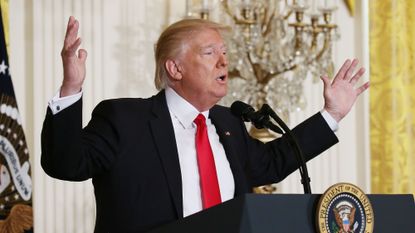 (Image credit: Archives)
No deal. That's what Congress told President Donald Trump on Friday. House Republicans, realizing they did not have the votes to pass their landmark healthcare proposal, withdrew the bill. The American Health Care Act (aka the AHCA) was unpopular from day one, but its rejection is a serious rebuke to the White House. Trump campaigned on a promise to repeal and replace Obamacare and, more fundamentally, on his ability to close a deal.
His deal-making skills fell short on this one, though. The bill failed to please moderates, who disliked that it would hurt Medicaid recipients (particularly the elderly and poor). It was unpopular with hardline conservatives, who think the bill didn't go far enough in repealing insurance industry regulations, calling it "Obamacare Lite." It was a flat failure with Democrats, who didn't even pretend to consider it. It was even a disaster with medical organizations, who nearly unanimously rejected it.
For now, Obamacare stays in place. The Affordable Care Act is law, and the Republicans' failure to repeal it and replace it in this bill means the status quo continues. Despite Trump's insistence to Congress last night that it's now or never, there isn't a deadline on making changes to healthcare.
RELATED STORIES
Any member of Congress could introduce a new health care bill at any time. But a problem for the GOP, as the events of the last two weeks showed, will be writing a bill that can get majority support. The Freedom Caucus, which is made up of many of the hardliners in the House of Representatives, are unlikely to support a law that does not fully repeal Obamacare. Some moderate Republicans, meanwhile, think that the bill withdrawn of Friday was already going too far.
Trump said before Friday's vote that if Republicans did not pass his healthcare plan, he would move on to the next item of his agenda and the GOP would be stuck with Obamacare. It remains to be seen if that's true, but the ACA will continue working for at least the near future.
Follow Marie Claire on Facebook for the latest celeb news, beauty tips, fascinating reads, livestream video, and more.
Marie Claire email subscribers get intel on fashion and beauty trends, hot-off-the-press celebrity news, and more. Sign up here.