It Is So Weird—and Scary—That Jared Kushner Is in Iraq Right Now
Talk about unqualified.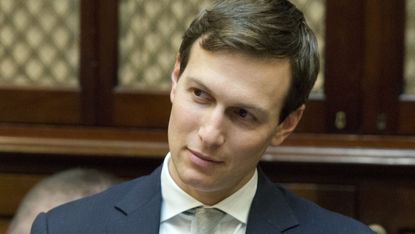 (Image credit: Getty Images)
Donald Trump's son-in-law Jared Kushner, who also holds the titles of "senior advisor to the president" and "White House innovations director," is in Iraq right now with the chairman of the joint chiefs of staff—and that's weird. Really weird. A senior administration official reportedly said that Kushner was there because he wanted to show support for the Iraqi government and see the situation on the ground for himself. But why? The 36-year-old Kushner has no diplomatic, military, or political experience. Prior to Donald Trump's election, Kushner's work was entirely in real estate.
[pullquote align='C']Trump on Kushner: "He'll make a deal with Israel that no one else can—ya know he's a natural, he's a great deal, he's a natural—ya know what I was talking about, natural—he's a natural deal-maker."[/pullquote]
Kushner has never worked on foreign policy in the Middle East, and though he was invited along by Chairman of the Joint Chiefs, Joseph Dunford, his position in the White House isn't one that would normally make a trip like this—especially before either National Security Adviser Lt. Gen. H.R. McMaster or Secretary of State Rex Tillerson have done so. But Kushner's lack of diplomatic experience hasn't stopped Trump from assigning him a laundry list of complex tasks.
Jared Kushner has no government experience.This is a list of everything Trump has put Jared Kushner in charge of —via @playbookplus pic.twitter.com/h9QQ3wVKzHApril 2, 2017
See more
Among those: solving the Israeli-Palestinian conflict, a territorial issue that's been raging for more than half a century. According to an interview transcript with the Times of London, Trump called Kushner a "good kid," and said "he'll make a deal with Israel that no one else can—ya know he's a natural, he's a great deal, he's a natural—ya know what I was talking about, natural—he's a natural deal-maker."
RELATED STORY
A Close Look at Donald Trump's Cabinet
RELATED STORY
All the President's Men with Russia Connections: Breaking Down Every Single Staffer's Alleged Ties
The real issue here is Trump's tendency to install people he likes in high-stakes arenas, whether or not they're qualified to be there. Kushner traveling as part of an envoy to Iraq is just one example. Shortly after taking office, Trump installed his adviser Steve Bannon on the national security council, replacing the director of National Intelligence and the chairman of the Joint Chiefs of Staff. The director of National Intelligence is a position traditionally held by someone who has spent many years working in public service or intelligence. Steve Bannon is a former Goldman Sachs executive whose claim-to-fame was running Breitbart, an alt-right news outlet that has repeatedly published debunked articles.
Bannon's appointment to the NSC was heavily criticized by experts; Susan Rice, a former national security adviser, called the move "stone cold crazy."
As for Kushner's visit to Iraq? Hopefully while he's there, he has some downtime to prepare for his next job: leading the preparation for Chinese President Xi Jinping's visit to the United States next week.
Follow Marie Claire on Facebook for the latest celeb news, beauty tips, fascinating reads, livestream video, and more.
Celebrity news, beauty, fashion advice, and fascinating features, delivered straight to your inbox!