The Best Twitter Reactions to James Comey's Firing
Laughter is the best medicine.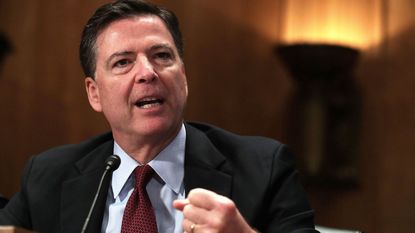 (Image credit: Getty Images)
President Donald Trump terminated (opens in new tab) FBI director James Comey yesterday, on the recommendation of Attorney General Jeff Sessions and Deputy Attorney General Rod Rosenstein. The move apparently came as a surprise (opens in new tab) to several White House staffers and Comey himself, who apparently learned of his firing (opens in new tab) from watching television and thought he was being pranked. Lest you've forgotten: The FBI is currently investigating ties between Trump campaign staffers and the Russian government.
In the frantic hours after Press Secretary Sean Spicer announced the termination, the good citizens of Twitter took to their keyboards to express a whole range of reactions over the news.
Sarcasm
This is the part of the movie where Comey continues the investigation as a depressed alcoholic private investigator trying to clear his nameMay 9, 2017
See more
Given the fact that our house is on fire, I believe sending the firefighters home & letting the fire itself pick new ones is the way to go. https://t.co/RN0B2FemfDMay 9, 2017
See more
After all the trust the Trump administration has built up, it deserves the benefit of the doubt on this one.May 9, 2017
See more
"Can we film me firing him in a boardroom?""No, Mr. President."May 9, 2017
See more
Nostalgia
Is the word "Nixonian" or "Nixonesque"?May 9, 2017
See more
And now Donald Trump gets to appoint the FBI director who will investigate Donald Trump.May 9, 2017
See more
Rich Imagery
Sally Yates right now ... pic.twitter.com/SFhQgamgklMay 9, 2017
See more
James #Comey's replacement announced this morning. pic.twitter.com/6d9wGLeNM0May 10, 2017
See more
Just got a sneak peek of new FBI head Jared Kushner pic.twitter.com/kiwX6DeP0zMay 9, 2017
See more
And Of Course, Puns
i had a "comey comey comey comey comey chameleon" tweet saved in my drafts & now i'll never get to use it smhMay 9, 2017
See more
Follow Marie Claire on F (opens in new tab)acebook (opens in new tab) for the latest celeb news, beauty tips, fascinating reads, livestream video, and more.