Girls Gone Wild: London's Female Looters
Who were the young women who joined the chaotic riots in London, looting stores and igniting cars? You'd be surprised.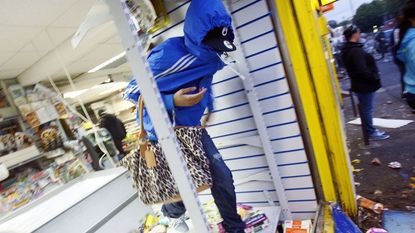 (Image credit: Archives)
In August, shocking images of the U.K. riots flashed around the world: a woman leaping from a burning building, a hooded mob looting H&M, a police car in flames. The riots, sparked by the police shooting of a London man during an arrest, raged for six days, spreading across London and into other cities around the country. The result: an estimated $160 million in destroyed property and lost business. Five people died, and 111 police officers were injured. But the real shocker? A large percentage of the looters were women.
Of the nearly 3,000 arrests made during the chaos, an estimated 10 percent were women — from two very different worlds. Some of the ladies were the last people you would expect to see looting stores for sneakers or snacks. The most prominent was Laura Johnson, the 19-year-old daughter of a millionaire and a student at the posh Exeter University. She was alleged to have been in a car that contained around $8,000 worth of looted electronics. She pleaded not guilty and was granted bail on the condition that she wear an electronic GPS tag on her ankle, ensuring that she sticks to a nightly curfew. In a similar story, Adrienne Ives watched the TV news in horror as she recognized her 18-year-old daughter, Chelsea, in the thick of the riots. The teenager, a celebrated track-and-field athlete, had been chosen to serve as an Olympic ambassador, to greet visitors as they arrive at the 2012 London games. She was charged with violent disorder, including throwing bricks at a police car. She was stripped of her ambassador role and could face jail time.
In the other camp were women who were neither academic highfliers nor pillars of the community. Take, for instance, 22-year-old Shereka Leigh, an unemployed mother of one, caught trying on sneakers amid the looting in popular retailer JD Sports. Recently evicted from her apartment, she fit the widely held belief that the looters were alienated young people from deprived inner-city neighborhoods. Ninety percent of the looters were neither working nor attending school, The Guardian reported. Many were reportedly in gangs.
A young woman named Charmain Humphreys, a youth worker at an East London charity called Immediate Theatre, explains that often, women get coerced into looting by their gangster boyfriends. "One girl was given no choice by her boyfriend. He said: 'You're my girlfriend — you have to go looting with me,'"says Humphreys. Young women regularly assist their gangland boyfriends in an array of robberies, she adds. For instance, a young woman will be enlisted to befriend a drug dealer who is "floss- ing," or showing off his money. The young woman will chat him up, find out where he lives, and then report that address back to the boyfriend, who then robs the dealer with his fellow gang members.
There are now an estimated 170 gangs operating in London, where police are famously unarmed. In 2009, to meet a rise in gun crime, London's specialist armed police unit, CO19, took the unprecedented step of carrying out foot patrols with submachine guns in crime hot spots like Tottenham, where the recent riots began. Perhaps as alarming as the rise in gun crime is the rise in girl crime.
Celebrity news, beauty, fashion advice, and fascinating features, delivered straight to your inbox!