What's Your Slavery Footprint?
You might be surprised by how some of your things are actually made.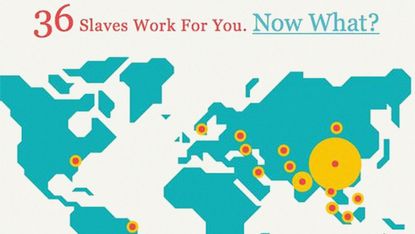 (Image credit: Future)
AS AN URBANITE who chooses to ride the subway rather than drive my car, I've long been concerned about my carbon footprint. Little did I know that slavery, something I thought had been relegated to the history books, has a living footprint all its own.
Thanks to a new website, I've discovered that some 35 forced laborers worldwide likely had a hand in producing the contents of my apartment. Those chilling statistics come courtesy of slaveryfootprint.org, developed by entrepreneur Justin Dillon with backing from the U.S. State Department.
"With up to 27 million slaves in the world, and many working in mining and agriculture, they're touching a lot of the goods that we use," says Alison Kiehl Friedman, deputy director at the U.S. Department of State's Office to Monitor and Combat Trafficking in Persons.
Dillon explains the way the site works: Feed it information about your lifestyle and "an elaborate algorithm calculates where in the world the items were produced. A deep dive is then done on the condition of slavery in each of those areas." (The website defines indentured servitude as "anyone who is forced to work without pay, being economically exploited and unable to walk away.")
To find my footprint, I combed through my apartment and added in my car. The worst offender was clothing: Many pieces were made in China, where human trafficking is pronounced. Out of my cosmetics and toiletries, the body wash had the biggest slavery footprint: It contained both coconut oil and soybeans, which are harvested in West Africa and Brazil, hot spots for trafficking.
I wanted to swear off shopping. But boycotting is not on the site's agenda. "Most businesses have no idea that their third-party suppliers are engaging in slavery," says Dillon. Instead, the website hopes the news will spread via social media, and encourages people to download its "Free World" app, which lets you check in to stores like Best Buy and send a letter to different brands, calling for an investigation of their supply chains. You can also make a donation to Slavery Footprint or groups that aim to help enslaved laborers.
According to Friedman, businesses "should be transparent about their practices." As consumers, we can help make sure that happens.
Made by Slaves
Shoes: Leather from India is often procured by the forced labor of lower-caste workers.
Fish: The Thai seafood industry thrives on the labor of Cambodian, Burmese, and Malaysian slaves.
Cars: Many raw materials are mined in Democratic Republic of Congo, where forced labor is common.
Nail polish: Silica in nail polish may be produced by laborers from China's migrant population.