Queens of the Hill
Connections are currency in the nation's capital. So if you want to get in with D.C. power players, start with these in-the-know women.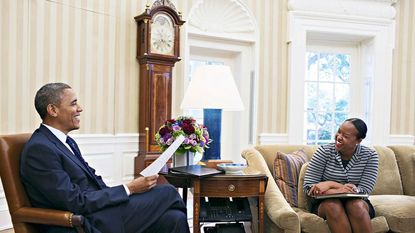 (Image credit: Archives)
1. Neera Tanden, 42

President & CEO, Center for American Progress

The Buzz: The former Hillary Clinton consigliere now helms one of the most influential progressive think tanks in Washington. Her goal: broaden the policy conversations around capstone women's issues like abortion and access to contraception to also include work-related initiatives like paid maternity leave and universal preschool.
2. Danielle Crutchfield, 31

Director of Advance & Scheduling, White House

The Buzz: There is no greater commodity in the White House than face time with POTUS. The ultra-organized Seattle native manages every minute of the president's day, whether it's early-morning pickup basketball games or overseas meetings with foreign dignitaries.
3. Ana Navarro, 41

National Politics Editor, politic365.com
The Buzz: The former John McCain adviser and occassional CNN pundit is central to the political scene in ever-important Florida, counting contenders Jeb Bush and Marco Rubio among her friends. She could prove instrumental in helping the GOP communicate a kinder, gentler approach to immigration.
4. Stephanie Schriock, 40

President, Emily's List

The Buzz: Thanks to a slew of eye-popping remarks by several GOP candidates last year, membership in Emily's list, which endorses and fundraises for pro-choice campaigns, quintupled to more than 2 million. On Schriock's agenda this year: electing female mayors in Los Angeles, New York, and Houston.
5. Sanda Fluke, 32

Advocate

The Buzz: The breakout star of last year's election season scored a prime-time slot at the Democratic National Convention after Rush Limbaugh called her a "slut" for supporting free access to birth control under the Affordable Care Act. Now she's leveraging her celebrity to lobby for bills aimed at human trafficking, gender discrimination, and immigration reform.