U.S. Figure Skating Team Heads to Sochi Amid Controversy
Yeah, I'd be ticked.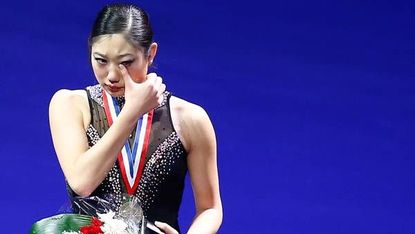 (Image credit: Getty)
The women's U.S. Olympic Figure Skating team was selected over the weekend and the decision was not without major controversy.
During the Olympic free skate at the U.S. championships on Saturday, 20-year-old skater Mirai Nagasu placed third in the competition with the performance of her career, technically qualifying her to perform in the 2014 Sochi Olympics. Nagasu, who performed in the Vancouver Olympics in 2010, skated the routine flawlessly. But when the U.S. team was announced, fourth place winner Ashley Wagner, who fell twice during her performance, took the third Olympic spot over Nagasu.
According to Gawker (opens in new tab), "the last four times that national championship finishers haven't skated at the Olympics have all been due to injuries." The Nancy Kerrigan, Tonya Harding debacle comes to mind.
So why was a skater—with Olympic experience who technically performed better and placed higher—booted from the team? According to the Boston Globe (opens in new tab), Wagner was selected based on her career, not only on Saturday night's performance. Contrary to Nagasu, Wagner won U.S. titles, placed fifth in the world competition, and earned medals at Grand Prix events. While Nagasu skated the superior performance on Saturday, her prior record didn't hold up. She will serve as an alternate to the U.S. Olympic team.
Who do you think should have been selected for the team?
Related Links:

The Six Toughest Single Women in Film (opens in new tab)

Beyonce Demands Equal Pay for Women (opens in new tab)

The Best Dressed of the 2014 Golden Globes (opens in new tab)


France's First Lady Hospitalized After Reports of Affair (opens in new tab)