China's First Sex Discrimination Lawsuit Happens Over a Water Cooler
The latest in water cooler talk.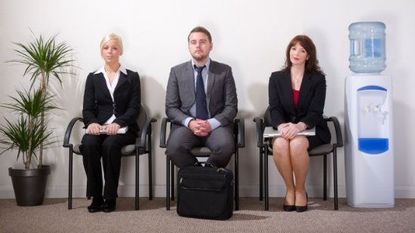 (Image credit: Marie Claire)
Can you change a water cooler? Even if you couldn't, does that mean you aren't qualified for a job? That is what one employer told a female applicant in China.
A female Chinese graduated student, Cao, is the first woman to win what is thought to be China's first sex discrimination case, according to the The Daily Mail UK (opens in new tab). A Beijing-based private tutoring firm posted an opening for an executive assistant. Yet, when Cao applied for the position, the company said that they would need a man to take the role due to physical tasks, like changing the water dispenser.
Cao won her case by a settlement from a fund "for caring for women's equal employment opposed to compensation."
The company responded by saying that it does not discriminate against women, as it hires mostly a female staff, but would need a male employee because the physical tasks sometimes take more than one women.
Yawn — I'm not buying the company's response. If the woman is qualified for the position, is the water cooler changing or physical aspect of the job really such a laborious task? How much time is wasted if there is more than one person to change a water cooler? Like 30 seconds?
In response to the case, Cao said that, "Women need to improve their awareness of their rights and to be more independent." From China to the U.S., she brings up a very universal point.
We brought up a slightly similar conversation the other day during our pitch meeting. One of my colleagues mentioned that at one of her former companies, it was almost expected that the women play more of a homemaker role in certain scenarios — like getting the table ready for team meetings by setting out food and utensils. Sorry, but I hate (and suck at) setting the table, but because I'm a woman, does that mean I am expected to? It comes down to the idea that delegating tasks based on sex, IS sexist.
Oh yeah, and to hell with water coolers.
More from Marie Claire:
How Does The Texas Abortion Debate Affect Women In Texas? We Asked an Expert (opens in new tab)
Woman Wins Historical Tennis Match, Gets Asked Sexist Interview Question (opens in new tab)
Time Magazine's Yawwwn-Worthy Yet Questionable Magazine Cover (opens in new tab)
Help Up Use Social Media to Redefine Beauty (opens in new tab)