Mary Jordan is on a Crusade to Make the World Think Hard About Water Sustainability
She's wrangled the country's most in-demand artists—not to mention a good portion of the New York City skyline—to join her. Photographs by Hannah Whitaker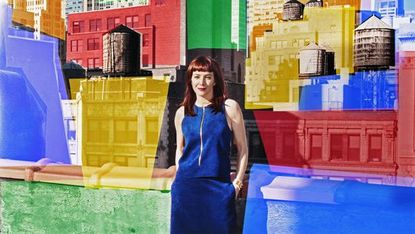 (Image credit: Archives)
Marie Claire newsletter
Celebrity news, beauty, fashion advice, and fascinating features, delivered straight to your inbox!
Thank you for signing up to . You will receive a verification email shortly.
There was a problem. Please refresh the page and try again.
ON A DARK AFTERNOON in New York City, I head to the Chelsea offices of Mary Jordan, a 44-year-old documentary filmmaker who greets me wearing leather parachute pants and pink high tops. Jordan, a petite woman with choppy auburn hair, dark eyes, and a straight-shooter way of speaking, wants to take me "tanking." "It's kind of like fishing," she says, "but instead, we look for the perfect tank." Tanking, for those who don't know, is done on Jordan's chocolate-brown Vespa, parked on the street outside. She fastens a helmet on my head, I climb on behind her, and we fly north on the West Side Highway. "The perfect tank has many features," she explains. "Visibility, backdrop, architecture, urban area, place for people to collect, light, view."
Perched atop the high-rises and apartment buildings that dominate New York's grid are barrel-shaped wooden water tanks. There are somewhere between 12,000 and 17,000 of them, and most are still in use, storing city water for the buildings on which they sit. For 12 weeks this summer, they will acquire another purpose, when 100 of the most visible towers in all five boroughs will be covered with art. And not just any art. The list of artists participating reads like a partial index of the Museum of Modern Art's permanent collection: John Baldessari, Jeff Koons, Maya Lin, and Ed Ruscha, to name a few. A public art project hasn't occupied so much New York City real estate since 2005, when Christo and Jeanne-Claude erected their orange "gates" in Central Park. Unlike "The Gates," the Water Tank Project has a political agenda: Each piece will make a statement about water—its scarcity, pollution, misuse. The endeavor is Jordan's brainchild, the result of her conviction that we need to reduce our water consumption immediately, and that the best way to convey this is "to take on the concept of art and social justice together."
This desire to marry art and social causes took root in Jordan at a young age. Born in Halifax, Canada, she grew up mostly in Toronto, the youngest of two, with an electrician father and homemaker mother. She spent Sundays with her grandfather, an artist who taught her how to use his camera and build dollhouses and miniature boats. "From him I learned to be very hands-on," she says. Jordan had extended family in the Bronx and she visited often. Shuttling between Toronto and New York City in the 1970s and 1980s, she became very aware of the poverty divide. "I guess you could call it the inequality of race and class and gender," she says. "I just really didn't understand why half of Americans"—meaning African-Americans—"weren't treated the same." After high school, Jordan had a chance to travel to North Africa, and she brought a camera. "I moved from taking pictures with my grandfather's camera to a motion camera," she says. "It was a Bolex: windup, no battery."
Jordan made her first film, about female circumcision, at the age of 18. Since then, she's worked as a painter and a performance artist; lived in Australia, India, Thailand, and Burma; earned a master's in anthropology from the London School of Economics; and produced or directed award-winning films on subjects like avant-garde artist Jack Smith and the Hamer tribe in Ethiopia. While making the latter, in 2007, her eyes were opened to the global water shortage. Jordan, already disturbed by the scarcity of clean water in Ethiopia, came down with a water-borne illness. She doesn't know what exactly it was—she was traveling alone, and her memory is "a blur"—only that it was serious. "I could feel cold sweats and fever, and it came to a point where I literally couldn't move anymore," she tells me. "I was thinking, I'm going to die in the middle of nowhere." A teenage girl arranged for Jordan to be moved by wheelbarrow to a neighboring village, where she was given what the locals called "white dots," pharmaceuticals Jordan suspects were antibiotics. Days or weeks later, Jordan says she woke in a mud hut belonging to a relative of the girl. When, a few days after that, Jordan recovered enough to move, she tried to give the girl a gift—her cash, her camera, her bracelets—but the girl turned her down. "Here was someone who was really poor," Jordan says. "She didn't even have shoes on her feet. And all she wanted was for me to go back to my country and do something about water.
"That sat with me for a long time," Jordan says. "It was like a hymn." The more she thought about it, the more water seemed to be at the heart of our most pressing environmental concerns: melting glaciers, rising seas, pollution, overfishing. She considered making a film about it, but there were already documentaries in production. Then, one afternoon driving through Williamsburg, Brooklyn, about a year and a half after the close call, the idea struck. "There was a water tank in the sunlight. I was like, Wouldn't it look great if that was wrapped with artwork and it said something about water?" The idea took on its own momentum. "After that, they all appeared like canvases to me."
Jordan taking part in a local ritual while filming a documentary about the Hamer tribe in Ethiopia in 2007.
A flooded Ethiopian water site.
AFTER 18 MONTHS of research, Jordan founded a nonprofit, Word Above the Street, in 2010 so she could accept grants and donations. She began to ask prominent artists to submit designs for water-themed pieces. The response was overwhelming. "Artists get it," she says. Conceptual artist Lawrence Weiner, who says he gets scores of similar requests each month, signed on in 2011 without even having met Jordan. "She was able to convince me without any of the heavy personal pressure," says Weiner, who will wrap a tank with text that reads, "Water spilled from source to use." The painter and photographer Marilyn Minter not only agreed without pause but knew instantly what she would do. "When Mary explained the project, I said, 'I already have the image for you,'" Minter recalls. Her photo depicts an Indian woman squirting water from her mouth: a human fountain.
As part of the campaign, Jordan developed an app that maps the tanks, provides information on the art, and communicates simple, powerful facts—for instance, that each tank holds about 10,000 gallons, the amount an African family uses roughly every five and a half years. ("And that's, on average, how much one American uses a year?" I ask Jordan. "Wastes a year," she clarifies.) The app will also suggest concrete, easy ways to reduce one's water footprint: Drink tap water, carry a reusable bottle, avoid plastic, eat less meat. "It takes 2,400 gallons of water to produce a pound of beef," explains Jordan, who spouts water stats casually and often, "and only 25 gallons to produce a pound of wheat." Jordan also enlisted the ad agency McGarrybowen, which will promote the project on billboards and city sidewalks, with chalk drawings of water tanks, alerting pedestrians to look up.
She set about personally scouting the city's best tanks, narrowing 1,500 contenders down to 150 (at press time, she had 50 more to go). It's these steps we are retracing. "We look for oddballs," Jordan says as we turn onto 11th Avenue from 34th Street. "If they're nice and big and juicy, those are good, also." Jordan has a particular affection for "diptychs" and "triptychs"—two or three in a row—and a tendency to name each one, like "the Tourist Tank" (near the Empire State Building), "the Party Tank" (close to a Chelsea bar), and "the Peekaboo Tank" (partially hidden in Soho). There's a category she calls "the Invisibles"—tanks you can see from a distance that disappear as you approach. (There's an "Invisible" near Union Square that has eluded Jordan for years.) "They've become like real beings to me," she says. "Little alien astronauts on top of the buildings." We wend our way into the Village, bypassing traffic. "When people say an address now, I think about the tanks in that neighborhood," Jordan explains. "You become a tankologist, really."
Tankologist is not the only role Jordan has had to assume; she's also become a fundraiser. The Water Tank Project will cost about $3 million, most of which will go to the logistical feat of producing and installing art—permits, printing, engineers, manpower. (The artists are donating their work, some of which will be in an on-the-ground exhibition once the project comes down, and some of which may be auctioned to support a local water initiative.) Jordan's first grant, of $50,000, came from the foundation of Agnes Gund, former president of MoMA. Gund's support, along with early commitments from Minter, Pop Art giant Ed Ruscha, and multimedia artist Clifford Ross, propelled things forward. "These are the mountaintops of New York," Ross says of the tanks, one of which he will cover with a striking photograph of a hurricane wave. "Mary's grabbed hold of something that already has such beauty and asked us to add beauty to it." Other donors got on board, including philanthropic institutions like the Rockefeller Foundation and corporate sponsors like Swatch, Deutsche Bank, and Hearst (this magazine's parent company). "I was totally mesmerized by what they presented because it was so ambitious and provocative and at its core had such a social purpose," says Darren Walker, president of the Ford Foundation, which gave the project two grants totaling $300,000. He was particularly impressed with Jordan's force of will. "When she started, there was no nonprofit, no fundraising apparatus, no urban-planning capacity," he says. "It takes a singular personality with the qualities of a zealot to pull this off."
As Jordan pinpointed locations and secured permission from building owners, she also brought on Bettina Bryant, a former ballet dancer and independent curator with deep ties to the art world. Together, Jordan and Bryant recruited art stars like sculptor Andy Goldsworthy, photographer Laurie Simmons (mom to Lena Dunham), photographer Catherine Opie, and young Iranian stencil artists Icy and Sot. New York's water towers famously once served as a backdrop for choreographer Trisha Brown and were captured by the German husband-and-wife industrial photographers Bernd and Hilla Becher, but they've never before been used on such a grand scale. For artists, they proved to be a potent symbol (one that's grown more complex recently, as concerns have been raised about their hygiene and regulation). "It's a prompt," explains Seattle-based photographer Chris Jordan, who will wrap a tank with a photo of a decomposing baby albatross. The image, taken on Midway Islands in the North Pacific, depicts the plastic contents of the bird's stomach. "Those tanks hold the actual water that's going into our bodies," he says. "The outer landscape becomes the inner landscape, quite literally."
The roster of artists broadened to include the musician Fab 5 Freddy and designer Prabal Gurung, whose dresses Jordan calls "canvases wrapped elegantly around the body." Gurung, already involved in sustainability issues in his childhood home, Nepal—"a small country with a large population, where only a small portion of people have access to safe and adequate drinking water," he says—was eager to take part. The parameters of the endeavor have also expanded: a children's education nonprofit helped create a water-focused curriculum for New York City schools, called Trace the Tap. Next, Jordan wants to take the project to Mexico City, whose water tanks will be adorned by a new, undetermined set of artists, possibly as early as 2015. She has vague plans to do the same in Rio and Dubai. If an idea occurs to Jordan, it has a funny way of coming to fruition. As Clifford Ross says, "The word no does not exist to Mary."
Our tour of tanks winds down on the cobblestones of the West Village. Jordan inadvertently drives through the set of Jay Z's Annie remake—she stops in the bright lights and demands I take a selfie—and then parks outside a café on Eighth Avenue. Inside, the barista pours my coffee into a mug and Jordan's iced tea into a plastic cup. In a flash, Jordan goes from buoyant to grave. She asks for a glass, but the barista tells her they stock glasses only for small drinks. "Well," Jordan says emphatically, "maybe you should consider getting large ones."
We sit, and Jordan motions to a woman sipping from a metal water bottle. "When I see people like that, I go up to them and say, 'I love your bottle. That's cool that you have that.'" I ask Jordan if she ever wavered in her belief that she could make the Water Tank Project happen. "Never listen to naysayers," she tells me. "When people said 'no,' that it couldn't be done, and you actually know it can be done"—she raises a hand and moves it left to right, as though brushing aside an obstacle—"you just go, 'OK, you're not a dreamer.'"
Jordan with a Hamer girl.