Naheed Farid Talks Women's Rights, Afghanistan Presidential Election
One politician wages a campaign for greater women's rights.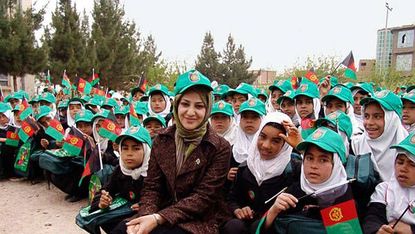 (Image credit: Archives)
"THE TALIBAN ARE GOING TO SHOOT you dead," Naheed Farid, 29, Afghanistan's youngest member of parliament, was told daily as she campaigned for election in 2010 in the tribal villages of her home province, Herat, in the west of the country. Her face on campaign posters was slashed with knives, and she was forced to take her daughter out of kindergarten to keep her safe.
"Running for office in Afghanistan as a woman is seriously dangerous and difficult," says Farid, who was banned from attending school by the Taliban for six years as a child. (She now has a master's degree in political science from George Washington University.) "Traditionalists believe women should not raise their voices in public," she explains. "A village elder told my family I should stop my campaign because it was bringing dishonor on the community."
Fortunately, Farid and her family didn't listen. She won a seat for a five-year term, mostly thanks to young voters who supported her plans to promote gender equality and education.
As Afghanistan goes to the polls April 5 to elect a new president, Farid is both hopeful and deeply concerned about the future for Afghan women. "On the one hand, we have made great progress. We now have female judges and police chiefs, and women make up 28 percent of members of parliament," she says. (By comparison, only 19 percent of members in the U.S. Congress are women.) But she adds that these "fragile achievements could be easily destroyed" if the Afghan government and the international community fail to protect them.
Dangers for women in the country are sharply on the rise. As the U.S. scales down security and prepares to withdraw from Afghanistan by the end of the year, the Taliban are regaining political power. And the Afghanistan Independent Human Rights Commission reported that violence against women hit a record high in 2013. Crimes such as rapes, honor killings, and cutting off women's ears and noses were up 25 percent from 2012.
Political gains are also being rolled back. In July 2013, parliament quietly reduced the minimum quota of seats allotted for women on provincial councils from one-quarter to one-fifth. And the Taliban's threats against female public figures like Farid are not hollow, either: Last year, four policewomen and one senior female politician were shot dead. Another female politician survived an attempted shooting, but her 8-year-old daughter was killed in the attack.
Farid says getting more women involved in the political process will help stem the backlash. She supports a number of initiatives that train women to run for office, and aims to increase female voter turnout by teaching them the importance of exercising their rights and by helping them get to polling stations safely on election day. "Women often have to overcome intimidation from disapproving men to get to the ballot box," she says. Her work won't be done as long as the threat of Taliban bullets remains. "We still have a big fight ahead of us to ensure women's rights and safety."
Celebrity news, beauty, fashion advice, and fascinating features, delivered straight to your inbox!