These States Are Trying to Eliminate a Woman's Right to Choose
If you live here, your reproductive freedoms are being limited.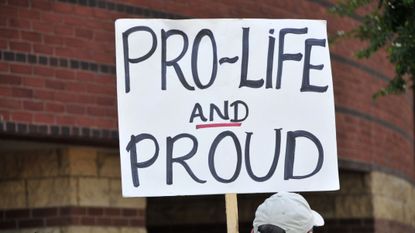 (Image credit: Getty Images)
The right to an abortion has been guaranteed for American women for over four decades, thanks to the groundbreaking Supreme Court decision in Roe v. Wade. And it's a right we use—one in three women will have an abortion before she turns 45. However, lawmakers consistently threaten that constitutionally protected right with new restrictions on clinics, demands for extra counseling, banning of insurance coverage and excessive waiting periods. Here are ten states that are limiting a women's right to choose.
Michigan

It's not only Southern states that make things difficult for a woman seeking termination. A whooping 83 percent of counties in Michigan have no abortion provider. Abortion is also banned after 20 weeks—even for victims of rape and incest.
Oklahoma

The Sooner state has loads of tight restrictions on a woman's reproductive freedom. And is it any surprise, given the fact the Oklahoma voters haven't elected a pro-choice official to Congress within the last 14 years? Just today, Governor Mary Fallin signed a law that will require clinics offering abortions to have admitting privileges at a nearby hospital. The consequences for women? Only one clinic in the state can meet the standards.
North Dakota

Last August in North Dakota, a law was passed that a woman has just six weeks after her last period to choose to terminate her pregnancy. Why the early cutoff? Six weeks after her last period is when a fetal heartbeat can first be heard. Until April, when a federal judge (thankfully) declared the law unconstitutional, N.D.'s law was the strictest in the nation. While the law may be gone, the state still only has one clinic that provides abortions.
South Carolina

Timing of termination isn't the only thing that lawmakers can restrict when it comes to a woman's reproductive freedom. In South Carolina, even the minutest details such as the size of a clinic's doorway or the style of the outdoor landscaping are regulated--90 percent of South Carolina counties outlaw abortion.
Alabama

It's been proven time and time again that abstinence-only sex education is simply not effective. However, that doesn't stop Alabama lawmakers from enforcing the teaching of abstinence as the primary method of preventing sexually transmitted diseases—and pregnancy.
Texas

Wendy Davis made national news when she filibustered on the floor of the Texas House for a woman's right to choose last July. But it wasn't just the length of her legal action that drew attention, but the growing restrictions on reproductive freedoms for women in Texas. The bill that Davis filibustered against eventually passed, and saw the immediate closure of 19 of the state's 33 clinics, with more following in the path, and the prohibition of abortions after 20 weeks of pregnancy. But is this any surprise, coming from a state that hosts—no joke—pro-life camps for teens?
Mississippi

Those with legal power in Mississippi have made no secret of their disdain for abortions—and their desire for the practice to cease completely in their state. In 2012, Governor Phil Bryant declared "...we're going to try to end abortion in Mississippi." Bryant and the anti-choice state House and Senate are doing their best to make good on their promise—there's just one abortion provider in the whole state, and both individual and institutional (even publically owned) providers can refuse to participate, according to the Guttmacher Institute.
South Dakota

Abortion exists in South Dakota, but just barely. Doctors brought in from other states staff the only abortion care center there—and it has been operating this way for thirty years. We doubt they're coming in from North Dakota.
Wisconsin

Wisconsin is known for cold winters and lots of cheese—but you can add strict reproductive regulations to that list, too. The state recently adopted a law similar to the ones in Texas, Alabama, Mississippi, and Louisiana, which requires abortion clinics to have a nearby hospital that will admit patients in case of complications. Abortions must be performed at a hospital after 12 weeks of pregnancy. Opponents are currently encouraging federal judges to overturn the law, claiming it is unnecessary and limits access.
Louisiana

Louisiana is set to become the fifth state, following Texas, Wisconsin, Alabama, and Mississippi, to enact a law that will require abortion providers to have admitting privileges at a nearby hospital. Just like in Texas, the law will force the majority of the state's clinics to close. What's worse? The state only has five abortion facilities to begin with—and this law, if passed, could see the closure of three of them.
I'm an Associate Editor at the Business of Fashion, where I edit and write stories about the fashion and beauty industries. Previously, I was the brand editor at Adweek, where I was the lead editor for Adweek's brand and retail coverage. Before my switch to business journalism, I was a writer/reporter at PEOPLE.com, where I wrote news posts, galleries and articles for PEOPLE magazine's website. My work has been published on TheAtlantic.com, ELLE.com, MarieClaire.com, PEOPLE.com, GoodHousekeeping.com and in Every Day with Rachael Ray. It has been syndicated by Cosmopolitan.com, TIME.com, TravelandLeisure.com and GoodHousekeeping.com, among other publications. Previously, I've worked at VOGUE.com, ELLE.com, and MarieClaire.com.