'Transparent' Creator Jill Soloway Has a New Video About "Vajaculating"
She and her friends are on a mission to teach women about some very special skills.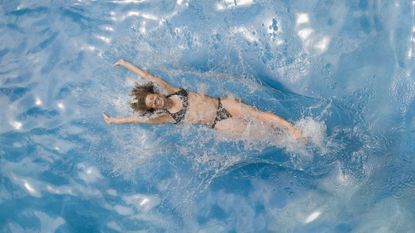 (Image credit: Getty Images)
Back in college, we watched Deborah Sundahl's now-classic video How to Female Ejaculate in a queer theory class. I was in awe; I had no idea it was possible for women to ejaculate. Why didn't anyone tell us we could do this?
Since then, I think I've only seen female ejaculation portrayed onscreen in porn—until last year, when Jill Soloway's Transparent featured it as evidence of true love between Sarah and her lover, Tammy. (Sarah to her sister: "She, like, made me squirt.")
This must be a crusade of sorts for Soloway: Yesterday, the female-centric video channel she runs with Rebecca Odes, Wifey.tv, released a new video in collaboration with Funny or Die that queer theory classes will be watching from now on. "How to Vajaculate: If You Build It, She Will Come" features Wanda Sykes as the voice of God(dess), and adult film star Nina Hartley and white witch Maja as friendly sex-positive sprites for L.A. artist and actress Mel Shimkovitz, who's down about the state of the world: "War…Bill Cosby…Islamaphobia…rape, campus rape, partner rape, dog rape, cat rape…it's like the end times!"
Written by Shimkovitz and directed by Soloway, it's a psychedelic guide to female ejaculation ('"Until all women can ejaculate just like men, we will never be equal," Maja tells Shimkovitz) that also features Devendra Banhart and a giant 8-foot-tall vulva. Needless to say, it's a trip:
In an interview, Soloway, Shimkovitz and Funny or Die producer Nicol Paone give Marie Claire the scoop.
Marie Claire: How did you decide to make the video?
Soloway: I met artist Mel Shimkovitz when I cast her in Transparent and we became fast friends. Mel and I started making videos together for Wifey, mostly just to entertain ourselves. Our first video was a collaboration with Buzzfeed in response to the Jian Ghomeshi scandal, the Canadian broadcast host who was conflating BDSM/rough sex with assault.
A few months later, we got a bunch of friends together to make another video, ostensibly about inviting a witch over, Maja D'aoust, the White Witch of LA, to bless my firepit and clue us in to how the Four Directions work with ritual-making. But when she showed up she started talking about how to topple the patriarchy—totally unexpected, but one of my favorite topics. She straight-up tells us that men and women won't be equal until women reclaim their ability to ejaculate. She regaled us with tales of pagan times when all women knew how to do it.
The next day, we took to Google to learn how to vajaculate. Every hit involved guys mansplaining. It wasn't very enticing, so we decided to make our own video—something that chicks would feel comfortable sharing with friends without embarrassment, something that would use comedy and politics to create a spark.
Shimkovitz: We were just excited to do something about vajaculation that wasn't some dude with hand sanitizer and some girl lying prone. We wanted to bump down some of these porn sites. Everyone at Funny or Die was super curious.
MC: An episode of Transparent also prominently features female ejaculation. Why is representing this particular sexual experience important?
Soloway: Maybe because it's some sort of urban legend. So many people say it isn't real, but I know so many women who experience it. And when it does happen, it can be surprising and even a little awkward.
MC: In the video, you've rebranded the female genitalia "the vaginal-clitoral-vulval complex."
Shimkovitz: We thought we were making a video about female empowerment and evening out the power structure through sexual empowerment, but in the research part of designing this 8-foot-tall vulva—I wanted it to be like a surreal children's show from the '70s or '80s, like Reading Rainbow, like "This is how you do it!" I had to go to the library because there was nothing on the Internet that told the whole story of what's inside us. In fact, I went to two libraries. There are all these disparate parts of the vulva and vagina—there's the clitoris, the crura—and we realized that it was actually all one thing: the vaginal-clitoral-vulval complex. It was a revelation. I'm not new to vaginas. I've had to wrap my head around them quite a few times. You always hear that women have this kind of orgasm or that kind of orgasm, but it's one complex that's all related. That's something that Nina Hartley was really clear about. It's not really a G-spot, it's a whole area.
Paone: We're trying to spread the idea of the VCVC, make that well known. And that it's okay to have a clitoral orgasm and not a "vaginal" one.
Shimkovitz: The VCVC is actually huge. We want to do a video next about that, where it's like making big dick jokes. It's not about being tight and tiny and small. It's like being the biggest. And some of that is a reaction to what's been going on for thousands of years—after the Judeo-Christian influence when women's sexuality became all about babies. Vajaculation has nothing to do with procreation; you need to use your hands to do it. And when women's sexuality became nothing but making babies, hands went away. You weren't supposed to use them anymore, they became the province of lesbians.
Maja thinks we all have the male and female divine in each of us and we need to tap into both of them. This isn't a male-hating cause; most of the men I know are just as oppressed by the patriarchy and have to deal with these ridiculous rules about what a man is. Before the Judeo-Christian takeover of the world, we had mother-goddess worshipping cultures and men were important, but so were women. But the fact that we had to create our own graphics for the VCVC because they didn't exist, that we don't even know what our insides look like! I've seen so many diagrams for the penis and prostate…
This isn't just something that slutty porn stars do, it's just a release and it's another tool in your belt. At least let's just talk about it, and make it funny, and make it on the same level as what guys do.
"This isn't something that slutty porn stars do—it's just another tool in your belt."
Paone: Certainly in comedy, I don't think I can walk out the door without hearing a dick joke, but people want to come down on Amy Schumer for talking about her vagina.
Shimkovitz: That's why the next video has to be "My VCVC is so big."
MC: Mel's journey isn't just about self-knowledge and empowerment, but also about larger world politics and upsetting the patriarchy through sex positivity. Why frame it in that way?
Soloway: I'm so glad you asked! The short answer is that the witch told us to. But the longer answer is that our planet is out of balance. The patriarchy–AKA the out-of-balance masculine—is raging on this planet, as well as on women's bodies. From violence against women in American households to violence against girls simply for attending school around the world, rape as an act of war, those effing billboards I have to look at when I drive my kid to school for a thriller called Misogyny, to women dying at alarming rates in childbirth in underdeveloped nations, to women not being paid as much as their male counterparts—hey, that's just the tip of the iceberg. So how do we get the world in balance? By repairing the divided feminine in our culture so that it can be powerful enough to call the great masculine into balance.
MC: Why the neologism "vajaculate" instead of "female ejaculation?"
Paone: We didn't want to just use "female ejaculation" because it's so connected to the male gaze. Mel and Jill came up with "vajaculate" over email.
Shimkovitz: I'm an artist, and I have a real pet peeve with people saying "female artist." And saying "female ejaculation" puts it in a second tier. So I started saying "vajaculate" and at first it sounded gross, but then it was a good way to rebrand it. It's like an onomatopoeia, like "oh, of course."
It's a child-friendly video. And then I'm of fairly ambiguous gender. And when you're doing political comedy, you're always worried about offending people, like how far can I go with my jokes? Already the conversation on Twitter about it is like "Is that a boy or a girl?" So it's like "What is this ambiguously-gendered person doing talking about female empowerment?"
Paone: And she's inside a vagina!
MC: So this is a psychedelic, child-friendly introduction to G-spots, the VCVC, and toppling the patriarchy through squirting. Is your dream for all women to start vajaculating?
Shimkovitz: I just want women to know that they have a VCVC and what it looks like.
Paone: We don't want people to feel pressure to vajaculate. There is a person, and maybe it's you, and maybe it's someone else, who can make you vajaculate…
Shimkovitz: Or maybe it's a toy you buy at a your nearest Toys in Babeland.
Paone: I want to have a division at Funny or Die that's only about vaginas. Vaginal Comedy President. A lot can happen through comedy.
Shimkovitz: Then your own Vaginal-Clitoral-Vulval-Complex Complex.
Paone: We're right next to the OWN building. Oprah just moved next to us. If there's one person that can help, it's O.
You should also check out:
9 Things That Happen to Everyone During Sex (but Nobody Talks About)
The Sex Playlist for the Girl on Top