The Last of the Tinder Virgins: Why Some Women Are Avoiding the App Like the Plague
No, not every single millennial is out there swiping up a storm.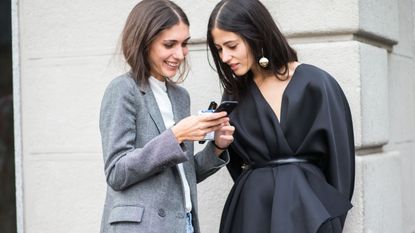 (Image credit: Archive)
Scroll, scroll, scroll.
Oh, he's cute!
Scroll, scroll.
Do those shirtless photos really work for him?
Scroll.
A puppy pic! Yeah I see right through that buddy.
For many of us, that's a pretty standard internal monologue as wear down our thumbs moving through an endless scroll of faces on our phones. We're looking for love, we're looking for a hook-up, we're looking for someone to share Chinese food with.
The stats behind dating apps are staggering: Tinder alone boasts 16,000 swipes per second, and 8 billion matches since it launched. It's safe to say that there's been a big enough culture shift that dating will never be the same—the stigma of finding a partner online is basically gone. BUT. There are plenty of single people still resisting the lure of the app store. What's holding them off? A few women explain:
"I can't get over the idea of having to sell the 'marketable' parts of myself on a page, like an eBay listing, to convince rando guys to judge and pick me," says B.A.*, 24, who thinks choosing the cutest photo and writing a pithy bio just seem wrong in the romantic context. "I'd like to think my stunning good looks and winning personality will grab the attention of a guy glancing up from his phone one day, and that I don't have to literally post a listing for myself with all my selling points," says C.S., 24.And that marketing goes both ways. "I don't like the idea of scrolling through humans like a menu, waiting for one of them to have written the right thing, or taken the right picture, to convince me they're worth throwing in this pile of swipe-rights," B.A. continues. G.Y., 33, agrees: "Ordering a person like Seamless can be a valuable service, but it's just not for me."
[image id='b043dbb6-4e1f-48a9-856b-7c30382ec83c' mediaId='728aafa2-d75a-4eb0-8b84-d4a0ec740669' caption='' loc='C' share='false' expand='false'][/image]
This fear is less about being "caught" online dating and more about having unexpected people viewing you in new ways. "Every time I've even gotten close, I was haunted by the inescapable weirdness of being in this sphere where you're giving off 'DATE ME!' vibes to whomever happens to pop up—your crazy coworker, your best guy friend, that dude you made out with at a party when you were 22, etc.," says K.T., 32. "The first time I scanned OKCupid, I saw all of the above within the first couple of pages! No thanks!"
"I know that 'we're all in this together,' but when I see people I know on there, I'm embarrassed," says L.P., 25. "Not so much of the stigma, but I get worried they'll swipe one way on me, and I swipe the other, or they tell our mutual friends they saw me, or think my profile is wack."
"Basically, I'm being a wuss," admits A.S., 25. "I haven't tried online dating because I've never dated/hooked up with someone who I hadn't at least met in another context first." Most popular dating apps allow you to sidestep cat fishing by linking directly to your Facebook account, or only link you to people you know by a degree of separation (e.g. Hinge). But for some people, dating is scary enough without the possibility that this stranger might be a total wackjob who pets your hair and asks to smell your purse.
"My main thing is, I still need a vibe," says L.P. "I can walk into a room and pretty quickly know if I want to talk to you or not. It seems like a waste of everyone's time to do some polite texting back and forth, finally figure out logistics of a meet-up, and then have to bring my dumb make-up bag to work fix my face and go be 'on' while I've already been 'on' all day at work." You may end up messaging back and forth for days, only to know within seconds that you're just not attracted to each other. It's like a blind date, only you saw a photo first.
"These apps are like a game, only instead of magical candies and jewels, it's real people," says L.P. The Tinder virgins don't want to just score a 'like' and then get tossed aside like someone's random Instagram post of a scone.
"I tried an app out of curiosity and an attempt at being culturally relevant," says E.G., 26. "In my experience people don't take each other as seriously meeting that way—it's almost like manners and common courtesy go out the window, and I'm not for that at all."
"The friends I know who have had success with online dating are very proactive. They reach out to tons of guys and are aggressive about setting up lots of dates," says A.E., 29. "I'm just not in the mental place to do that."
"I always knew that online dating was a numbers game—that you have to meet up with a lot of weirdos before you find the gold," says K.T., who is now happily spoken for. "The idea of devoting so many nights to lame drink dates when I could be hanging out with my friends always seemed exhausting, and so against the point of living my life in the moment."
"I haven't tried online dating yet because, to me, it's a sign of surrender," C.S. says. "I'm still holding out hope for a sitcom meet-cute where the universe planned for us both to be reading the same book on the same subway car making us chuckle and strike up conversation." Modern though we may be, it's hard to give up on the dream of feeling that real-life flutter. "The idea of using my phone to find love is too depressing because I already use it for everything else in my life and love is the one thing I'd like to keep IRL."
Of course, most of these women agreed to never say never. Or as C.S. says, "When I'm 40 and alone and still not online dating, the joke will be on me and we can all have a good laugh."
*We've used initials instead of full names so they don't get Tinder-shamed—and in case they ever change their minds.
Follow Marie Claire on Instagram for the latest celeb news, pretty pics, funny stuff, and an insider POV.
Celebrity news, beauty, fashion advice, and fascinating features, delivered straight to your inbox!