Facebook Is Coming Out With a Dating App
A dating app "not just for hookups."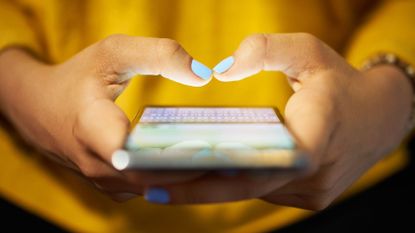 (Image credit: Getty Images)
Marie Claire Newsletter
Celebrity news, beauty, fashion advice, and fascinating features, delivered straight to your inbox!
Thank you for signing up to Marie Claire. You will receive a verification email shortly.
There was a problem. Please refresh the page and try again.
Facebook wants to make your dating life better! If you're single like me, your first thought is probably "yay, Tinder sucks" followed immediately by WTF does that actually mean. Let's break it down.
Facebook CEO Mark Zuckerberg took the stage at F8, a Facebook developers conference, to announce that there will now be a dating layer added to the mobile app. The social network creator shared that the 2.2 billion monthly active Facebook users will have the option to opt-in for the feature. But this isn't just another Tinder, "this is going to be for building real, long-term relationships—not just for hookups," says Zuckerberg.
But wait, does this mean my mom in Cali and aunts in Texas will see who I'm into? Not at all, according to the announcement. "We have designed this with privacy and safety in mind from the beginning. Your friends aren't going to see your profile, and you're only going to be suggested to people who are not your friends."
The app itself was presented by Chris Cox, Facebook product chief, and looks a lot like the Tinder and Bumble apps you're already swiping on. The dating app will integrate events and groups you are a part of to help create a more community-based dating experience. Cox also shared an "unlocking" feature that will let people within groups or events see your page, basically an I'm-single-and-ready-to-mingle option to up your odds of finding love.
That all sounds great, and pretty standard tbh, but the reason this dating app will beat the others is that it's genuinely intended for single people. That's right, all the cheaters will have to stay on Tinder. According to the announcement anyone with a relationship status of "in a relationship" or "married" can't use the app because it isn't for them. Bravo Facebook! I appreciate knowing this feature will weed out the Tristan Thompsons of the world.
Celebrity news, beauty, fashion advice, and fascinating features, delivered straight to your inbox!
Krystyna was the former Social Media Editor of Marie Claire where she oversaw all things social media and connected with MarieClaire.com readers. She came to Marie Claire from Racked.com, where she was the Community Manager. Before that, Krystyna was at Latina Mag and Cosmo for Latinas. She graduated with a Marketing major from Fordham University.