Would You Travel All the Way Across the Country for a First Date? Because I Did
Comedy writer Juliet Seniff had a hunch she had met the perfect guy online—but he lived hundreds of miles away. So she hopped on a plane to see if she was right.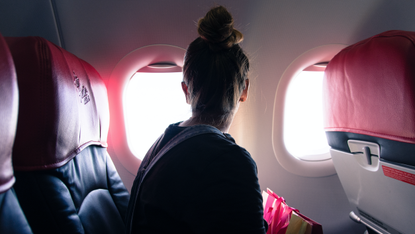 (Image credit: Getty Images)
I recently matched with the perfect guy on Bumble. For those of you not navigating modern dating's location-based app scene, the best way to describe the experience is the running of the bulls in Pamplona: You're doing this crazy thing that could potentially give you the thrill of your life, hundreds of strangers are in the mix with you, and you're just trying your damn best to avoid getting horned in the ass by a bull.
But when I saw pics of TPG (the perfect guy), I knew immediately he was, like, my dude. He was handsome in a sweet-faced, '90s-grunge-model way, intelligent, successful, and very tall—an American Prince William, if you will. Annoyingly, it turned out APW (American Prince William; I'm settling on this) did not actually live near me in Los Angeles; he had popped up in my queue while he was in town visiting his brother. (Damn, close with his family, too!) By the time he asked me out, he had already left town—so I agreed to buy a plane ticket and fly hundreds of miles to meet him for a first date.
By now you may be wondering, Wow, if this girl spent $500 to fly to another city to meet up with a stranger from the internet, she must be a sad, sad internet ogress. Believe me, I've wondered that, too.
First, let me offer a little context: I'm 33, single, and have one of the most incredible dating records ever. Legendarily disastrous. I've dated interns, yacht captains, racists, baldists, good musicians, terrible musicians, guys who've had miniature dolls of themselves that they kept in shoe boxes, guys who've later produced short films chronicling our breakup that included choreographed dance routines to Lady Gaga music videos, and guys who've dumped me on my birthday. I used to feel like I was just an unlucky dater, but now I think it's just the result of my wanting to find Mr. Right so badly that I was willing to overlook glaring red flags and let just about anything happen. And also because I get a huge kick out of terrible situations, to which I curtsy and say, "Thus, my career as a comedy writer."
I actually thought I had it figured out for a couple of years, and even moved in with a boyfriend, but that recently went to shit when he met someone else. Wanting to get over the heartache, I flung myself back into the dating pool and found the landscape had totally changed in the two years I'd been on the sidelines. Setups and random encounters have now given way to meeting strangers on apps like Tinder, Bumble, and Raya, the members-only app for celebrities and the rich people who live like them that offers a whole other exciting opportunity for rejection.
I don't know what it's like where you live, but here in L.A., I quickly discovered there are only four types of men on dating apps. I've dubbed them Jordan, Mike, Jamba, and Hamby. Jordan is the generic lawyer whose description of himself states that he loves "travel, sports, and [his] niece," all code for missionary-sex-only for the rest of your life. Mike is the cheesy egomaniac whose romantic quest invariably requires telling you what you shouldn't be ("Don't be basic!") if you want any chance of catching his eye; he always ends his profile with: "Let's get off this app already." Jamba is straight out of 300—the sole goal of his shirtless profile photo is to let you know that he has the brawn to flip you upside down, Magic Mike-style. And Hamby is completely confused about how to present himself to a woman, so all of his pictures feature him in legitimately scary Halloween costumes.
Now you understand how excited I was when APW appeared on Bumble.
After a few texts, he mentions that he lives out of town. Hrmmm. But he also says that he's planning on moving to L.A. soon, so maybe we should just get to know each other and see what happens. Then he calls on the actual telephone and we have a couple of actual great conversations. Eventually, after six weeks of texting and talking, he suggests we meet up for a weekend. Sure, long distance isn't ideal, but in my head, I'm thinking, This guy and I are genuinely hitting it off, and I haven't met anyone I really like in ages. And I'm not a total cynic, right? I still believe in modern fairy tales, don't I? I decide I do.
To keep things on equal footing, we agree to meet in Austin, Texas, where neither of us lives. When I tell my friends I've bought my plane ticket, they are a mix of "You go, girl" and "You should not go, girl; you'll get Gone Girl'd."
But it's not until I'm actually on the plane that it finally hits me: What the fuck have I done?! I'm about to let a strange man from the Internet pick me up at the airport, and I am Completely Vulnerable.
As I deplane with my carry-on (packing for a first blind date weekend in another city is a different article) and exit the revolving doors that dump me out onto the arrivals curb, I am beyond nervous. But before I have time to soil myself, a car pulls up. And there he is, exactly as advertised, adorable in every way. We share a very awkward hug before I get into the car, which he will either drive to our hotel, or drive to a landfill where he will bash me over the head, flay me, and turn me into a female eunuch. It's one or the other.
Luckily, my instincts are right: APW and I completely hit it off. There is instant chemistry and epic conversations and cute hand-holding and picking out foot cream for his mom. We even slow dance in an empty soccer field. It is hands-down the coolest first date I've ever had. Do we share a hotel room? Yes, but only for the second night. (I had decided to book my own room the first night and then see what happened, which turned out to be the perfect plan.) For the first time in a long time, I feel sexy and confident and so much like myself.
Back in L.A., I never hear from APW again. Well, that's not exactly true. He did like a few of my Instagrams, but then he texted me that he didn't really see how a relationship could go anywhere. Wait, what? All I could think was, Why did we meet up in the first place? Wasn't it to see if there was a crazy connection? And wasn't there? Then again, it hardly mattered why it had happened; for whatever reason, he was out. I was a sad, ghosted, Bumbling loser.
But with a little reframing, the sadness dissipated pretty quickly. Hadn't I just had the coolest first date ever—where I felt sexy and confident and so very much like myself? Yes. I realized that the weekend hadn't been about APW at all. It had been about me getting out there and connecting with another human and having fun, which is kinda the whole point of these dating apps. Even though it didn't work out with this particular guy, spending $500 and flying to meet a stranger and stay in a random hotel was one of the best things I've ever done for myself.
Does it still occasionally drive me crazy that this guy never called me again? Yes, of course. But if you're single, I really encourage you to take a big, romantic swing in your life. It may gore you in the ass, but at least you'll be alerted to the fact that you have an ass again. A really good one.
This article appears in the October issue of Marie Claire, on newsstands now.
Celebrity news, beauty, fashion advice, and fascinating features, delivered straight to your inbox!